According to HowStuffWorks.com, a 100 feet tape measure is useful for determining property boundaries and other exterior measurements.
In other words, when you are surveying or appraising a particular property, this kind of tape measure is considered ideal to suit the object length you are going to measure. It's not too long or too short.
There are numerous types and variants of tape measures available in the market with different features and designs. This vast availability makes it hard for people to decide and choose what's the best one for them, especially when they are intending to look for the 100 feet blade one.
Some models might even look very similar to one another, but the small details are where the differences lie. And that is where the problem of choosing the right product comes up.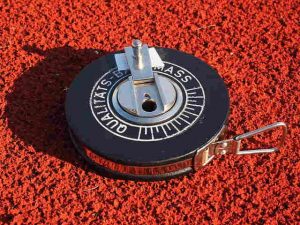 Lucky for you, we've gone through the tiring process of doing extensive research on some of the tape measures with 100 feet long blade available in the market.
You could read and decide from our compiled list on the following reviews, along with the features they offer. Also, you'll know how they are unique and what are some of their pros and cons.
Products
Pictures
Specification
Price
1. Perfect
Measuring
Tape
[Best Overall]
Range: 100 feet
Reading: Inch, Feet, Metric




2. Komelon
6611
Range: 100 feet
Reading: Inch, Feet, Metric




3. Komelon
9901
Range: 100 feet
Reading: Inch, Feet




4. Komelon
6611IM
Range: 100 feet
Reading: Inch, Feet, Metric




5. Stanley
34-106
Range: 100 feet
Reading: Inch, Metric



Top 5 Best 100 ft Tape Measure Reviews in 2023
Now, let's look into the top 5 products that we think will be best suited for your toolbox and all your measurement needs.
1. Perfect Measuring Tape 100 ft Tape Measure
[Best Overall]
The surveyor's tape measure by the Perfect Measuring Tape Company is close to perfection, thanks to all the design elements and features it has. First off, the tape is 100 feet long, and it's two-sided. One side has inches/feet readings while the other side has metric readings.
It is entirely tear-resistant with a vinyl coating and made with fiberglass, boxed inside a durable ABS plastic case that has rubber grips. The rubber grips provide cushioning and make it easier for users to hold the tape while working.
As for the design, it features a 180-degree pivoting hand reel that comfortably rewinds the tape into the body. There's also a carrying strap attached to the body, so you can easily carry it around your workplace or hang it for easy access.
This measuring tape is perfect for outdoor and indoor use alike and offers excellent functionality and ease in your daily measurement-related work.
Pros:
Excellent and accurate for measuring
Super handy and easy to use design
Tear-resistant
Cons:
Few complaints with the size being too big
2. Komelon 6611 Fiberglass Tape Measure Open Reel, 100-Feet
This 100 feet measuring tape by Komelon, is like a little monster, thanks to its looks and the features it offers. This tape is excellent for people who need to make outdoor or large-scale measurements. It consists of a fiberglass blade and an end hook that makes it much more functional and useful.
Furthermore, the tape is printed on both sides, one in inches and feet, while the other side in metric measurements, giving you just the right sizes in different measuring ways. There is no manual conversion for sure.
In addition, it's got a heavy-duty ABS frame with shock-absorbing rubber bumpers to give you a comfortable and firm grip when you're working.
Pros:
Ideal for large measurements
Long 100 feet tape
Strong, durable design
Cons:
Unclear instructions
Marking stake not working properly
3. Komelon 9901 Gripper Closed Case Long Steel Tape Measure, 100-Feet
Another great addition to the market by Komelon, this compact measuring tape is also great to measure long lengths, up to a whopping 100 feet. The small size is further made comfortable to hold by the rubber jacket that covers it, which also works as a cushion to prevent damage if it falls.
Moreover, the steel blade of the Gripper is nylon coated along with a unique end hook. This offers excellent ease when making measurements. And there's a folding hook at the back of the measuring tape, so you can easily fold the tape back in.
Pros:
Super compact design
Rubber jacket increases durability
Versatile end hook
Cons:
Weak anchors
The tape itself isn't durable
4. Komelon 6611IM Fiber Tape Double Nylon Coated Fiberglass Blade
Similar to the previous model, the Komelon 6611, but a slightly upgraded version, the Komelon 6611IM takes things to the next level. It consists of double-sided tape with one side's measures in inches and feet and the other one in metric.
The Komelon 6611IM also consists of double nylon coated, two colored blades with a super versatile end hook that lets you work comfortably. Furthermore, the tape has a strong and highly durable ABS frame along with a rubber grip to provide you utmost comfort while you're working.
Pros:
Highly durable ABS frame
Comfortable rubber grip
100 feet long tape
Cons:
Only measures in meters and feet
Flimsy rubber grips
5. Stanley 34-106 100 ft Tape Measure, 3/8″ Graduations, 100 ft
The Stanley 34-106 is a considerable compact tape measure, in the line of many other Stanley products available in the market. This little, handy tape measure comes with a steel blade which has super easy to read markings along with a polymer coat to increase the durability.
This small-sized tape measure boxes a 100 feet long tape that is ideal for outdoor and significant space usage. The yellow-colored casing provides lasting and robust durability as its made with high-quality plastic.
Due to the natural wind drum, the tape recoil is also very smooth and easy. And the markings on the tape are too exact and entirely accurate, making measurements super easy for the users.
Pros:
Small yet durable body
Polymer coated steel blade
100 feet ultra-long tape
Cons:
Lots of complaints about the durability
Difficulties with tape's recoil
Final Verdict
You might have gotten some idea as to how many technicalities go into choosing the right measuring tape and how there are so many differences between each model. But with our list, we assure you that you can buy the perfect measuring tape for your toolbox as all of these products are of top quality.
Related Articles about Tape Measure: