An altimeter is an instrument used by people to measure altitude. The altitude information is vital and crucial for some occupations.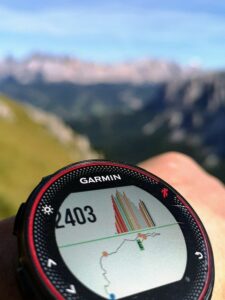 Jobs such as pilots (both aircraft and spacecraft) determines the flight procedures based on many parameters. One of them is altitude information, which plays a significant role. Other jobs such as mountaineers (hikers) and skydivers need the altitude information to find their position and location on the ground space or in the sky.
The classic and conventional altimeter is built by utilizing the comparison between the atmospheric pressure of present location height and the sea level pressure. By doing this procedure, the altitude can be measured. The more the altitude increases, the lower the air pressure decreases. It is caused by the thinner air density at higher places. This type is the most common altimeter used by people and is called a barometric altimeter.
As the technology expands and advances, the altimeter varies in some type based on the way the altitude is measured. They are radio altimeter, GNSS (GPS, Galileo) altimeter, laser altimeter, and altimeter app.
Regardless of your experience or occupation at the moment, whether you are a pilot, skydiver, or mountaineer, then, this article might be of some help to you as a guide or reference. Here, we try to cover some top altimeters and try to categorize them in each class. A buying guide is also included so that you are expected to get a broader insight when buying an altimeter.
Product
Picture
Specification
Price
1. AltiLINQ 205-M [Best Overall]
Range: 0-15,000 feet
Features: battery-free, bundled with barometer, easy to mount and detach, adjustable dial

2. Garmin GPSMAP 64sx [Best Handheld]
Range: -2,000 to 30,000 feet
Features: Compass, TopoActive Maps, multi-GNSS support, Bluetooth, water-resistant
3. L&B Solo2 [Best Skydiving]
Range: 0-40,000 feet
Features: 3 warning altitudes choices, built-in mounting holes, easy to find batteries, ergonomic design
4. Garmin Instinct [Best Altimeter Watch]
Range: 0-40,000 feet
Features: 810G Military-grade, built-in 3 axis compass, trackback feature, GPS, fitness monitoring.
5. ZIPLEVEL-PRO 2000 [Best for Construction]
Range: 200ft / 60m
Features: high precision, no error of distance and line of sight, no need factory calibration, direct displays of level or elevation

6. Jolly Logic AltimeterOne [Best for Rocketry]
Range: 29,500 ft or 9000 m
Features: stores 100 flights, great for flying models, rechargeable via USB
7. Kestrel 3500 [Best for Hiking]
Range: -1500 to 30,000 ft (-500 to 9000 m)
Features: replaceable impeller, waterproof (IP67), Military grade (MIL 810G), slip on protective cover
8. AltiTILT [Best for Car & Off-Road Vehicles]
Range: up to 15,000 ft (9000 m)
Features: easy mounting, easy and accurate reading, free of battery
9. My Altitude [Best IOS Altimeter App]

Range: (Depends on device sensor)
Features: accessible NOAA datafiles, enable to take picture with geolocation
10. Accurate Altimeter [Best Android Altimeter App]
Range: (Depends on device sensor)
Features: no need for internet connection, three methods altitude measurement, historical charts, peak and contour lines maps, pictures with geolocation details
Top 10 Best Altimeters
1. AltiLINQ 205-M Altimeter
[Best Altimeter Overall]
Sun Company has been known as one of the respected manufacturers who produced many outdoor instrument activities. Their motto is to manufacture in small-batch quality and maintain its production close to home. One proof of their dedication is a product called AltiLINQ.
AltiLINQ comes with a measurement range from 0 to 15,000 feet. It is originally an altimeter for cars and trucks. However, it is easy to mount and detach. Thus, it is also eligible for other outdoor activities such as hiking, roading, and traveling. There is no need to use a battery because it does not work by using battery power.
It also has an adjustable dial, so you may adjust the altitude and barometric pressure just in case you really have to do that. The housing provided (Sturdy ABS Housing) can protect the instrument well for daily use and extreme area. Aside from all of those features, it is lightweight as it only weighs 84g. Last but not least, it is pretty cheap for an altimeter with those features. So, AltiLINQ 205-M comes as the best overall altimeter we can suggest to you.
How to calibrate:
Go to its back till you slide out the round-shaped part from the plastic holder. That is where the extra calibration adjustment is.
Pros:
portable and lightweight
free of battery
can be used for hiking, mountaineering, and roading.
Cons:
 may need to set or adjust the barometer in a few cases
2. Garmin GPSMAP 64sx Altimeter
[Best Handheld Altimeter]
Doing outdoor activities will have more fun if the instruments needed are portable and handy. Garmin GPSMAP 64sx is the best choice when it comes to portability.
It comes with preloaded TopoActive maps (US and Australia), which include access roads. Equipped with a quad helix antenna, multi-GNSS support (GPS, GLONASS, and Galileo), and 3-axis compass with barometric altimeter make it possible to know your location with a high-sensitivity receiver. It is also possible to have other devices connected via Bluetooth connectivity. It enables you to stay connected with the paired compatible devices. Sharing is one of the best things to do with others. It can be done by just press "send" to share your tracks, routes, and waypoints with your loved ones.
How to calibrate:
Go to a place with known barometric pressure or elevation. Choose PAGE->Eleveation Plot -> MENU-> Calibrate Altimeter
Pros:
Multi-GNSS support
TopoActive maps preloaded
Bluetooth connectivity
Cons:
Only the US and Australia maps
Old Interface
3. L&B Solo2 Parachute Skydiving Audible
[Best Skydiving Altimeter]
Skydiving is one of the outdoor activities that some of us really enjoy. However, it is categorized as an extreme type. Thus, it requires some devices to ensure the safety of the skydivers. An altimeter is a must to have and wear when doing skydiving. L&B Solo2 Parachute skydiving audible altimeter can be the best choice for you as it has features that are really useful for skydiving.
Solo2 is an automatic device. Still, you can set some things up by pressing the buttons included. It has a broad operating altitude from 0 to 40,000 feet with an accuracy of 100 feet more or less. By the factory settings, it will give you warnings about three times. They are the first warning for 4,500 ft, the second warning for 3,000 ft, and the third warning for 1,500 ft with the loudest beeps. It is designed ergonomically and super-thin with dimensions of 55x40x11 mm and weighs about 24 grams. Another essential feature is that Solo2 is water-resistant. It has round part on the unit side called the Air Filter.
How to calibrate:
Normally, Solo2 continuously sets itself to the local elevation. Calibration is shown by the beeps, and it means that it is ready to jump.
Pros:
3 altitude warning choices
water resistant
ergonomic design
Cons:
4. Garmin Instinct
[Best Altimeter Watch]
A watch is one of the best portable devices to wear for outdoor activities. Some prefer wearing watches to using handheld model devices. Nowadays, the watch even has features such as altimeter, barometer, and compass. If you are looking for an altimeter watch, then Garmin Instinct is the best for you to buy.
The strong point Garmin Instinct has over the other watches out there is it is built and constructed to pass Military grade 810G for thermal, shock, and water resistance (100m).
GPS with trackback feature is offered so you can go back with the same route to the starting location.
It is also equipped with built-in 3-axis compass and barometric altimeter and supported by navigation satellite systems (GPS, Glonass, and Galileo). Fitness monitoring system is also provided for those who enjoy outdoor sports. Smartphone connectivity is possible by pairing the watch with the smartphone in the 10m range.
How to calibrate:
Go to menu, choose settings -> sensors & accessories -> altimeter. Choose one of the available options.
calibrate: manually calibrate
auto cal: self-calibrate
elevation: set the measurement unit
Pros:
Military-grade 810G
Fitness monitoring system
smartphone connectivity
GPS and trackback feature
Cons:
the battery needs to be recharged every 2 weeks approximately.
5. ZIPLEVEL PRO 2000
[Best Altimeter for Construction]
The use of altimeter has been widespread in various work fields. The world of construction is changed significantly when Ziplevel PRO 2000 is invented. The labor work requiring less manpower is one of the drastic change of Ziplevel Pro 2000.
It is a high precision altimeter that can measure in a range of 200' (60m) in circular horizontal area and 20' (6m) vertical area. The high precision comes from its ability to measure level within 0.1" (2mm) or 0.01" (0.2mm). The device does not need factory calibration. However, it does require factory servicing, which means a factory recharge of hydro-pneumatics it has for every 2-3 years with a lower cost than the other instruments' annual calibration.
How to calibrate:
Calibration is needed for vertical measurement accuracy by using CAL functions. Basically, the device does not require factory calibration. However, it may needs factory servicing every three years.
Pros:
high precision
factory calibration is unnecessary
no error of distance and line of sight
direct displays of level or elevation
Cons:
needs factory servicing every three years
6. Jolly Logic AltimeterOne
[Best Altimeter for Rocketry]
The world of hobby is not excluded from altimeter influences and advancement. Flying models such as rockets, helicopters, drones, kites, and quadcopters would be very cool if they are equipped with an altimeter. It will let the hobbyists know how high their models can fly. Jolly logic "altimeterone" is the right choice for you.
It comes with the ability to measure altitude to 29,500 feet (9000 m). while it measures, it also stores up to 100 flights. The battery is a lithium polymer, which can be rechargeable via USB. To start using it, go to menu and choose Launch. The ground level is where the launching point you start, not the sea level. Through the menu, you can switch the unit of measurement from feet to meter or vice versa. In order to get the best reading of altitude, making sure a hole is there to allow air flows. That is because AltimeterOne measures altitude by using an atmospheric pressure sensor. Thus, it needs such exposure to outside air pressure. Its construction is rugged ABS to overcome such crashes. The parts are replaceable and can be purchased from the official Jolly Logic store.
The most important reminder about this altimeter is that it is NOT for hiking. Whenever you try to use it for hiking, it is going to give you inaccurate altitude reading because its reference is not the sea level.
How to calibrate:
The altitude measurement here starts from the launching point. Not the sea level as the reference. So, when you choose Realtime or Launch, the device will consider it as the ground level.
Pros:
best for rocketry and other flying models
tiny size of 1.89×0.63×0.47 inches
very lightweight, only 9.9g
rechargeable via USB port
fairly cheap
Cons:
the reference point is the launching point, not the sea level.
7. Kestrel 3500
[Best Altimeter for Hiking]
Outdoor activities such as hiking indeed require a test instrument that can handle and survive the most challenging environment. It should overcome wet, dust, or even crashes because of being dropped. Then, kestrel 3500 will be the best instrument to accompany you in hiking.
The instrument is tiny in size. However, it has incredible abilities. It can measure barometric pressure and trend, wet bulb temperature, altitude, heat stress index, dew point temperature, relative humidity, wind chill, air/water/snow temperature, current/average/maximum wind speeds on clear LCD. Aside from that, it is constructed in a handheld model.
The reason why it will be best for hiking is it has IP-67, which means it is water-resistant. The second point is it is drop tested to military-grade level as known as MIL 810G. With this small device, you can experience hiking in a more comfortable way without worrying about the weight.
For altitude measurement, the range it has is great. Ranging from -1500 ft (500 m) to 30,000 ft (9000 m) will surely leave you without a doubt to bring it while hiking. The accuracy for altitude is about 30m, and the resolution is 1m.
How to calibrate:
The device is calibrated by the factory. In case you need to recalibrate, you can return it to the factory, Nielsen-Kellerman for factory calibration.
Pros:
wide range of measurement : -1500 ft (-500 m ) to 30,000 ft (9000 m)
altitude measurement accuracy: +- 30m
IP67 (water-resistant)
military-grade tested (MIL 810G)
replaceable impeller
Cons:
not recommended for Night Vision
8. AltiTILT
[Best Altimeter for Car & Off-Road Vehicles]
Driving 4-wheel drive vehicles in the wilderness already becomes a hobby for some people. While doing so, some preparations must be made and checked thoroughly beforehand. Off-road vehicles will travel such extreme roads, as the name explains. To survive the harsh and dangerous terrains, altiTilt can be the best choice to help the off-roaders to let them know about the tilt of their vehicles.
The device is free of battery, which means it does not work with electricity. It consists of altimeter, barometer, and inclinometer. The company constructed it in high quality and included durable hard-side fasteners and housing. It is offered with a liquid-filled inclinometer to monitor the tilt of your vehicle. It can measure the altitude ranging from 0 to 15,000 feet. At the same time, the barometer will measure in the unit of inches of Hg. For the inclinometer, it will tell you the tilt from -45 to +45 degree.
There are four benefits the Sun offers to you. Easy mounting will be the first because it will allow you to equip it in the top or front of your vehicle dashboard. You can also detach and bring it with you for hiking. The second will be accurate readings. The adjustable dial will allow you to get that kind of reading. Easy reading inclinometer is the next benefit you get because the display is manually-painted numbers and engraved. Last but not least is that the device will adjust itself to the surrounding barometric pressure. Aside from off-roading, AltiTilt can be your partner too for hiking or RV Travel without having a bit of worry about replacing or purchasing a battery.
Out of all the things explained above, the company also provided the full instructions. It is going to teach the users the easy step by step instructions so that the users are able to learn about how to set and adjust their Sun altimeter.
How to calibrate:
Use the adjustable dial to adjust altitude and barometric pressure.
Pros:
measurement range: up to 15,000 ft (9000 m)
battery-free
easy reading inclinometer
cheap
Cons:
9. My Altitude
[Best iOS Altimeter App]

As technology advances, the altimeter also gets developed into an app form. Devices such as smartphones are commonly equipped with a built-in GPS sensor. Through this advancement, a smartphone app can be developed to have another particular function, such as measuring altitude using the available features. If you are an Iphone's user or another apple product, then My Altitude is the best altimeter app for you.
It is an app that does best for the outdoors, and internet connection is unnecessary. The working principle it has is basically it access the data from the device sensor to determine the altitude. On the other hand, an option to access NOAA data files to show the altitude of where you are is also available. The newer the device is, the more accurate the sensor is. Another feature offered is it allows you to take picture with geolocation details.
How to calibrate:
It can be done with auto-reload. In case reload does not work, it can be done by restarting the device.
Pros:
internet connection is unnecessary
able to access NOAA datafiles
able to take picture with geolocation details
Cons:
Reload may not work sometimes.
10. Accurate Altimeter
[Best Android Altimeter App]
The Smartphone world is divided into two major Appstore. iPhone has apple store, while the Android smartphone has google play store. If you are using android, then the best altimeter app we can recommend is Accurate Altimeter.
Nicely, this app can work without an internet connection. It has three methods to measure altitude. They are satellites triangulation, ground elevation at the current position, and utilizing the device pressure sensor. Other features offered are historical charts where you can check your elevation gain, maps with details such as peaks name and contour lines, and taking pictures with geolocation details. If you would like the PRO version, you will get more benefits such as pressure sensor error compensation, larger map area, altitude record without the app being opened, and no ads.
How to calibrate:
Auto-calibration can be done with the nearest airport, and you can do it manually too. However, you need to pay for the finest sensor calibration.
Pros:
easy to use
three methods to measure altitude
historical charts of elevation gain
peaks and contour lines maps
pictures with geolocation details
Cons:
need to pay for the finest sensor calibration
A Little History of Altimeter
The very first man who invented the altimeter was Louis Paul Cailletet, a French physicist. His inspiration came from his father's ironworks. Then, his high interest in aeronautics gave him the path to develop an altimeter to get the measurement of an airplane's altitude.
Paul Kollsman, a German civil engineer, made such a drastic change for the aviation world by inventing the first accurate altimeter in 1928. It is also known as the "Kollsman Window." It compared the air pressure to sea level pressure in the feet unit. The radio altimeter was then invented by Lloyd Espenschied, an electrical engineer who graduated from the Pratt Institute in 1924. This type works by monitoring the return time of transmitted radio waves after reflected by the ground to get the altitude information above the ground. The clear difference between radio altimeter and barometric is the radio type measures the altitude above the ground. In contrast, the barometric type measures it above sea level.
Things to Consider Before Purchasing Altimeter
1. Accuracy
To get accurate altitude measurement must be the first thing you prioritize over others. It could ensure and increase your survivability in case you encounter the unexpected while skydiving, flying the aircraft, hiking, or even just running.
2. Measurement Range
The second specification you must keep in mind is the measurement range. It determines how high the place, mountain, or flight you can go to. If the location you are standing in is out of measurement range. Then no altitude could be measured. On an important or even dangerous event that might happen, you will likely be at a huge disadvantage. So, make sure the altimeter you buy can cover the location altitude you are going to be at.
3. Construction Quality
In most cases, the use of an altimeter will be needed in extreme places or locations. The quality of altimeter construction is critical because it is related to durability and functionality.
4. Portability and Size
Nowadays, altimeter comes in various sizes and portability. The old ones had a larger dimension and mostly applied in the aviation world. The modern altimeter is not only presented in a smaller size but also wider portability. It has even been developed in the application form so we can use it inside our smartphones.
5. Features
It is such common knowledge that most altimeters do not come by themselves. It is often offered to the community in a bundle with barometer and compass (ABC type). Modern altimeters provide more features than the simple ABC type. Features such as GPS, thermometer, maps, weather, and even social media upload are available on modern altimeters. However, prioritizing your needs must come first aside from the rich features provided.
6. Cost of Ownership
In the end, everything revolves around money. Aligning the altimeter with the budget you can afford maybe the best way to get the altimeter you really need. Higher specifications and more features are going to require you to pay a decent amount of money. It is always about give and take. However, through this review article, we hope you could get some insights or even broader knowledge before you buy one.
Conclusion: What is the Best Overall Altimeter?
The altimeter is one of the linear measuring tools that measure the height of a certain position over a sea level. This is also one of the important tools to carry when you are doing extreme outdoor activity.
Finally, we have come all the way to the conclusion part of this article. You are always free to choose which altimeter type you are going to buy. Our pure and honest intention here is to give you as the readers a reference, guide, or simply an insight.
That being said, we highly recommend AltiLINQ 205-M by Sun Company as the best altimeter overall. Aside from its low and affordable price, it also has a decent measurement range, easy to mount, free of battery, and easy readability scale.