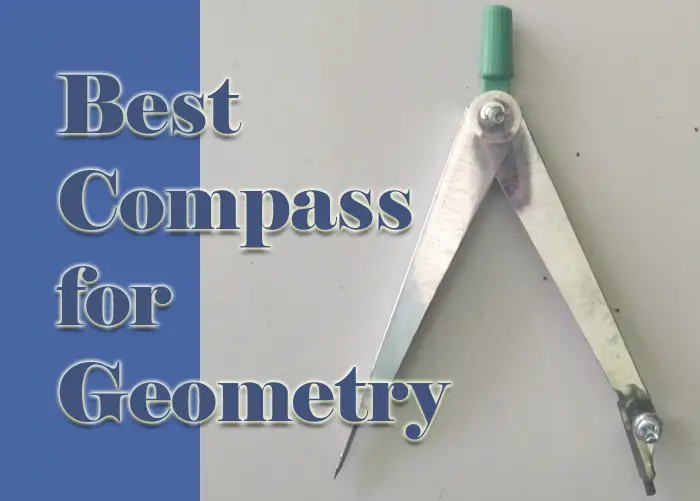 Are you looking for the best compass for geometry? You are at the right stop. The following top 10 best compasses on this page are our favorite ones and we would like to share with you.
When you are attending a geometry class, you will be facing a bunch of points, lines, planes, shapes, angles, circles, etc. Especially those that relate to circle, you will need a geometry compass to draw it.
Basically, a compass is used for various purposes. People could utilize it in woodworking, sewing, drafting, geometry, etc. Each of the purposes needs a kind of certain compass.
The compass for geometry should fulfill the requirements at least they are easy to use for drawing circles in a piece of paper. Moreover, the leg length is not too long. A common type of compass for geometry is about 6″. For this given length, the compass possibly could create a circle with 8″ in diameter.
Since it's used for geometry, they typically come with the other geometry tools such as rulers, mechanical pencils, erasers, protractors, sharpener, and reserved leader tips.
Brand
Picture
Max
Diameter
Ideal for
Price
Mr. Pen

6"

- Beginners
- Primary High School
Mapped

10"

- Beginners
- Primary High School
F. Viking

24"

- Architects
- College students
- Engineers
Offizeus

10"

- Architects
- College students
- Engineers
Mr. Pen

18"

- Architects
- College students
- Engineers
Staedtler

8"

- Beginners
- Primary High School
- College Students
Silbyloyoe

9.6"

- Architects
- College students
- Engineers
Mylifeunit

4"

- Beginners
- Primary High School
- College Students
Sansido

9"

- Architects
- College students
- Engineers
Upstone
- Beginners
- Primary High School
Top 10 Picks Best Compass for Geometry
1. Mr. Pen Compass for Geometry & Complete Geometry Set
The first best compass for geometry is Mr. Pen GC15. What we like about this are the complete tools it provides in a single pocket. So you're loaded with anything you need while attending a geometry class. Not only liked by us but also it's the most liked by the buyers on Amazon and charges you with nice pricing.
It comes with a zippered transparent plastic bag that contains: 3 types of compass (graphic compass, study compass, and divider), 2 protractors (the general and swing arm one), 2 set squares (45 degrees and 30/60 degrees), a 6-inch ruler, two pencils, a short mechanical pencil, a pencil sharpener, an eraser, and reserved refill leads.
Pros:
Total complete kit with swing arm protractor
Affordable
Great tools for basics
Cons:
No center wheel for precise adjustment
2. Mapped Helix USA Complete Set for High School Students
Looking for a simple compass with a complete set of geometry equipment? Here you go. As you could see, it comes with two study compasses, a straight metric inch ruler, a protractor, two triangular rulers, sharpener, eraser, pencil, and replacement leads.
Pros:
Cons:
3. Ferocious Viking 24″ Maximum Diameter Compass
Are you willing to draw a huge circle? This is what you need. Amazingly, by means of the extender, you could make a gargantuan circle up to 24″ in diameter. This is the longest one compared to the others. While in normal length, it's 9″. Therefore, this is an ideal geometry compass for senior high school, college, architects, engineers, professionals, etc.
It comes with two compasses. The smaller one is good for drawing small circles with up to 4″ diameter. While the bigger one is good for larger circles up to 14″ in diameter. Moreover, they are versatile. In case you are going to use a colored pencil, the adapter is available.
Pros:
Complete
The longest one, it's recommended for professionals.
Cons:
4. Offizeus Geometry Compass
Offizeus compass is also a type of graphic compass. One thing that impresses us is its 10″ length of diameter it can make for the maximum length. So, this is good for woodworking, architects, engineering and geometry class for a high school. It comes with the other reserved equipment for replacement.
Pros:
Center Wheel
Metal
Long diameter up to 10″
Cons:
Uncomplete
No pencil adapter
5. Mr. Pen Metal Compass Up to 18″ Diameter Compass
Feel the accurate grip and easy to adjust. You could change the diameter easily and quickly. Just turn the wheel center to make a precise adjustment. While the push button positioned at the mid-leg function to make a fast adjustment. The wheel is also beneficial to keep the leg from moving so that the circle is drawn accurately.
Shockingly, you can extend the range and make a circle with a diameter up to 18″ by means of the extender stick. Furthermore, the universal adapter will fit pencils, pens, mechanical pencils, and even sharpies. It's obviously an ideal geometry compass for high schools.
Mr. Pen GP-01 is a nice compass that has great functionality and features. We recommend it for high school students or professionals. Watch the video review to get to know the entire features here.
Pros:
Great features and functionality
Fast diameter adjustment
Affordable and fully complete
Full-year warranty
Cons:
It doesn't come with other complementary tools such as rulers and pencils. You need to buy them separately.
6. Staedtler Push-Button Compass for Quick Adjustment
In the case of the compass, this is actually similar to Mr. Pen GP-01 above. This is a versatile compass that features an adapter so that you can use colored pencils instead of the leads. The leg is also bendable for further needs. Interestingly, there is a push-button if you want a fast adjustment while extending the span range of compass.
Staedtler is a well-known brand for high-quality writing instruments in the world. Their products are mostly manufactured in Germany. You can't go wrong buying their products.
Pros:
Great center wheel with push-button for fast adjustment
Accurately drawing a circle
Cons:
Relatively expensive than the others
7. Silbyloyoe Bow Compass 9.6 Max Diameter Compass
Interestingly, it offers a greater diameter length range. It can draw a circle up to 9.6″. It's also featured by a center wheel for careful adjustment and stronger stability.
Silbyloyoe compass is a type of graphic compass. There is no pencil adapter but lead which is replaceable. It comes with the compass itself, 3 spare leads, 2 back-up screws, and 1 carabiner clip.
Pros:
2-year warranty
metal
wheel center
9.6″ diameter maximum length
Cons:
8. Mylifeunit Metal Compass Stainless Steel
Mayifeunit is a stainless steel compass. This kind of material has the advantage to last longer and not easily rust against oxidation. It comes with some replaceable leads.  The only drawback is the wheel center. We really advocate buying the compass for geometry that has a wheel center for accurate and stable drawing.
Pros:
Metal construction, stainless steel
Durable
Fast adjustment
Cons:
No center wheel for accurate adjustment
9. Sansido Compass with Stainless Steel Straight Ruler
A fine compass that comes with a stainless steel solid ruler. Experience a nice circle drawing with the center wheel to carefully move the leg extension. A pair of lead replacement and screws can be saved whenever the parts become lost someday.
Pros:
Fairly complete, the main tools are ready
Accurate adjustment
Cons:
Slow adjustment
Unchangeable writing tool / no pencil adapter
10. Upstone Compass Plastic Case Complete Set
This is another complete set of tools for your geometry class where you can find the graphic compass in there. Buying this, you'll get a graphic compass, pencil, reserved leads, an eraser, a metric straight ruler, two metric triangular rulers, and a metric protractor. Nicely, it's packed in a hard plastic case so that everything is organized well.
Pros:
Complete set
We would like to recommend this for primary school and junior high school students
Cons:
The compass has no center wheel so the legs are possibly not stable
How to Use A Compass for Geometry?
Using a compass is very easy. Firstly, extend the legs to a given length. Use the ruler to measure the length of its extension. To get an accurate span, use the wheel center. It's a useful feature to make a small adjustment. Then, put the needle at the point you want, and put the second leg where the lead or pencil sticking into another point. Then turn around the leg where the lead or pencil sticks in. Turn until the lead or pencil draws the line and the line continues to connect. It becomes a circle now.
For more information, you could watch this video.
You need to remember that there are two common types of compass for geometry: graphic compass and study compass. The study compass is the compass that you can change the marker whether it's pencil, mechanical pencil, colored pencil, and even a pen. While the graphic compass is that is using leads. Just to make some settings before using a compass whether you are more preferable to use the study or graphic.
Conclusion
Whoever you are, when you attend a geometry class or just want to have fun with geometry, equipping yourself with the best compass for geometry is highly recommended. Geometry compass may not break your bank, but take the wrong one can waste your time. Through our selection above, hopefully, you find a quick rescue to get your preferred one. Thank you.