Are you looking for a tool that is able to duplicate the irregular pattern/contour of a particular object? You are at the right place. On this page, we are glad to share with you our top 10 contour gauges with the reviews. We also share the buying contour gauge, some frequent questions, and how to use it.
A contour gauge, although it's not a gauging tool as the name suggests, is still a great tool to store together with your measuring tools. In many cases, people use this tool for woodworking, however, it's not rare to use in metalworking [Wikipedia].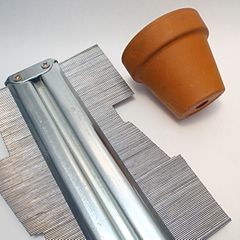 It is also called profile gauge, functions to "copy and paste" the irregular shape of an object's contour. Floor designers commonly use this tool to allow them to make a perfect cut for the laminate or vinyl flooring. This tool will make their works neat and precise with ease.
By using this tool, you could copy the irregular non-90° corner, floor edge, curved car panel, area around heating pipes, etc. to paste it onto what you want such as paper, vinyl plank, laminate, wood board, etc.
It consists of an assembly of tiny pins. Once you press the pins onto an object, some of the pins will slide/adjust to follow the horizontal contour of the object. But the contour to be duplicated is in the horizontal dimension only, not including vertical dimension. The smaller the pin is, the more precise it should be to copy complicated curves.
People's need for contour profile gauge may be different. Some need the longer one with deeper pins, whereas some find the 5-inch profile gauge suffice. Some need models that feature a locking mechanism. Moreover, some users find a joinable contour gauge is considered helpful.
Product
Picture
Spec
Special
Check price
1. Varsk
Pin material: ABS plastic
Length: 10 inch
Pin depth: 2.5 inch
Adjustable
tightness




2. Firstinfo
Pin material: ABS plastic
Length: 20 inch
Pin depth: 1.77 inch
Magnetic
blocks




3. Outerdo
Pin material: ABS plastic
Length: 10 inch
Adjustable
tightness




4. Saker
Pin material: ABS plastic
Length: 10 inch
Pin depth: 2.36 inch
Adjustable
tightness




5. General
Tools 837
Pin material: Stainless steel
Length: 6 inch
Pin depth: 3.5 inch
High
resolution
6. General
Tools 833
Pin material: ABS plastic
Length: 10 inch
Pin depth: 1.25 inch
Joinable
7. Wolfcraft
Pin material: ABS plastic
Length: 5 inch
Pin depth: 1.255 inch
Lock
clamp
8. Be91eiter
Pin material: ABS plastic
Length: 5 & 10 inch
Pin depth: 3 inch
Double
knob




9. Big Horn
19062
Pin material: ABS plastic
Length: 20 inch
Pin depth: 1.25 inch
Magnetic
blocks




10. Peachtree
Woodworking
Supply
Length: 37 inch
Length: 107 inch
-



Top 10 Best Contour Duplication Gauge Tools
1. Varsk Contour Gauge (10 inch) –
[The Best Overall]
Varsk contour gauge lets you work easily. It comes with a special upgraded heavy-duty metal lock to ensure a great locking mechanism to the entire pins during the work. This allows you to create a precise duplication.
The best thing about the Varsk contour gauge is you can adjust the pin tightness as you want. Using an Allen wrench which is included in the box, you could set your own tightness. Along with the lock, you could hold the shape tightly and very easily, end up with more accurate contour duplication.
Another great thing is its pin depth. It provides 2.5-inch pin depth which is very good to allow you to duplicate properly most of the object contours. As it comes with 10-inch length, this one should be able to cover most jobs.
Overall, as we have updated the list, the Varsk contour gauge is the best choice overall so far. It comes with great features: adjustable pin tightness and metal lock. Its spec is also great, suitable to use for most jobs. Since it's made from premium ABS plastic, it would be great to use for woodworking. It doesn't scratch the wood. It's also great for tiling, flooring, ceramic, carpet laying, etc.
Spec:
Lock: metal lock
Dimensions: Length 10 inch x Width 5.1 inch
Single pin thickness: 0.05 inch
Pin depth: 2.5 inch (

Very Good!

)
Extra feature: The tightness can be adjusted using an Allen wrench
Pros:
Deep pins
High-resolution pin
Adjustable tightness
Very tight due to the metal clamp lock and the adjustable tightness feature
Cons:
2. Firstinfo Contour Gauge with Magnets (20 inch) – Best 20 inch Model
Facing a long irregular object to duplicate? Don't worry! Firstinfo contour gauge will give you a super extra long of the pin assembly. Most importantly, the Firstinfo contour gauge is the only one 20-inch contour gauge that comes with a locking knob.
The more the pins, the more the weight. As it becomes weigher, it becomes easier to slide. It's no longer the issue since the knob which is designed on the side will press the pins to stick together. This is very important after the duplication, the pins have to keep in shape so that no pins slide.
Another great feature is the magnetic blocks. There are 8 magnetic blocks. It functions to assist you to work firmly on a surface made of iron. Moreover, it lets you easily store the tool on an iron wall.
Spec:
Dimensions: Lenght 20 inch
Lock: metal knob
Single pin thickness: 7 pins per 1 cm (0.56inch / 0.1428cm)
Pin depth impression: 1.77 inch
Extra feature: magnetic block
Pros:
Extra-long contour gauge 20 inch
metal locking feature
Comes with magnetic block
Cons:
3. Outerdo Contour Gauge (10 inch)
Another next best choice on the list is from Outerdo. With this Outerdo product, you can get almost the same thing as the Varsk contour gauge, however, there are some drawbacks that we've spotted.
According to the information that we gather on the market, this profile gauge provides a 2.36-inch pin depth. It's slightly shorter than the Varsk gauge. Also, the pin resolution is also slightly wider. There are 158 pins. If we divide 10 inches with 158 pins, then each pin is 0.063 inch. (Varsk gives a 0.05-inch resolution).
The nice thing about Outerdo is its friendly price. If you don't need that precise and deep pins, then this is the right choice for you. It's completely great to use to copy a pattern and duplicate it. Use the lock clamp in order to keep the pins in shape. The inch and cm reading are also helpful to estimate the length of the object being duplicated.
Spec:
Lock: metal lock
Dimensions: Length 10 inch
Pin depth: 2.36 inch (

Good!

)
Extra feature: The tightness can be adjusted using an Allen wrench
Pros:
Tight lock mechanism, keep the shape in place
Adjustable tightness
Cons:
4. Saker Contour Gauge (10 inch)
Are going to renovate your house carpet? Saker contour gauge will assist you to do that. It allows you to make a great cut finish. No matter how many times you do the duplication, it serves you very well.
The pin depth is about 2 inches more while the overall length of the product is 10 inches. We consider this dimension is mostly used by users. This pin arrangement may move while you are trying to transfer the shape, don't worry because it's designed with a locking clamp that will tighten the pin arrangement.
You could also set the pin tightness as preferred. The combination of the lock knob mechanism and tightness setting would hold all the pins together so that it won't move if you change the gauge position.
Overall, the Saker 10 inch contour gauge is a nice choice. It gives you some nice features and functions. Since there is no decent information on this product by far, we enlist it in the fourth position.
Spec:
Lock: Metal lock mechanism
Dimensions: Length 10 inch
Extra feature: adjustable tightness
Pros:
Great lock mechanism
Adjustable lock tightness
Cons:
No magnetic block to stick the tool on magnetic surface
5. General Tools 837 Stainless Steel Contour Gauge (6 Inch)
General Tools 837 is what you have to pick because it provides you with a highly precise duplication result. This is due to the thin pins made from stainless steel. These thin pins will be able to provide better resolution to the work. As a result, any tiny and complicated contour can be duplicated accurately easily; ends up with a perfect fit.
The specification is also decent. It is able to replicate surfaces up to 3-1/2 inches deep and 6 inch long. However, it comes only in the inch unit system. But, it actually doesn't matter. We just need its precision pins. The stainless steel pins will last longer because it's corrosion-resistant.
If you buy this best contour gauge, you may find the pins too stiff. In other words, it needs a little force to move the pins to duplicate the contour. But that's the precision in our opinion. However, you could unscrew the screws carefully to loosen the tension.
Spec: Length: 6 inch; Depth: 3.5 inch; Resolution: 35 pins/inch (0.028 inch)
Pros:
Precise; high-resolution
Durable
Made of metal
Cons:
The pins may scratch the surface you are contouring
6. General Tools 833
Joinable

Contour Gauge (10 inch)
Still from the same brand, General Tools 833 highly deserves to share with you. Its wonderful feature is the capability to be joinable. When you need a longer 20inch contour gauge, this 10-inch contour duplicator can be joined together.
There are three benefits using this stuff: 1) Joinable; just remove the 4 Philips screws to join them, 2) Better Resolution; slightly better with 18 pins/inch resolution, and 3) Comes with 4 magnetic blocks that are stuck on the back.
The magnetic blocks will be very useful when you work on ferrous objects. It will easily stick to make your job a lot easier.
In summary, this is an amazing tool for easy copy and duplicating a profile such as woodworking or tile flooring installation. There is always a flexible choice. When dealing off with small objects, use one piece. Otherwise, combine the two and feel the heavy-duty 10-inch contour gauge. In addition to the build quality, it is crafted from solid durable plastic. Plus, the standard two-unit system inch and mm are available to support everyone's measurement.
Spec: Length: 10 inch; Depth: 1.25 inch; Resolution: 18 pins/inch (0.055 inch)
Pros:
Joinable, able to extend more
Precise
4 magnets
Cons:
Only provides 1.25 inch depth
7. Wolfcraft
Strong Clamp

Locking Contour Gauge (5 inch)
What we highlight from this Wolfcarft is its big clamp. It gives higher pressure due to the larger clamp. This will make your contour modeling becomes more accurate.
This German-made tool is perfect for a short-range contour line. With its specification, you could copy any of the irregular edge lines on the floor with length no more than 5.1 inch. And also, it will do the job in the depth range of 3cm. If you want to copy the contour when working on laminate flooring, then this should be sufficient.
For you who are based in the UK which means some of the contour gauges on this list may not available, however, we make sure that this one is available. Glade to report it for you.
Spec: Length: 13 cm (5.1 inch), Depth: 3 cm (1.18 inch)
Pros:
Absolutely strong clamp locking
High-quality build
Made in German
Cons:
8. Be91eiter
Double Locking

Knob Contour Gauge (5 & 10 inch)
Want a greater locking system? Be91either provides you with two locking knobs on both the two sides which allows you to give greater pressure to the pins/teeth so that they are always in shape.
As you could see, the double knob is present on the 10-inch contour gauge. It's as expected because the more the pins, the greater the pressure required to tighten them all. Herewith, you will never find the pins moves even a small move.
The pin depth is very good. It's 3-inch depth impression. As we compare, it's the deepest pin impression amongst all. Don't worry! There are 2 knobs, it should be sufficient to lock the pins together.
All in all, this will be a great purchase for you. It comes with a set of two contour gauges. That said, this is also an economical option while giving you some great advantages such as the pin depth and locking system.
Pros:
double locking knob for greater tightness
deeper pins
Cons:
9. Big Horn Contour Gauge with Magnets (20 inch)
You realize your flooring project is large. Using the small contour gauge is not suitable. It makes you do the copying repeatedly which takes longer and hard work. Here is the solution, Big Horn 19062 large contour gauge will save your job twice more effectively.
This tool profiles at an amazing 20 inches in length and 1-1/4 inches in depth. It is made from ABS plastic that aims to be lightweight, affordable, yet last longer. No matter how humid your storage, it won't rust.
On the back, you could see the magnets. Those extra features function to stick on a ferrous surface for easy tracing steadily. It nicely acts helping the gauge keep sticking into on a magnetic surface such as on a car panel, etc.
The Big Horn 19062 is one of the best contour gauges as it has the capability to transfer shape with high accuracy and precision. It's great to use for larger works.
Spec: Length: 20 inch; Depth: 1.25 inch;
Pros:
20-inch length
Magnets on the back
Cons:
10. Flexible Steel Curve Template (37″ & 107″)
It seems that many searchers go to the web and try to find the 48-inch contour gauge. However, there is no site that reviews this kind of long metal contour gauge. Fortunately, we've successfully found it and put it here in the hope that you'll like it.
This is a metal contour duplicator that is rigid and solid but allows you to bend it to follow a particular surface contour. There are available several knobs to lock tightly the pattern so it will lose and change the duplication.
Therefore, as said in the advertising, it's agreed that this tool is ideal for carpentry, woodworking, and metalworking. If you are dealing with flooring, this is absolutely the right one that will handle the long contour you are working with.
There are two length models, the 37 inches and 107 inches one. So if you are looking for the 48 inches, then the 107 inches will be very sufficient to cover your job. But, this one is quite expensive. It's okay as long as your work can be finished faster.
Pros:
Great to use for longer contour
Cons:
Not as easy as the plastic pin contour gauge
Things to Consider Buying Contour Gauge
1. Length
You have to consider the length when going to work with the object's size. If you want to duplicate a longer contour, the longer contour gauge is required. We recommend using the 10-inch contour gauge. It should be suitable for most jobs. Otherwise, the shorter one will meet the needs.
2. Pin Depth
When you are trying to copy the contour around pipes, the pipe may have a larger diameter. The larger the diameter, the deeper the pins required. In this case, deeper pins are critical to use to completely duplicate the contour. However, deeper pin assembly requires more pressure to hold the pins in shape. A great locking system is required.
3. Resolution
If you need highly precise contour modeling, then you have to get the one that provides better resolution. The more pins per length, the better the resolution. In other words, the thinner the pins, the greater the resolution. In this case, metal pins are considered the highest possible pin that gives higher resolution.
For example, you have a 10-inch contour gauge and the total pins are 158. The resolution would be 0.063 inches, derived from 10 inches divided by 158 pins.
4. Pin Material
As we discover on the market, there are two common materials: ABS plastic and stainless steel. Both of them have different advantages and disadvantages for you. The ABS pins will not rust but thicker. This makes the resolution decrease. Conversely, the stainless steel allows the pins to be thinner and results in greater resolution. Another consideration is the ABS plastic will scratch the surface under gauging, whereas the stainless steel may cause a scratch.
5. Locking Mechanism
In short, it functions to keep the pins in shape while migrating the gauge.
It will feel very annoying if the pins are too loose. Herewith, the locking feature will add convenience to the users. Right after you copy the contour, switch the knob to lock. It will press the pin assembly and they don't slip easily. Here will let you easily move the gauge to any place without worrying about the pins assembly from sliding.
6. Joinable
A joinable contour gauge is a nice type of contour gauge that provides flexibility. When you deal with smaller objects, then disconnect the gauge. Conversely, reconnect the pieces to handle wider surface.
7. Magnet
This is an additional feature. The magnet on the contour gauge is also an extra feature you may want in a certain situation where you need it to attach steadily.
8. Adjustable Tightness
Imagine if you could adjust the tightness of whole pins, that would be great. This new 2020 feature lets you set your preferred tightness to the pins so that it's as loosen as you want. If your contour is very irregular and hard to duplicate, you have to loosen the pins in order to duplicate entirely.
Q&A
We found some really interesting questions about contour gauges. In this section, we are trying to give our best.
Q: Can I use a contour gauge for multiple shapes?
A: 100% Yes surely. This is the tool that is designed to duplicate countless shapes. As you have copied the shaped, you can switch back the lock so that the pins become easy to move and reset the position of the pins/tooths to its initial shape by pushing them on any flat surfaces such as floor or wall. That easy.
Q: Will the contour gauge scratch wood?
A: Since the pins/tooth are made of ABS plastic, it should not scratch the wood. However, if you buy the one made of metal, it may be.
How to Use A Contour Gauge
Using a contour gauge is very straightforward. Unlike other measuring instruments, there is no calibration required for this tool.
Open the box case if it comes with a case, then you could directly duplicate the contour shape. If it comes with a clamp, then it's good. Switch oppositely the clamp until the pins are locked. You could now print the shape into a paper or vinyl or wood or metal piece by using a pencil or pen. After that, you could make your cut.
To repeat the process of duplication, you could reset the clamp to its initial position. You have to reset the pins to its initial shape as well by pressing the pins on a flat surface such as the wall, floor, wood, etc. After the assembly becomes flat, you could use it again to duplicate another contour.
If it doesn't come with a clamp, then you have to move the profile gauge carefully in order to prevent the pins from sliding. Even a slight movement can ruin the shape. We are sure that you expect a great accuracy of the duplication. However, a typical contour gauge without clamp commonly is able to maintain the position of the pins.
DIY Contour Gauge
You might have a different project to accomplish. It requires a longer range and deeper pins. None of the selection of the contour gauges on this page may suit you. Fortunately, you can make it on your own. You could determine the size so that it meets the project requirements. In this case, this Youtube video below may help you.
Conclusion: Which is the Best One?
Since the size varies, the most versatile one should be the best one. In this case, we prefer the 10-inch contour gauge for you. It can be used for both small and large projects.
All in all, if you need assistance to pick, we will recommend Varsk contour gauge for you. It's a 10-inch contour gauge (suits most jobs) that provides greater pin depth. In addition, it features metal knob and adjustable tightness.
Another great to choose from is the Firstinfo contour gauge. It provides an overall pin assembly of 20 inches in length but comes with knobs. So far, it's the only one 2o-inch gauge that comes with knob locking system. In addition, the 8 magnetic blocks are on the back to stick steadily on the ferrous surface.