Dental loupe is an essential tool for dentists. It functions to magnify the work field so small objects inside the mouth can be seen detailedly such as teeth and gum.
Unlike the other loupes (jewelers loupe for example), this kind of loupe has a quite long focal point which is intentionally designed so that the dentist can magnify the teeth and gum's patient while they keep standing up near the patient.
The best dental loupe will provide the users' convenience while using it. It enlarges the look well and doesn't push your nose bridge. Moreover, it should not make you suffer from back or neck pain. Further, it can be equipped with a headlight to bright your working target.
We would like to announce that we are not a dentist. However, our background as Physics student makes us understand this tool (loupe). Here we would like to cover some of the best dental loupes that we found on the market. For further informational content such as a buying guide and our recommendation, keep reading.
Brand
Picture
Brief Description
Headlight
Price
1. Songzi
[Best Overall]
- Magnification: 2.5x
- Distance: 420mm


30000 lux




2. Aphrodite
- Magnification: 3.5x
- Distance: 420mm


30000 lux




3. NSKI
- Magnification: 3.5x
- Distance: 4202m


No headlight




4. Pevor
- Magnification: 3.5x
- Distance: 420mm


30000 lux




5. NSKI
- Magnification: 3.5x
- Distance: 420mm


30000 lux




6. Unbranded
- Magnification: 2.5x
- Distance: 420mm


No headlight




7. Global D.
- Magnification: 4x
- Distance: 420mm


No headlight



Top 10 Best Dental Loupe Reviews in 2023
1. Songzi 2.5X 3X 3.5X 280-600mm Titanium Best Lightweight Dental Loupes
[Best Overall]
The need to get a lightweight loupe can be very demanding. Some users may inconvenience with a weight loupe because it's kind of pushing their nose bridge in. Generally, the weight of a dental loupe is generated from the loupe and the frame itself.
Songzi dental loupe comes with titanium frame which is more lightweight than the plastic. As the company said, the total weight is only about 57 g. Interestingly, you can change the default lens and install your prescription lens. Nice!
There are three options of magnification you can choose from: 2.5x, 3x, and 3.5x. And also there are four working distance options available: S (280-380mm), R (360-460mm), L (440-540mm), and XL (500-600mm). We would like to prefer the 2.5x magnification with 360-460mm working distance as an ideal spec for beginners.
2. Aphrodite 3.5x 420mm Dental Loupe + Headlight Lamp
For dental students, it's encouraged to buy your dental loupe soon. If you don't have any idea, then this Aphrodite dental loupe can be your purchase.
It provides ideal magnifying number 3.5 times and about 420 mm working distance as they advertized. The headlamp will brighten your working objects with a maximum light intensity of 30000 lux. Simply you can do that by turn the turning button on the battery. In addition, the construction is elegant and simple.
3. NSKI Clip-On (Assemblable on Ordinary Glasses)
Looking a the dental glasses that can be assembled onto your glasses? This one might suit your need. Don't worry about the spec. It has adequate spec such as 2.5x magnification and 420 long working distance as well as the adjustable interpupillary distance. This is truly the first milestone stuff you should give a try before making a decision to purchase the more expensive one.
4. Pevor 3.5x 420mm Dentist Goggles Binocular
Looking for another model? This could be your choice. It comes with a unique headband.
You don't need to worry if the loupes will drop down because it's been tied with a strong headband construction. Also, there is no lens so you can clearly and comfortably see the objects through the binocular.
What makes it more interesting is the adjusting loupes vertically and horizontally. Unlike the others, by this one, you can adjust the loupes height. While the others only support with the width adjustment. Moreover, by using the screwdriver, you can set the inclination of the loupes to be your preference in order to make your job healthier.
We think that this is good for dentists or hygienists who suffer from back or neck pain. In addition, the headband construction creates a well-distributed weight. As a result, it feels comfortable and balanced while sticking in the head.
5. NSKI 3.5x 420mm Metal Frame Dental Loupe with 3W LED Headlight
A kind of plastic frame might not suit you. This NSKI is the nice one because of its metal frame which is considered the reason it's more lightweight (52 g). The titanium is strong yet lighter, makes perfect if you consider the lightweight is an important thing for you.
The 2.5x magnifying scale is great to use for dental students. Moreover, the working distance is awesome, the most used distance for comfort posture you have to apply. Furthermore, it comes with a storage box to store all the stuff so the things keep in a place.
6. Unbranded 2.5x 420mm Burgundy Style
You might be looking for the simplest one to be your dental loupes? and this one is likely ideal for you. Assembled with read-framed glasses, it can be your cute dental loupe which can be easily carried on anywhere.
Similar to the typical dental loupes, you can set the width to suit your preference. In addition, it provides good magnification 2.5 times which is the recommended one for beginners. The first-year dental students can choose this as the first test before jumping to the more rich-featured ones.
7. Global-Dental 4.0x 420mm Dental Binocular Loupes for Periodontists
Do you feel that 3.5x enlargement is still not enough for you? Why not try the
4x one? Global-Dental is one of dental loupes brands that provide a wide range of products. In terms of the magnification, they provide the products with a simple design but improved spec. You can actually use the 12.5x magnification for dentistry works.
Factors to Consider Buying Dental Loupe
After collecting the information, we conclude that you need to think about these things when buying a dental loupe:
1. Magnification
There are some options: 2.5x, 3x, 3.5x, 4x, 5x, 6x. The greater the number, the more magnification it gives. If you don't have an idea to start with, you could pick the 2.5x magnification. In general, the dentists utilize the 2.5 to 3.5 magnification. In the case of periodontists, they tend to choose the 3.5 to 4.5 magnification [Source1][Source 2].
2. Working Distance
Working distance is the approximate distance between the object being observed and the dentist's eyes (vision). The best way to determine this distance is to take a pretest. You could use a tape measure to measure the distance of your vision to the patient's mouth. Ask your friend to read the measure if you cannot see it clearly.
Another benefit of taking working distance into account is to minimize the risk of neck pain. If the loupe cannot provide a sufficient distance or too short, the chance is you are going to suffer neck pain if you use it for a long time.
3. Depth of Field
The greater the depth of field, the more comfortable it is. The depth of field is the range of focus. When a dentist uses a dental loupe with a 5.5-inch depth of field, and the working distance is 18 inches (distance between vision and teeth), then the range of focus starts from 15.25 inches to 20.75 inches [Source]. Between this range, you can clearly view the object with great focus.
4. Declination Angle
When using a dental loupe, make sure that you maintain a good posture. A good pair of dental loupe has to provide a declination angle of more than 20 degrees. Don't bend forward your neck for too long because it can cause neck pain. A research shows that neck bending for more than 20 degrees and more than 70% of working hours can increase the risk of neck pain [Researchgate].
5. Weight
The more lightweight it is, the more comfortable you are. A plastic frame dental loupe can generate more weight than a metal titanium one. However, the lighter it is, the more expensive. The weight also is commonly distributed into the loupes. If you think the loupes are the most weighted part, then having a headband is the solution for it.
6. Headlight
A headlight is an additional tool. However, it's important to get a brighter view of the patient's mouth. We need a headlight when there is too dark in our perspective. The headlight has to support your work fairly long, perhaps 5 hours. It has to emit good light intensity of at least 30000 lux.
Conclusion: Our Top Recommended Loupe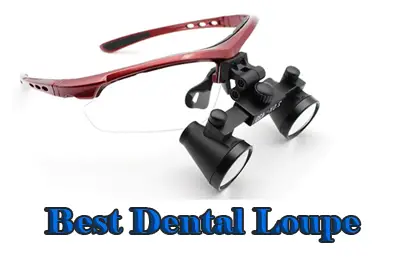 You may have a tough day just to decide which one is good for you. It could be also the limited time you have in order to find the best dental loupe for you. Here, we come to suggest.
Simply, we would prefer to let you choose Songzi. It's lightweight and available in three different magnifications that you could choose according to your preference. Moreover, it's available in four different focal point range that you could select as well.