Amongst the types of calipers, the dial caliper stands on the mid-choice. Compared to the vernier caliper, dial caliper offers easier to read, faster measurement, and less error. Meanwhile, even though it's not as fast as the digital caliper, it's not dependable on the battery; no worry suddenly turning off that forces you to buy the battery right at that time.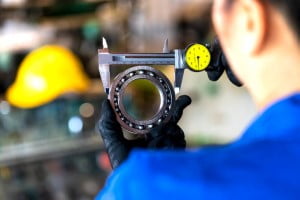 When you are trying to get the best dial caliper, there are some considerations such as the accuracy, material, rigidity construction, reading unit, smoothness, thumb screw, etc. You should also consider the right dial caliper for certain jobs such as machinist and woodworking.
Picking the best one can be time-consuming as there are so many choices of dial calipers and they spread amongst the brands such as Brown & Sharpe, Starrett, Mitutoyo, Anytime Tools, iGaging, etc.
To help you reroute the way of finding your best dial caliper, in this coverage, the following options are hopefully able to get you faster and we believe they are worth recommending. They have passed some selection and comparison.
Top 10 Best Dial Caliper Reviews 2021
1. Brown & Sharpe 599-579-4 Dial Caliper
[Best Dial Caliper Overall]
If you are looking for the best dial caliper overall that we enlist in this post, Brown & Shrape 599-579-4 is the choice. It's an excellent dial caliper. It feels extremely smooth when operated, accurate, and lasts for years. This dial caliper is a great choice for machinists, metalworkers, aerospace engineers, and others who need a high degree of quality.
This Swiss-made caliper has a 6-inch range; the most common range. In terms of accuracy and resolution, it is ±0.001″ and 0.001″ respectively. Talking about the accuracy, it meets DIN 862 standard.
The construction is made of hardened stainless steel material which allows it to be last longer and durable against corrosion resistance. This caliper's design is obviously excellent. It comes with a covered rack that functions to block the workpiece's chip or dirt that is potentially able to disturb the gear and rack movement.
For variation, the black-colored dial face (599-579-5) is also available.
Brown & Sharpe 599-579-4 is the best dial caliper overall. It is a fine product. You can feel its undoubted smooth movement (both when the dial slides and the dial needle rotates). The main issue with Brown & Sharpe 599-579 that people complain about is the thumb roll. Fortunately, the absence of a thumb roll only happens to the 6-inch model. The 8-inch and 12-inch options are thumb-roll equipped.
Pros:
Accurate; meets DIN 862
Smooth movement
A great choice for a machinist
Long last (durable)
Cons:
No thumb roller for the 6-inch model, however, the 8-inch and 12-inch models are thumb-rolled.
Want to look at how smooth it is? Look at the following video at the minute of 2:57.
2. Starrett 3202-6 Dial Caliper [Under $150]
The second choice that we found worth as the best dial caliper is Starrett 3202-6. It's also accurate, smooth, and durable. The laser-etched graduation along the beam has enough deep which is good to not easily wear off due to long use. The cover around the dial scale is metal. It comes with a thumb roller which is a very important feature for easy operation despite single-handed.
Why do we put this Starrett dial caliper as the second choice? Though it's accurate, smooth, and durable, the customer review comparison can answer it. We saw Brown & Sharpe 599-579-4 has more positive customer reviews about its accuracy, smoothness, and durability. You can try it by searching words: accurate, accuracy, smooth, last, durable, and durability. Further, check its reviews whether it's the positive or negative side view. Herewith, you will find Brown & Sharpe gets more score.
All in all, Starrett 3202-6 dial caliper is another great purchase when searching for the best dial caliper for your machine shop. It's also pretty affordable than Browne & Sharpe 599-579-4 above.
Pros:
Accurate
Smooth
Durable
Graduations on the beam are deeply enough etched which is good for wear resistance
The price is around $100
Cons:
Since the 120 models are the only American made, this one is not made in the USA.
3. Mitutoyo 505-742 Dial Caliper [Around $100]
There are a lot of excellent Mitutoyo's precision tools on the market today. One of them is this Mitutoyo 505-742. However, it's not as expensive as it used to be. This one is rather affordable.
If you are looking for Mitutoyo dial caliper products that come at a lower price, Mitutoyo 505-742 is yours. This made-in-Brazil caliper will assist you to measure outside diameter, inside diameter, and depth.
It's easy to read. The dial diameter is large enough so that you can easily read the numbers. And the numbers' size is also decent.
In terms of its material, it's constructed with hardened stainless steel. However, the cover of the internal dial mechanism is not metal. You can find the inch and metric reading of the main scale. Feel an enjoyable measuring experience with its smooth sliding. It comes with a solid plastic case. So, it fits snugly.
Mitutoyo 505-742 dial caliper is a great choice when you need a quality dial caliper under $100. It's around $95 at the time we check it. The issues with this caliper are the non-metal cover we have said and the plastic bumper, but they should be okay. For light to medium use such as in school, office, and home workshop, this is a great choice.
Pros:
Accurate; great for decent use
Smooth
Durable
Easy to read
Affordable (lower than $100 when we checked the price) for this sort of quality
Cons:
The beam graduation is not deeply etched
The cover that covers the internal dial scale mechanism and the bumper is made of non-metal
How to Read?
Learn how to read Mitutoyo 505-742 dial scale through the following video by the Official Mitutoyo America Corporation.
4. Mitutoyo 505-738 Dial Caliper
[Around $100]
For a heavy-duty job that is highly abrasive and you do it a lot, then you need to make sure your dial caliper jaws are carbide-tipped, otherwise it will wear off soon. Mitutoyo 505-738 dial caliper is one of the options that we recommend considering when it comes to carbide-tipped jaws dial caliper.
Unlike the Mitutoyo 505-742 which is made in Brazil, this Mitutoyo dial caliper is made in Japan. So, it's not weird about its price.
The knife-edge part on the jaws is longer than the usual dial calipers. It's important to reduce error from flatness and parallelism. Moreover, both the OD (outside diameter) jaws and (ID) inside diameter jaws are carbide-tipped. Feel a great sense of smoothness while sliding the caliper. In addition, Titanium Nitride coating provides resistance against wear to the sliding surface. Further, the spare parts are available to purchase in case you get a bad day.
Pros:
Carbide-tipped jaws on its OD and ID jaws
Made in Japan
Cons:
5. Starrett 120A-6 Dial Caliper
[American Made Starrett Dial Caliper]
Another premium choice available to purchase is Starrett 120A-6. This Starrett model is made in the USA. Take an accurate reading and feel the pride.
It lets you run OD (outside diameter), ID (inside diameter), and depth measurement with great accuracy ±0.001″ and great resolution 0.001″. There are easy to read 100 divisions on the dial. This model lets you measure up to 6 inches.
Some dirt and chip may stick in the racks and causes issue with the reading. In this case, you can unscrew the metal cover, detach the rod and clean the racks. Run a quick calibration using a block gauge to check the result.
If you are a fan of Starrett, then this one is undoubtedly your choice. Though it's not as smooth as Brown & Sharpe 599-579-4, this one is a good dial caliper and worth considering. It's made of stainless steel and repairable. The plate that covers the gear is also metal. In case of some parts are broken, the spare parts are available to purchase.
Pros:
Accurate down to ±0.001″
Stainless steel body
American pride
Cons:
6. Anytime Tools AT203185
inch & mm

Reading Dial Caliper

[Best Under $50]
The interesting thing about Anytime Tools AT203185 is its awesome dual reading. You can get two readings at the same time without pushing any conversion button as the digital caliper does. Moreover, it's a budget option.
You can see two needles (black and red-colored) inside the dial scale and they turn around clockwise. By having this feature, you are possible to convert the reading easily at the same time in spite of its mechanical working system. The red needle is for metric (mm) while the black needle is for inch. These colors help eyes to read easily.
Since it has dual readings, there are two resolutions. The mm reading's resolution is 0.02mm, while the inch reading's resolution is 0.001″. You can check it's printed on the face dial. For the range, it has a 6″ range which should cover many common measurements.
Anytime tools AT203185 dial caliper is cool stuff. Even though it's mechanical, it can convert the reading easily. It also comes with a thumb roller which allows you to work single-handed easily. The price is also friendly. For office tools, this caliper can be appropriate to substitute your ruler. Plus, you can secure this caliper in its hard plastic case and put them in the drawer.
Pros:
It comes with metric (mm) and imperial (inch) readout
Affordable
Decent caliper
Cons:
Not as smooth as the Mitutoyo but considering its price, it should be okay
7. Anytime Tools 100-020 Dial Caliper
[Second Best Under $50]
Another best budget dial caliper you can choose is Anytime Tools 100-020.
Enforced with a hard plastic bezel and better construction, it is intended to be shockproof. The design offers improved protection. Though it's plastic, the performance can't be doubted. Solid Hardened Stainless Steel
Many buyers agree that this is their best buy for the money. If you need the best budget dial caliper under $50, this one can be your purchase. There is also available the 8″ and 12″ range of this model if you need a longer one.
Though it's under $50, the feature such as a thumbwheel is available which is good. This one has a 6″ range and 0.001″ graduations. It's able to measure outside diameter, inside diameter, and depth. For storage, it comes with a foam case that will take care of the caliper inside the storage.
Pros:
An economic option
Clean white dial face for easy reading
Nice for light to mid usage
Cons:
Not as smooth as the high-end dial caliper but it should be acceptable
8. Starrett 1202F-6 Fractional Dial Caliper
[Best for Woodworking]
Working with caliper doesn't only happen in machining, but also in woodworking. When it comes to the best dial caliper for woodworking, you have to consider at least the reading
unit (graduations) it provides. Since woodworking jobs are common to use fractions, then your woodworking dial caliper has to provide a fractional reading.
In this case, Starrett 1202F-6 is the best fractional dial caliper that is very appropriate for woodworking. It's awesome with its two readings on the same surface of the dial scale. The yellow piece comes with 1/64th fractional graduations. While the white piece comes with common 0.01″ graduations.
Starrett 1202F-6 is not only in fractional reading which is critical for woodworking but also smooth movement. Plus the thumbwheel lets you slide the dial easily. Moreover, made of hardened stainless steel, the durability is reliable. Even though it is made in outside of the US, it's a high-quality product. It's more than enough for woodworking.
Overall, if you need a fractional dial caliper that is high-quality, smooth, and accurate, Starrett 1202F-6 is the first that we suggest. It comes with a plastic case so that you can store it safely.
Pros:
The inch reading is in fractions and decimal; great for woodworking.
Colored dial reading for easy reading.
Smoother operation compared to iGaging 100-164 & Shop Fox D3208 below
Cons:
9. IGaging 100-164 Dial Caliper
[for Woodworking]
Perhaps, you don't expect any fancy fractional dial caliper and prefer the budget one. You can pick an iGaging 100-164 fractional dial caliper for this case.
Like the Starrett 1202F-6, its dial scale has two reading units: 1/64th fractions and 0.01 decimal. All of them are inches. These fractions are what you need for woodworking. The fractional graduations are located at the outer piece of the scale and white-colored. It will be easy to read.
It's critical to store this dial caliper in a sturdy case to avoid a crash with other tools. Nicely, you get with it. The case even comes with foam-lined to absorb vibration.
Pros:
Fractional reading; critical for woodworking.
Colored dial scale for easy reading.
Affordable
Cons:
Not as smoother as Starrett 1202F-6 fractional dial caliper
10. Shop Fox D3208 Dial Caliper
[for Woodworking]
This is another option you can refer to when looking for a fractional dial caliper. The inch graduations are 1/64th fractions and 0.01 inch. However, since it's plain and no color to distinguish the fractions and decimal graduations, some people may not read it easily.
Made of hardened steel, this is a great option for you that will last longer. You will never need a battery and worry about it. Moreover, it's smooth and feels good in the hand. For woodworkers, this is another nice option you could buy.
Pros:
Nice for woodworking
Affordable
Cons:
No color to distinguish the fractional and decimal graduations
Not as smoother as Starrett 1202F-6 fractional dial caliper
What is Dial Caliper?
A dial caliper is a mechanical tool. It's one of the types of the caliper that works mechanically employing the rack and gear. The mechanism will turn the hand at the dial clockwise. The hand then points to a particular mark as the measurement reading.
Whether it's displayed in inch or mm, you can choose from which one you are familiar with. This could be a matter of the country you are living in. Fractional graduation is also available and suitable for woodworking as they usually work with that reading. While decimal is widely spread over a number of jobs.
Commonly, a typical dial caliper currently provides 0.001″ / 0.02mm resolution. People normally rely on a dial caliper to do a fast measurement with great accuracy. Besides, the other advantages are:
No battery issues so you will never figure out the power
The stainless steel construction is powerful to fight rusting
No electronics issues so you can spot if there is trouble with reading
Quite easy to repair than most digital calipers
You could do inside, outside, step, and depth measurement in a single tool
Things to Figure Buying Dial Caliper
1. Range of Measurement
When buying a dial caliper, it's important to consider the measuring range you are appropriate with. There are several ranges you can choose: 4″, 6″, 8″, and 12″. The 40″ is actually available on the market. But it depends on the company whether they provide those different sizes or not.
Considering the range also means considering the price. The more the range, the more expensive it is. In addition to the consideration of the range, it's worth noting that the longer the caliper, the less accurate it is.
If you don't have any idea of which range to pick, pick the 6-inch one as this range should cover many tasks using a caliper.
2. Resolution
Resolution is important for a precision measuring tool. For a dial caliper, the most common is 0.001″. If your dial caliper doesn't give this resolution, don't buy it. You'd rather buy a vernier caliper. However, if you need higher resolution, it seems that no dial calipers higher than 0.001″ resolution currently. You may need a micrometer. It's far better resolution than caliper.
3. Accuracy
Accuracy shows the degree of how identical the measurement results to the standard. This standard unites the definition of 1″ (for instance) for all places in world. It will be a long explained guide to tell you about accuracy. Accuracy covers many things such as repeatability, uncertainty, traceability, etc.
Simply, an accuracy of a dial caliper has to be at least the same as its resolution. For example, if the resolution is 0.001″, then the accuracy should be ±0.001″. Accuracy is expressed in the "±" sign and number. Herewith, if the reading shows 1.002″, the true reading ranges from 1.001″ to 1.003″.
You may expect your caliper has higher accuracy than its resolution, but so far we don't find it yet.
Since the majority of dial calipers come with 0.001″ resolution, its accuracy needs to be ±0.001″ at least. Sometimes, a certain product doesn't come with a clear description of its accuracy. In this case, you should avoid it for precision measurement. You could keep using it but further calibration using a block gauge is importantly needed.
4. Material Construction
You need to choose a suitable material for all of the dial caliper parts. These materials are expected able to give corrosion and abrasion resistance. Stainless steel or hardened stainless steel is at least the main material for its critical parts. You should avoid plastic unless for less unimportant parts.
5. Carbide-tipped Jaws
Another extra enforcement is required for the jaws when it is frequently used for heavy jobs. Like carbide-tipped anvil in micrometer, carbide-tipped jaws are great to coat the jaws for more durability. It is more resistant to wear than stainless steel. The calipers with carbide can be expensive but it offers a great return; lasts longer. Not only does it provide durability, but also the accuracy improves. Great to use in a machine shop or other heavy-duty jobs.
6. Clear Display
A clear dial display can help you get a quick reading. Some people may use the dial caliper in a less light site. In this case, pick the color that reflects the light. High-quality crystal also helps get a clear reading. However, this fancy crystal may cost more. Make sure the numbers' size is not too small, pretty large to see from a reasonable distance.
7. Thumb Wheel
For a single-handed user, the thumb knob is highly useful to slide the dial back and forth. It helps give the right pressure to the object being measured. Many people consider this feature important so do we. It gives convenient and proper use. Most of the dial calipers come with this feature.
8. Smooth Slide
Feel a great measuring experience with dial calipers that slide smoothly. A nice smooth sliding dial caliper shows a high-quality product. However, the smoother the dial caliper, the more expensive it is. So, if you prefer this advantage, you need more budget.
9. Knife Edge Jaws
It has the advantage to increase accuracy. Some inaccuracy issues come from the flatness and parallelism of the jaws. The knife-edge jaws reduce the surface area that touches the workpiece. This can result in a more reliable measurement.
10. Repairment
Some brands have their dial caliper spare parts available for sale. In case your dial caliper breaks apart, you can replace the broken parts such as its crystal. Perhaps you don't want to turn to the other calipers. You don't need to buy a new one and can save some bucks. Further, you can hand it down to your son.
11. Chase
The case is important to secure the dial caliper when it's not in use. Sometimes, it can crash with other tools. Herewith, the chase shields it. Storing it in a chase also means protecting it from water. If you can store it in a good humidity condition, then it's way better.
Frequently Asked Questions
Q: How to read dial caliper?
A: You can read here how to take the dial caliper reading.
Q: How to calibrate dial caliper?
A: You need at least a block gauge. But you need to make sure it's traceable to NIST as well so that the calibration is accurate.
Q: How to take care of a dial caliper?
A: Put it inside a hard foamed case. The case needs to store at a good humidity for metal tools.
To Sum Up
As you have read, there are 10 dial caliper reviews discussed in this article. Some of them are made by top-level brands while some are mid-brands. Perhaps, those reviews are too long. You need to get it faster. Here we want to sum up the reviews based on the purpose.
Top 5 Best Dial Calipers for Machinist
The best dial caliper for a machinist should be accurate, precise, repeatable, high-quality, corrosion-resistant, abrasion-resistant, and durable. In this case, the options are Brown & Shrape 599-579-4, Starrett 3202-6, Mitutoyo 505-742, Mitutoyo 505-738, and Starrett 120A-6.
But the winner is Brown & Sharpe 599-579-4 as it is the smoothest one; very very nice quality dial caliper. For a greater abrasion-resistant, choose Mitutoyo 505-738.
Top 3 Best Dial Calipers for Woodworking
Dial caliper for woodworking has to provide a fractional reading. In this case, a high-precision one is not needed. However, the caliper should be smooth sliding, durable, and easy to work with a single hand. According to the list above, we can clearly tell that Starrett 1202F-6 (higher price), Shop Fox D3208, and iGaging 100-164 are available to choose from.
Best Budget Option
If you are on a budget, still you can get the best possible one. The dial calipers from Anytime Tools are great to pick such as Accusize Tools AT203185 and Anytime Tools 100-020. You could afford them for under $50.