On the market, the device called "EMF meter" refers to a measuring device used to measure EMF radiation. EMF radiation includes electric field strength (V/m), magnetic field strength (A/m), and power density unit area of radio waves (W/m²). It should include the specific absorption rate (W/kg) as well.
Electric fields and magnetic fields are generated from AC-powered and DC-powered things such as power lines, appliances, wall-and-floor electrical wiring, computer, television, etc. If there is a voltage difference, there will be an electric field. Further, if there is a flowing current, the magnetic field will exist. Their frequency is low, therefore, it is considered ELF (Extremely Low Frequency) wave in the electromagnetic spectrum. The ELF is still the part of radio wave.
On the other hand, RF radiation (radiofrequency radiation) is generated from radio waves. They are emitted from Bluetooth devices, routers, modems, cellphone towers, cellphones, smart meters, microwave ovens, TV and radio transmitters, radar, etc. The radio wave frequency has a range of up to 300 GHz.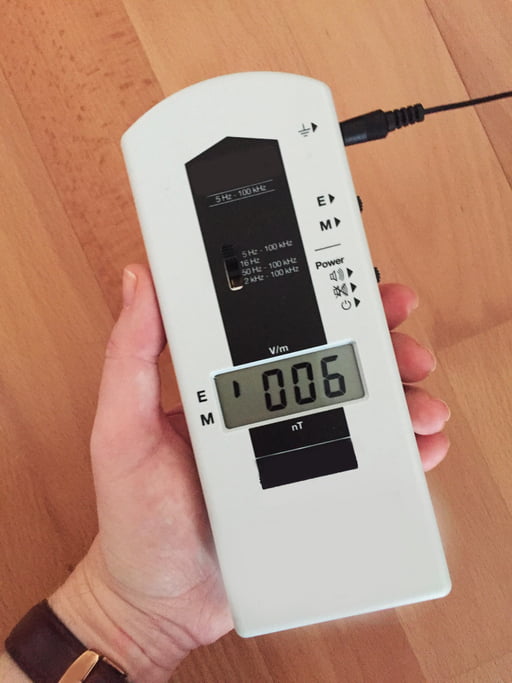 EMF meter stands for electromagnetic field meter. However, it doesn't represent the entire frequency range of the electromagnetic spectrum which consists of radio waves, microwaves, infrared, visible light, ultraviolet, X-rays, Alpha rays, Beta rays, and Gamma rays. This meter measures the radio wave range only.
EMF meter, RF meter, Gauss meter, etc are the instruments for radio waves.
IR power meter is for infrared radiation.
Lux meter is for visible light.
Goniospectrometer is for UV ray radiation.
Geiger counter, Dosimeter, etc are to measure X-ray, Alpha ray, Beta ray, and Gamma-ray (ionizing electromagnetic waves).
Even further, an EMF meter, however, cannot cover all the entire radio wave frequencies which are from 0 Hz to 300 GHz. Currently, the best emf meter of our choice only covers a range of 40Hz to 10GHz.
Many people buy an emf meter to assess the radiation around them whether it is under the standard exposure limit or not. If you are going to purchase a new emf meter, the selection can be easier by viewing our top 10 best emf meters below.
Model
Picture
Major Spec
Price
1. GQ
EMF-390


[Best Overall]

Frequency coverage:
40 Hz - 10 GHz
Measures:
- Electric Field
- Magnetic Field
- Radio Frequency




2. Erickhill RT-100

Measures:
- Magnetic Field
- Electric Field




3. Cornet
ED-88T

Frequency coverage:
50 Hz - 8 GHz
Measures:
- Electric Field
- Magnetic Field
- Radio Frequency




4. TriField
TF2

Frequency coverage:
40 Hz - 6 GHz
Measures:
- Electric Field
- Magnetic Field
- Radio Frequency




5. ENV RD-10
[comes with
Android App]

Frequency coverage:
50 Hz - 8 GHz
Measures:
- Electric Field
- Magnetic Field
- Radio Frequency




6. HF 35C

Frequency coverage:
800 MHz - 2.5 GHz
Measures:
- Radio Frequency




7. EMFields
Acousticom2

Frequency coverage:
200 MHz - 8 GHz
Measures:
- Electric Field




8. Greenwave

Frequency coverage:
3 kHz - 10 MHz
Measures:
- Dirty Electricity




9. EMFields PF5

Frequency coverage:
20 Hz - 50 kHz
Measures:
- Electric Field
- Magnetic Field




10. Gain
Express

Frequency coverage:
30 Hz - 2 kHz
Measures:
- Magnetic Field



Top 10 Best EMF Meter & Detector Reviews 2022
1. GQ EMF-390 Multi EMF Radiation Meter
[Best EMF Meter Overall]
GQ EMF-390 is the best EMF meter of all. It is excellent and comes at a very reasonable price.
It covers the emf radiation measurements in the frequency range of 40Hz-10GHz. That said, it has the broadest range of frequency responses amongst the other emf meters on this page.
That means it's able to detect and measure the radiation from your cell phone, computer, power line, television, appliances, cell tower, etc.
It comes with an interactive LCD screen display. The three (EMF, RF, and EF) measurements are readable at the same time; no need to switch to read the other readings. It displays the MF (magnetic field) in milli Gauss, the EF (electric field) in V/m, and the RF (radiofrequency) in mW/m².
Another great thing is the real-time graphic on the screen. It shows the fluctuations so that you could monitor the changes directly on the device. Near the graphic, you could see what the device reports of the field source. Moreover, the alarm will notify you if the radiation exceeds a certain level. This is great so that you could immediately move from that harmful area.
Overall, this is worth every penny, the best bang for the bucks. It's versatile, full of features, and designed for everyone. Even, you could use it for ghost hunting. It's able to pick some bands of 5G radiation (not for the high band 5G). The price is also reasonable which makes it perfect to pick up.
Important links: EQ EMF-390 manual and interface simulator download page.
Pros:
To measure 5G (low & mid 5G band)
Large and very informative screen
Wide frequency response
The price is reasonable
Cons:
Is it traced to the NIST lab?
2. Erickhill RT-100 EMF Meter
If you are on a budget, this Erickhill EMF meter may suit you. It measures the magnetic and electric field as you could see on the product image beside.
The radiation from your cellphone, power line, computer, appliances, television, and many other DC and AC powered things can be detected and measured with this device. Some people also use it for ghost hunting.
However, this model is not able to cover RF radiation detection. So, you cannot use it to measure the radiation of wifi, your cellphone/computer/tablet when it is connecting to the internet, cellular tower, etc. Surely, it's not designed for 5G radiation measurement.
Lack of information about the frequency range that it can detect is another downside to consider when buying this device. If you need something for detection only, this model should be enough.
Pros:
Cons:
It doesn't measure RF radiation
3. Cornet ED-88T EMF Meter
The second best EMF meter device that we see worth it to share is Cornet ED-88T. This is also an excellent EMF meter because of its broad frequency range (50 Hz – 8 GHz). Therefore, it's able to measure the three types of EMF (electric field, magnetic field, and radiofrequency) in a single device.
Cornet EF-88T is a simple device but provides great advantages. It lets you alarmed with sound when a certain level of exposure detected. Through the screen, you could monitor the radiation reading, maximum reading, the last 30 signals on the graph bar, and the frequency of the signal being picked.
Besides the screen, there are some LED indicators that tell you how strong the signal as well as LED indicators for safety. This is a nice feature to quickly tell you as it's color-coded.
However, unlike the GQ EMF-390 which shows the three EMFs in a single screen, Cornet EF-88T only shows one type of EMF on the screen. You have to switch it using the "Mode" button below the power button.
Overall, this is the second great choice of EMF meter that we recommend. But you need to read carefully the manual to use the buttons. Especially when to change the reading from RF reading to another, you have to push the "Hold" button as well.
Necessary links: Cornet ED88T review from an engineer.
Pros:
Broad frequency pick
Informative screen
5G EMF meter
Cons:
4. TriField TF2 EMF Meter
The old-style look but provides some great functionalities, Trifield TF2 comes on as our third best EMF meter. It comes with a broad frequency pick (40 Hz – 6 GHz) that lets it measure the 3 types of EMF radiations with ease.
It's able to measure the electric field, magnetic field, and radiofrequency radiation. So, almost all of the EMF radiation sources are able to get measured with this device.
The screen displays peak reading, current reading, unit reading, battery level, and graph bar. At the top screen, you could see the peak reading changes every couple of seconds while the current reading keeps changing. The reading is displayed in number with its unit reading according to the mode being used.
Combined with the special sound, the contrast graph bar helps you quickly get notified of the radiation strength. It's actually a scale from 0 – 100 made by the company.
Unlike the Cornet ED-88T, the switching is easier and more straightforward. The knob is designed to switch the reading easily to another reading. There are 5 selectable switches: Off, Magnetic (Standard), Electric (Standard), Magnetic (Weighted), Electric (Weighted), and RF.
The great thing that we like about this Trifield emf meter is its weighted mode. It has two switchable sub-modes (next to the "RF" mode): magnetic and electric. This mode allows you to take the electric current from your body into the measurement as well. So, the measurement is expected to be more informational.
Pros:
Easy to use, very intuitive knob
Weighted mode to proper measurement
Cons:
Old design
You have to switch right or left to see the other readings
5. ENV RD-10 EMF Indicator Connectable to Windows, Mac, & Android
Smaller than the palm of a hand, ENV RD-10 is the compact radiation detector that will fit in your pocket to easily carry anywhere. There is no LCD display. The color-coded (green, yellow, and red) indicator bar and the table chart lets you quickly know the radiation level around you. Carrying it around a place of high emf level will quickly alarm you.
Aside from that, this emf tester is also an emf meter that means able to give you a more detailed measurement of electromagnetic field radiation. Its emf meter app allows you to measure in your smartphone. Meanwhile, the RD-10 software can be installed in either Windows-based or Mac-based devices; so that you can monitor and record the emf exposure on your laptop or computer.
In addition to the connectivity advantages, you could save the file, convert the data to a spreadsheet, and visualize the data on Google Maps. Measuring the radiation of the entire place in your city can be a great experience as it's also rechargeable.
It measures the electromagnetic radiation in 3 unit readings: V/m (electric field), mG (magnetic field), and mW/m2 (radio frequency radiation). The frequency range response for the electric field and magnetic field is 50Hz to 10KHz. On the other hand, the RF radiation frequency range response is 100 MHz – 8 GHz. This range allows you to cover some 5G band frequency.
Specifications:
RF frequency range: 100MHz to 8GHz
Low-Frequency magnetic field range: 50Hz – 10KHz
Electric field frequency range: 50Hz – 50KHz
Read more the manual here https://www.envirosens.com/software/manual/env-rd-10.pdf
Pros:
Two-mode of use: the compact standalone (emf detector mode) and connected to another device (emf meter mode)
Portable, easy to carry everywhere, quickly tells you the dangerous level of electromagnetic radiation
Connected to another device for better display and more detailed measurement of the radiation value
Visualizing multiple measurements on Google Maps
Cons:
The emf app cannot be installed on iPhone (iOs based smartphones)
6. HF 35C HF-Analyser RF Meter
If you are looking for a dedicated RF meter, this is the next best choice for you. This one is designed to measure the RF radiation that ranges in the frequency of 800 MHz to 2.5 GHz.
The antenna is highly sensitive to the source of the radiation. Therefore, when scanning a certain area, it will show the highest reading when the device exactly pinpoints the source of the radiation. This will allow you to quickly judge whether there is a source or not behind the wall.
Since it just measures the RF, the LCD screen shows the radiation in power density which is expressed in µW/m². It's able to display the measurement from 0 – 1999 µW/m² with resolution down to 0.1 µW/m². If the device detects more than 1999 µW/m², the screen will show the number "1". Anything between 10-1000 µW/m² is considered "severe concern" according to this device.
In terms of accuracy, although it's not from NIST, it's calibrated by the factory labs which should be sufficient. This is useful rather than nothing at all. When it comes to measuring the 5G radiation, we see this is not a quite right choice due to its frequency response range.
Overall, HF 35C RF meter is great to measure radiation from Wifi router, cellphone, cordless phone, smart meter, Bluetooth, cellphone tower, microwave oven, and baby monitor. However, it's not to use to pick power line radiation and other very-low-frequency emf as well as the 5G.
Pros:
Dedicated for RF radiation
Cons:
7. Acousticom 2 RF Detector 200MHz – 8GHz
Simple and easy to use are the advantages of Acousticom 2. This is the best EMF indicator that is dedicated to RF radiation. The size is very suitable to carry it everywhere as it fits in the pocket.
Despite small, don't underestimate its capability. It comes with a broad frequency response starting from 200 MHz to 8 GHz that allows you to use it to detect various RF radiation sources.
As a dedicated RF detector, this device doesn't give you an exact number but several color-coded LED indicators which are great to give you quick indication. Starting from the bottom LEDs to the top, the color goes from green to yellow to amber and lastly to red.
It's considered safe at the green level (0.02 V/m and lower). If the reading reaches the red level (3 – 6 V/m), a unique alarm will sound to alert danger. By the way, it's measuring in V/m (Volt per meter). In other words, it measures the electric field, not the power density as most other RF meters.
All in all, when you are looking for the simple one (small, compact, portable) of EMF indicator yet highly reliable and provides a broad frequency response, this is the right purchase for you. However, it's only measuring the electric field. Moreover, it's designed for exact measurement, just an indicator and detector as well.
Pros:
Easy to use, easy to carry, and simple
Quick indication
Small size
Cons:
Not for measurement, just indicator and detector as well.
8. Greenwave Broadband Dirty Electricity Meter
Simply, dirty electricity is one of the EMF radiation that we have to take care of. Every day, we are getting to this radiation as they come from the wiring and power line of our house. There are some health improvements while filtering this radiation.
This radiation occurs because the electrical devices repeatedly draw power from wiring by turning on and off inside (to save energy). As the process of "on and off" continuously occurs, the harmonic surges and spikes occur. The surges and spikes are actually electrical energy, which further called dirty electricity.
Greenwave Broadband EMI meter presents the capability to measure the dirty electricity in mV reading. The screen displays the first and second reading. The first reading tells you the dirty electricity without filter, while the second reading with filter. By this, you could get an idea of how much pollution has been reduced.
If you are a beginner in measuring dirty electricity, this device is right for you. It's easy to use and very straightforward. This device has a frequency response range of 3 kHz – 10 MHz which is not found on the other EMF meters.
Pros:
Designed for dirty electricity measurement (one of EMF radiation)
Cons:
9. EMFields PF5 Pocket EMF (EF & MF) Detector
EMFields PF5 is an EMF detector and indicator designed specifically for Extremely Low Frequency (ELF) and Very Low Frequency (VLF) radiation. ELF range is 3 – 300 Hz. While the VLF range is 3 – 30 kHz.
As the radiofrequency field (RF) comes in the frequency of 10 MHz – 300 GHz [Source], less than 10 MHz, we have to measure the electric field (EF) and magnetic field (MF). Therefore, it comes in two modes of measurement: electric field (EF) and magnetic field (MG). Moreover, it's designed sensitively to frequency from 20 Hz – 50 kHz.
Simply press the black button to switch the mode. The green LED light that turns on indicates which mode is currently active. In case you want to turn off or on the device, press and hold the black button. That easy.
The advantage of EMFields PF5 is its broader frequency response to measure EF and MF. It allows you to measure the radiation from the power line, computer, and wiring.
Additionally, electrical appliances such as LED lights, energy-saving fluorescents (CFLs), induction hobs, and solar panel inverter which emit radiation at approximately 5 kHz to 50 kHz frequency is able to get measured. The competitor only beats around 30 Hz – 300 Hz. This allows you to get more reliable detection.
Pros:
Great to use for beginners
Broader frequency response to measure the EF and MF
Easy to use, simple, compact, and portable.
Cons:
It measures the electric and magnetic field only
10. Gain Express T92 Gauss ELF Meter Detector
If you are intending to measure the magnetic field radiation from the power line near your house, this is the device that is reliable use. It's because of its 3-axis sensor which increases the reliability and accuracy of measuring the magnetic field.
By using a triple-axis sensor, you don't need to rotate the device to get the proper measurement.
Any source of EMF radiation within the range of 30 – 2000 Hz is sensitive to this sensor. And the reading that appears on the screen is in microTesla (µT) or milliGauss (mG).
The buttons are also highly intuitive. You could easily learn and recognize the functions. Buttons for data hold, maximum reading, and minimum reading are also available. You could also save the readings for 500 data sets in the internal memory.
Pros:
Designed to measure the magnetic field
3-axis sensor
Large LCD screen
Cons:
Only measures in magnetic field mode.
Things to Consider Buying EMF Meters & Detectors
1. EMF Meter Vs. EMF Detector
The emf meter lets you know the exact reading of the electromagnetic radiation, while the emf detector only detects the existence of the radiation. Most emf detectors don't let you know the exact emf reading. It just tells you the safety level of the radiation. If you buy the detector model, it's better off to buy the model that comes with an app/software. The detector app/software will synchronize to the detector and display the reading as the emf meter does.
Commonly, an EMF tester/indicator/detector is easy to use for beginners. They are not as complicated as the meter one. The indicators directly show the radiation level.
2. Comes with Selectable Level Standard
The best EMF meter lets you choose which safe standard level to use. The ICNIRP gives the exposure limit that may be different from other standards. If you could change the standard level, then it becomes a great value to the user.
3. Frequency Response
Frequency response is the frequency range that the EMF meter can cover to measure. The wider the range means the better it is. If it can cover all the frequencies from 0 to 300 GHz, then it is good. However, it's actually not necessary.
In terms of 5G; that is a hot issue currently, if your EMF meter can cover up to 3.7 GHz, then it means able to measure some 5G frequency bands. It's up to your intention to use this meter. The radio band frequency doesn't require that range, lower then 1 GHz is sufficient to use.
4. Multiple Measurement Modes
A great EMF meter should cover the 3 types of EMF measurement modes: Radiofrequency (RF), electric field (EF), and magnetic field (MF). This is important to allow you to measure any type of radiation generated by the electromagnetic wave.
You have to approach these 3 radiations to get a comprehensive reading. Some EMF meters only cover two readings: magnetic field and electric field but they claim cover 3 readings including the RF (radiofrequency) reading. You have to carefully choose them. The best way to avoid this event is to take a look at the frequency response the meter can cover. If it cannot cover more than 10 MHz, simply it is not able to measure RF radiation.
5. Accuracy
In terms of accuracy, this part actually covers things such as a 3-axis sensor, NIST traceability, and sensitivity.
– 3 Axis Sensor
If you are going to measure the magnetic field accurately, the 3-axis sensor must be applied. This is meant to catch the magnetic field orientation. When a device has a single axis sensor, it may take the wrong orientation of the magnetic field. To get a proper measurement, a single axis sensor must be rotated to get the highest possible reading as the correct reading.
– NIST Traceability
When it comes to NIST traceability, it means the way to ensure that a measuring instrument is calibrated properly in order to measure as accurately as possible. An EMF meter that comes with a certificate of NIST traceability has been calibrated with the standard EMF measuring device owned by NIST. NIST is the highest hierarchy of measuring standard authority in the USA.
Sometimes, when you purchase a measuring product, it's delivered with a certificate of calibration. Keep in mind that this must not from NIST. It can be issued from the manufacturer that performs calibration prior to packaging or delivery. A certificate from NIST costs you an additional amount of money.
– Frequency Sensitivity Range
The RF radiation spectrum is from 10 MHz to 300 GHz. If your meter has the sensor that is sensitive to this spectrum, it's so much better. Your device may have the 3 measurement modes in a single tool. Keep in mind that each mode has a different sensitivity.
It's also important to consider the sensitivity range of your device when measuring the EF and MF. The radiation which is lower than 10 MHz, you need to measure it in EF and MF mode.
6. Important Features
Other important features such as the screen or indicators are important to consider. This is to display as much information as possible of the EMF measurement. Even further, the capability to store the readings is required for advanced users.
Final Decision
EMF meter / EMF detector / EMF reader / EMF tester, whatever the name, is the measuring instrument to assess harmful radiation from the electromagnetic field.
Though called EMF meter, it doesn't necessarily mean able to measure the radiation of all frequencies of electromagnetic waves. It only covers some of them. EMF radiation means the magnetic field strength, the electric field strength, and the electromagnetic field power density. For lower frequency waves, we measure the magnetic field strength and the electric field strength. While the higher ones, we measure the radiofrequency power density.
If you are still confused about what to choose from the list, here we suggest the GQ EMF-390 as the best EMF meter for you. It has a great range coverage of electromagnetic radiation up to 10 GHz. The price is also affordable. It also comes with an alarm system both visual and audio. In addition, it can measure some of the 5G radiation (low and mid-band) as well.
Further, if you want to lower the emf exposure, you could make use of EMF protection equipments. This protection can minimize the radiation to a safe level.