Jewelers loupe or loupe for jewelry is a loupe designed for jewelry observation. The best jewelers loupe has to generate a view that is clean, clear, crisp, contrast, sharp, no fringing color (color-corrected), and most importantly no distortion (no blur). It also provides a sufficient wide of view that makes the eyes comfortable to focus on.
Whether the lens is made of glass or polycarbonate, the material quality and design are so important. Although you could use the standard model with 10 magnification, the duplet or triplet design is considered able to provide a better and sharper view. Moreover, the Anti-Reflective coating applied to the lens can provide more contrast results.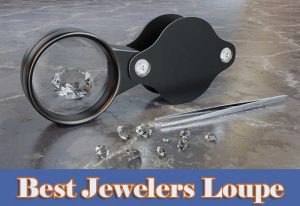 Although it sounds made for jewelers, in fact, it's used by various jobs such as gemologists, horologists, engineers, coin collectors, stamp collectors, biologists, geologists, and the likes.
Unlike other loupes such as a dental loupe, this kind of loupe must be positioned near the workpiece while being used. In other words, the focal length is short. You need to move it back and forth to get the exact focus. Also, it provides 10 times (10×) magnification for standard specification. But you could find them with 20X, 30X, or 40X magnification as well.
Keep reading for further information such as the factors that make a loupe able to use for jewelry louping, what is aplanatic and achromatic, etc.
Product
Picture
AR*
Spec

Price

1. Schneider
L2
[Best Overall]


AR:
Yes

Magnification: 10x
Lens design: Triplet
Lens diameter: 20mm
2. Zeiss D-40
[Almost Perfect]


AR:
Yes

Magnification: 10x
Lens design: Triplet
Lens diameter: 13mm
3. Belomo
[Affordable]


AR:
Yes

Magnification: 10x
Lens design: Triplet
Lens diameter: 21mm
4. Nikon


AR:
No

Magnification: 10x
Lens design: Triplet
Lens diameter: 13mm
5. Ade


AR:
No

Magnification: 10x
Lens design: Triplet
Lens diameter: 19mm
6. Bausch
& Lomb


AR:
No

Magnification: 7x
Lens design: Triplet
Lens diameter: 20mm
7. SE Pro


AR:
No

Magnification: 10x
Lens design: Triplet
Lens diameter: 21mm
8. Fancii


AR:
No

Magnification: 20x
Lens design: Triplet
Lens diameter: 15mm
9. Jarlink


AR:
No

Magnification: 30x 60x
Lens design: Duplet
Lens diameter: 22mm;
12mm
10. Qooltek


AR:
No

Magnification: 10X 20X
Lens design: -
Lens diameter: 19mm; 15mm
*) Anti-Reflection (AR) coating.
Top 10 Best Jewelers Loupe Reviews in 2023
1. Schneider L2 Achromatic Aplanatic Triplet Professional Jewelers Loupe
[Best Overall]
This is the best overall jewelers loupe we finally decide amongst the other jeweler loupes available on the market. If you are looking for a true professional jewelers loupe for diamonds, that will fully provide a sharp view from edge to edge, color-corrected, and will not strain your eyes, then we highly recommend this one.
Although it is expensive, this one will save you from making a mistake that can cost a lot of money.
It's made in Germany by famous Harald Scheider. The triplet lens is made of high-quality "glass" that will make it fully achromatic (no fringing color) and aplanatic (sharp/no distortion). Moreover, the 20mm lens diameter will create a wider field of view and keep your eyes relief longer from fatigue during the viewing. Therefore, what makes this one obviously different than Zeiss and Nikon is the diameter lens. It's wider and as a result, your eyes are healthier using it.
This 10X magnification Schneider L2 triplet loupe has the previous series of Schneider L1. It would be better off the L2.
Whether you are a grader, seller, or buyer, it's encouraged to purchase this one. Don't miss out on any inclusion that maybe not observed. You can lose a significant amount of money in that case. In addition, it comes with a lanyard to hang around your neck plus a leather case for initial protection from dust and water.
Spec:
20mm lens diameter
Triplet
10X magnification
High-quality glass
AR coating
Pros:
Excellent and sharp view due to the triplet design
20 mm lens diameter; wider view; comfortable for eyes
AR coating; absorbs more light; contrast view
The lens is made of glass
Cons:
2. Zeiss D40-10x Professional Jewelers Loupe
[Almost Perfect]
Zeiss D40-10X loupe is the next star. It gives an excellent view to the users. This is another best jewelers loupe for diamonds due to its view quality that is sharp, color-corrected for sure, contrast, and totally no blur.
This pocket-size loupe is perfect for the professionals. It uses a standard 10X lens, which makes the inspection a lot easy.
Another feature is the AR (Anti-Reflective) coating that aims to get a more contrast view. The coating prevents light reflection, absorbs the light, and results in smaller light loss. You'll never find glare on the surface because the light is refracted by almost 99.5%.
The only drawbacks are the small lens (13mm diameter) and no eyelet. For some users, the small-diameter lens might be unpleasant to their eyes. And the lack of eyelet could make the loupe lose. If you are looking for a quality loupe like this one that comes with a wider lens, the price might rise significantly.
Spec:
The lens is made of glass
13 mm lens diameter
10X magnification
Field of view is 22 mm
Made in Belarus
Pros:
Excellent view due to the triplet design; sharp view
AR coating; contrast view
The lens is made of glass
Cons:
3. Belomo 10x Triplet Loupe for Jewelry
[Affordable Option]
Belomo 10x triplet loupe is a good option if you are looking for an affordable one. As we found on the market, this one is so much popular due to its wide field of view, price point, and decent quality.
This one is actually a triplet loupe, but not as good as Zeiss and Nikon. In comparison with Zeiss and Nikon above, you could still find a little blurred area around the edges. However, compared to other cheap non-triplet loupes, this one is definitely much better. The view generated by Belomo loupe is free from chromatic aberration. You'll not any fringing color at the boundaries of the view.
Another benefit of this made-in Belarus loupe is its wide diameter. You'll not find it too small. So, the field of view is quite big and comfortable for your eyes. To sum up, we suggest this loupe for coins, gemstone, rocks, and the likes. This Belomo loupe doesn't come with a lanyard except for this serie.
Spec:
10X magnification
Triplet
AR Coating
Glass lens
21mm diameter lens
Lanyard
Pros:
Affordable price
Decent quality
Larger viewing area
The lens is made of glass
Cons:
The distortion is still seen on the edge but it's a small portion
4. Nikon Triplet Jeweler Loupe
The same with Zeis 40D-10X above, this Nikon loupe also provides an excellent view of the object being identified. Its triplet design generates a color-corrected and blur-free result. The view is seriously sharp from edge to edge.
However, compared to Zeiss, Nikon has no AR (Anti Reflection) coating that means less contrast than Zeiss. But it has an eyelet to let your lanyard tied through it. Another drawback is the small lens diameter (13mm). Some people may not prefer this size if they can afford the wider one.
If you are highly respected with the Nikon brand, then you could consider this loupe.
Spec:
The loupe is made of glass
10X magnification
Lens diameter is 13mm
25 mm focal length 25mm,
20 mm working distance (distance from eyes to the lens)
Made in Japan
Pros:
Cons:
No AR coating; less contrast
Small field of view
If you are going to compare Zeis D40-10X and Nikon loupe 10X, you could see the differences in the video that we choose for you below.
5. Ade Advanced Optics 10x21TB-A Decent Triplet Loupes
This one is the competitor of Belomo due to the quality that comes with a nearly similar price point. It's a triplet lens, 10X magnification, wide field of vision (19mm diameter lens) that would make your eyes need less force to view the object, clear, and sharp like Belomo. If you are looking for some decent jewelers loupes for inspecting rocks and gemstone, this should be the one.
The things that set it apart are the field of view or distortion area. Both of these two things are caused by the aplanatic quality of the lens. In short, Ade loupe has a slightly wider field of view than Belomo 1oX loupe. As a result, the distortion area is also improved. However, in comparison with the cheap ones, you are lucky to find this item. Another thing is it doesn't come with a lanyard. But, as you could see, the lanyard eyelet is available there.
Spec:
10X magnification
Triplet
19mm lens diameter
Glass lens
Leather case
6. Bausch & Lomb USA Made Triplet Jewelers Loupe
This Bausch & Lomb loupe is great not only for jewelry but also for coins. Its magnification is smaller than the average of jewelers loupe magnification which is 7 times but because of that magnification, its field of view is getting improved. So, that is great for coins.
We find this loupe the only one loupe that is made in the USA, Rochester NY to be exact. Sure, it becomes American pride. The lens design, which is a triplet, will correct the color and prevent spherical aberration that commonly happens to a single lens. This one is good for inspecting jewelry such as diamond but we are not sure it could magnify the laser inscription number. Perhaps, you have to reconsider this one for that purpose.
Spec:
7X magnification
Triplet
20mm lens diameter
Made in the USA
7. SE Professional Quality LED Light Triplet Loupe
From all of the triplet loupes above, it's vividly no one that is equipped with artificial lighting. Here we pick one for you, a hexagonal-shaped SE Professional loupe.
It comes with 6 built-in LED bulbs inside the loupe. The 6 LEDs are distanced equally apart from one another circumferencing the loupe to create the perfect lighting. It's expected to create a shadow-free condition to the area being lighted.
This 10X triplet loupe should be decent for reading the GIA/AGS certificate number, especially because of the nice lighting. The lens diameter is also wide which is cozy for eyes. But if you could afford the higher magnification one, that would be better.
There is another SE Pro loupe series that comes with UV light (SE Professional MJ37802LV). The UV light will be very useful to identify the security feature in currency. It's also reactive to Fluorite and Sodalite. That means it's an al loupe for minerals.
Spec:
Triplet
21mm diameter lens
6 LED lights
10X magnification power
8. Fancii LED Jewelers Loupe for Coins
Fancii FC-LP20XW loupe is the best jeweler loupe for coins. In case you need to magnify flat objects, we suggest this one. It's not like the other hand loupe, this one is stationary. So, you need to put the workpiece on a surface and take the view. Nicely, this state will allow you to take the picture with your smartphone.
Is this tripet? Not sure if we see from the pictures shared by the buyers. There seems a significant distortion around the edges. It should be more clear if it's triplet. However, in case you are going to read the laser inscription number of a diamond, it should be okay due to the 20X magnifying rate glass lens and its bright 6 LED lights spread evenly around the edges. You just need to put the diamond at the right angle so that it's readable.
Because it uses LED lights, the battery is needed. It uses three LR927 batteries. Whenever you work in less lighting, you can turn it on. Turn it off vice versa.
Spec:
20X magnification power
6 LED lights
9. Jarlink 30X 60X Illuminated Jewelers Loupe
This loupe is not triplet but you'll shockingly see its view quality.
It provides two lenses. The first bigger one is 30 times magnification, while the smaller one is 60 times magnification. The LED features on each lens are useful to view in dim light, especially the smaller lens that may block ambient light. It only needs an LR1130 battery which is considered easy to find in the store.
Spec:
Duplet
60X and 30X magnification
LED light
10. Qooltek Headband Strap Jewelry Makers Loupe
Sometimes, positioning the loupe to be near eyes could be not an enjoyable task. Perhaps, there is another way to do that. Fortunately, we have this one, Qoolteck loupe.
It comes with a frame like the glasses frame. So, your hands now can fully focus on the object viewed. Don't worry it will fall down, you can use the strap (headband) to hold on to the loupe tightly.
No matter how dominant your right or left eye. The loupe can be adjusted so that there is only one loupe that is used. Simply, push up one loupe while the next loupe is left to be used. Never use the pair, it will not work.
Here is the most important thing. It comes with 8 substitutional lenses (2.5X, 4X, 6X, 8X, 10X, 15X, 20X, and 25X) that bring different magnification for each (ranges from 0.5 to 6.2 inch). Therefore, we would recommend this for jeweler makers.
Another nice feature is the LED lights which are designed and positioned beside the lens. It can be adjusted so that the light focus can be directed exactly to the workpiece. You will find it very useful when working in dim light.
Spec:
2.5X, 4X, 6X, 8X, 10X, 15X, 20X, and 25X magnification
LED light
What is Jewelers Loupe?
As the name suggests, this sort of loupe is used for jewelry. Whether to inspect or make jewelry, it functions to magnify the piece so we can view them in detail sharply. People also use this loupe to view the rocks, minerals, watch, etc.
Jewelry refers to personal ornaments that are made of or contain commonly these: diamonds, gemstone (ruby, sapphire, etc), precious metal (gold, silver, etc), and pearl. But, the most common use of a jewelers loupe is for diamonds and gemstone.
Jewelers Loupe for Diamonds
To inspect a diamond, you'll assess these 4 things (4C): Cut, Color, Clarity, and Carat. You'll use light to inspect the cut to see how sparkling it is. The color can be assessed by a trained eye. And the carat, you'll rely on a diamond weight scale. When it comes to clarity, you'll use a loupe.
The clarity itself consists of blemishes and inclusion. Blemishes are the flaws located on the surface. While the inclusion is the flaws located in the internal body of the diamond. Both of them determine the grade of the diamond. The less the clarity, the higher the grade. And the higher the grade, the more expensive it is.
Suppose you are going to buy a diamond ring from someone. She said it's a true FL diamond. But, your loupe evidently finds a bearding (a type of inclusions). Imagine if your loupe fails to provide a good view and you miss out on the bearding. You lose thousands of dollars.
Aside from inspecting the clarity, it is also needed to read the small inscription GIA/AGS certificate number which is engraved microscopically. These numbers are invisible to see by the naked eye. It can be only spotted by a loupe.
Furthermore, a certain diamond (1 carat or weigher) comes with a clarity plot. It will tell you exactly where the inclusions and blemishes are on the diamond. By means of a jewelers loupe, you could match up the inclusions and blemishes that are mapped at the plot to the real inclusion you are viewing.
Jewelers Loupe for Gemstone
Basically, the jewelry loupe for gemstone has the same tasks. It's used to view the external surface, cabochons, inclusion, and coloring of the gemstone. However, since gemstones are available in various colors and the need to provide better color quality is critical.
Moreover, both loupes for gemstone and diamonds are designed to have a short focal point of about one inch. So, you need to put the piece close to the loupe as well as your eyes also being so.
Therefore, A Jewelers Loupe Must be …
In short, a jewelers loupe must be at least: 1). Aplanatic and 2). Achromatic. And this quality can be achieved from the fixed lens construction that is called triplet.
Aplanatic Loupe
Aplanatic loupe is simply a no blur loupe. The view generated by the loupe is clear, sharp, crisp, and no distortion is seen around the edges of the loupe.
The distortion or blur is caused by the phenomenon called spherical aberration.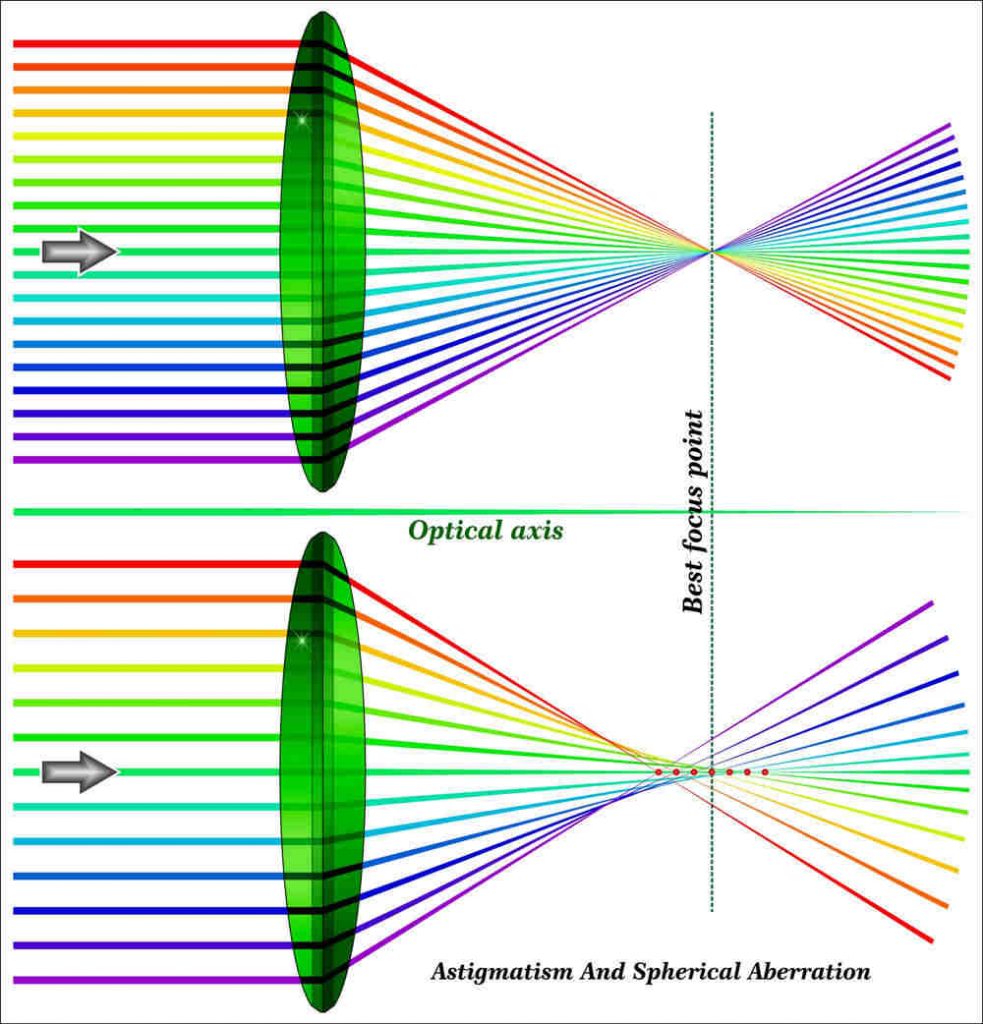 If you find a sharp view at the center of a loupe but the edge area is blurred, then it's a phenomenon of spherical aberration. The following image is the example of that blurr.
Achromatic Loupe
Both aplanatic and achromatic loupe makes the view become distortion-free. However, the type of distortion fixed by the achromatic loupe is the distortion caused by the fringing color.
That fringing color happens due to the phenomenon called chromatic aberration. The boundary of an object being observed through the loupe becomes colored. It could be red, blue, or green. Even it could be the mixing of those three colors. In some cases, it also could be purple or pink.
These colors come from the refraction of the glass. If you use a high refraction glass as the loupe/lens, this phenomenon can easily occur. To fix this issue, an additional low refraction glass can focus the refracted light so that the view becomes clear and sharp.
The following image is an example of a chromatic aberration.
Buying Guide of the Loupe for Jewelry
1. Triplet
There are three types of loupe based on loupe construction: singlet, doublet, and triplet. As the name suggests, the singlet is a single loupe. The doublet is two loupes. And the triplet is three loupes. The loupes are joints together using a certain technology.
The doublet loupe has a better view than singlet but the triplet is the best. Why? Because the triplet model will correct the color and provide a less blur view. The problems that always happen to a singlet loupe are the spherical and chromatic aberration. So, the triplet is the very well construction preferred to see details on gemstones and diamonds.
2. Magnification
The standard magnification of a loupe for jewelry is 10X. It's considered as the most comfortable magnifying ratio. There are also 20X, 30X, and 40X magnification loupes for jewelry available, but the diameter lens generally becomes smaller.
Magnification and field of view are two unseparated things. The higher the magnification, the smaller the field of view. The smaller the field of view, then you have to move the loupe very slowly and carefully. Your eyes also have to work hard. It could lead to eye fatigue and even further make you suffer a headache.
To read the laser inscription, a higher magnification loupe should work better. We also suggest using additional lighting. The laser inscription contains some letters and numbers that represent the certificate number of the diamond. This code must be the same as the code on the certificate. In case you have sent it to get repaired, you could know it's yours or not by checking the certificate numbers.
3. Lens Diameter
Some people would find that 10X loupe with lens diameter wider than 16mm is relaxing to their eyes. But they generally have distortion at the edges at least a little. Then improved by the same 10X magnification but the lens diameter becomes smaller. Therefore, if you find a jewelers loupe with high-quality 10X vision, totally sharp from edge to edge, plus features wide lens diameter, it's unsurprisingly expensive.
4. Lighting
A sufficient source of light is necessary to contribute to providing a clear view. Whenever you are working in a less bright place, you need an illuminated loupe to light the piece. A simple LED loupe is sufficient for that.
5. Lanyard
This is a kind of rope that is tied on the loupe so that you can hang it around your neck. The main function of this feature is to keep the loupe from losing. Not all loupes come with a lanyard, but they generally provide an eyelet to let you make your own lanyard and tie the lanyard there.
Final Verdict
Investing more budget to pick up a high-quality loupe will not waste your money. It would help you avoid making hundreds of dollar mistake. The above list contains our favorites. You could carefully read the entire list to find out your pick. However, if you ask us to narrow them, we will recommend these three loupes.
Well, here it is. When the price doesn't matter, Schneider L2 is the first choice of our recommendation. It's also the best overall. We are sure, highly jewelry professionals would love it. Surely, it's a triplet lens, comes with anti-reflecting coatings to avoid color loss, 20mm lens diameter (wider field of view), and eyelet.
If you are trying to get another best possible quality at a lower price than Schneider L2, then Zeiss D40 is the choice. It's a triplet-constructed loupe and provides AR coating. But, you have to struggle a little with its smaller lens diameter. Overall, the quality of Zeiss jewelers loupe is also good.
Lastly, if you are on a budget, then Belomo would be a friendly pick. The lens is a triplet and the field of view is large. However, there is a small portion of distortion around the edges. Considering the price, this one is nice for those on a budget.