Real estate appraisers are people who provide the value of a property or land. The location of the property and other various aspects are kept in mind to determine the value of any property. The appraisers develop an opinion of the value of any property based on factors such as location, area, size, build quality, and many more.
Appraisers may use different tools to take the measurements of the property. The measurements of the whole property, its rooms, its windows, and other parts are taken by the appraisers.
A tape measure can be used used as well, however, the laser measuring tool is surely better and even the best for appraising. It is easier, accurate, convenient, less time-consuming, and efficient.
In this chance, we are going to show you some of our choices of the best laser measuring tool for appraisers. You could easily preview our picks on the following table.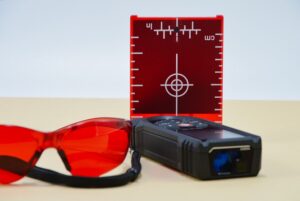 Brand
Picture
Distance
Advantage
Price
1. Leica
Disto D2
[Best Overall]

Distance:
330 Feet
Integrated with an sketch app
2. Bosch
GLM 20

Distance:
65 feet
Pocket size, affordable
3. Bosch
GLM 35

Distance:
120 Feet
Handy pocket size.
4. Bosch GLM400CL

Distance:
400 Feet
With camera to locate laser spots
5. Dewalt
DW03050
Distance:
165 Feet
Stores measurements
Top 5 Best Laser Measuring Tool for Appraisers 2023
The following are the top 5 best laser measures for appraisers we collect from the market.
1. Leica Disto D2 New Laser Measure 330 ft with Sketch App
[Best Overall]
What makes us amazed by Leica Disto D2 is the app that comes integrated with it. This app will visualize the building floor you are appraising in two dimensions. In addition, it comes with several other function buttons to help you measure easily.
As it comes with an app, it's built-in with a Bluetooth 4 connection. After installing the app on your tablet or iPad (the recommended devices for this case), the measurement you've just taken can immediately be transferred to the sketch app.
For example, you've made an irregular trapezium because you know the floor shape of the building is trapezium even though you don't exactly know each length side for sure. Then measure them one by one and the app will adjust itself to the real length until it shapes the real scaled trapezium. Watch the following video to get a better idea of this app.
Other things are the buttons that provide some important measurement modes. Measuring the diagonal becomes more accurate due to the max-min mode. The Pythagoras mode calculates the triangle area automatically after measuring height and length. And most importantly is the subtracting and adding button. Don't forget the end piece which can flip out 90 degrees for improved accuracy.
The only drawback that we spot is the laser beam. It's not really strong to use outdoors especially under bright sunlight. But you could still utilize the white paper to make the laser beam point more visible.
All in all, this is overall the best laser measure for appraisers that helps you a hundred times easier and faster to appraise a building.
Pros:
Sketch app for visualizing the floor with a real scale
Diagonal measurement available
Triangle area measurement available
Cons:
The laser beam seems not really strong for the bright day
2. Bosch GLM 20 Compact Blaze 65′ Laser Measuring Tool
[Budget Option]
This is the simple yet accurate laser measure for your appraising needs. If you are going to appraise a small and simple building, the chance is you don't need the high end one, you need this. You could carry it around easily in your pocket.
Using Bosch GLM 20 will allow you to measure a long distance up to 65 feet in real-time mode. You could see the numbers on the screen continuously keep changing if it keeps moving irregularly.
There is only one button. And if you push that button, it will activate the real-time measurement mode. The next push will capture the reading. If you push again, then the number will move to the upper side and the lower side shows the real-time distance in number.
If you are on a budget, then this is adequate to use for appraising. However, you need a piece of paper to note every measurement. You could also use the additional device to make some addition or subtraction during the work. In terms of accuracy, there is no hesitation this is highly recommended.
Pros:
Simple
Affordable
Small and portable, fits in your pocket
Cons:
Very limited measurement mode
3. Bosch GLM 35 120-Feet Compact Laser Measure
This is one of the most well-known laser measures because it takes less time but provides accurate measurements. It saves the appraisers, a lot of effort and time.
Technical Specifications:
Dimensions: 1.83 x 5.25 x 8 inches
Weight: 4 ounces
Features:
Range: It measures distances up to 120 feet.
Display: It has a backlit display which allows the measurements to be easily read by the operator.
One-button operation: It is very simple to use, you just need to push one button.
Positives:
Lightweight
Easy to use.
It requires less time.
Measures in real-time.
Backlighting
Handy pocket size.
Negatives:
It will not work on a reflective surface.
4. Bosch GLM400CL 400-feet Laser Measure with Camera for Outdoor Appraising
Another cool laser measure for appraisal that would take your attention is Bosch GLM400CL.
It's incredibly amazing with its camera feature. You won't release your energy so much because everything becomes easier.
The measuring range that it can cover is up to 400 feet. Some measurements that it provides are real-time length, length, area, volume, indirect functions, addition, subtraction, etc.
Most importantly, its camera feature matches appraisal needs. It comes with a camera that you could use to locate the laser spot although at distances. You could zoom to clearly put the spot. By using this feature, you could appraise even outdoors or in a crowded area.
Positives:
Nice laser measure for appraisers
Outdoor use
Comes with camera
Negatives:
More expensive than Leica Disto D2
5. Dewalt DW03050 165-Feet Laser Distance Measurer
This handy and portable laser measure has great features that will allow you to take accurate measurements in less time. It will also you to record the measurements easily.
Technical Specifications:
Dimensions: 5 x 2.94 x 7 inches
Weight: 10.4 ounces
Features:
Durable design: It provides resistance against water and debris.
Range: It features a range of 165 feet.
Memory: It stores the last 5 measurements.
Indirect measurement: It uses Pythagoras theorem to measure distances when pointing A and B is not accessible.
Positives:
Simple to use.
It has a 2-line backlit display.
Stores measurements.
It comes with a protective pouch with a belt loop.
Negatives:
It can be difficult to work within bright daylight.
Appraising Measurement Issues
1. Lack of Time
While appraising, there is a lack of time. A lot of time cannot be spent on taking measurements of the various parts of the property. It is necessary to have an instrument that gets the job done in less time.
2. Obstacles in the Way of Measurement
Sometimes, taking the measurements becomes very difficult because of the obstacles such as vegetation. It requires a lot of effort and time to get the measurements. There is a chance that the measurements taken in the presence of obstacles are inaccurate.
3. Climbing Ladders
It becomes difficult to climb ladders in order to take the measurements of the ceilings of an area that is up high. It consumes a lot of time and requires a lot of effort as well. Chances on inaccuracy while measuring with a tape measure are quite possible.
4. Limited Range of A Tape Measure
Some tape measures have a limited range so it is difficult to take all the measurements with them. An instrument is required that can take measurements without consuming a lot of time.
5. Keeping the Record of Measurements
Once the measurements are taken, keeping a record of them is the trickier part. It also requires a lot of time to note it down or even to save it on the phone.
6. Chance of Personal Error
With a typical tape measure, there is a chance of personal error. Taking several measurements also requires time and energy.
The best laser measure for appraisers is a solution to all of these problems, as it provides quality within very less time. You can take several measurements and you can even add them up within very little time.
Things to Consider Buying A Laser Measure for Appraisers
Based on the measurement issues above, we can conclude what factors need to take into account when buying a laser measure for appraising.
Range. The first thing that you need to know is the range of the laser measure. Laser measures have different ranges you can choose the one that suits your needs.
Controls. The controls of the laser measure must be simple to use and they should allow you to do multiple actions such as adding or subtracting etc.
Price. The price of the laser measure depends upon various factors including the manufacturers, models, and features. Some of them are very expensive while others are affordable. You should get the one that is according to your budget.
Target. You need to have a non-reflective and non-porous solid target so that the laser bean can fall on it while providing accurate results.
Memory. Some laser measures allow you to store the measurements taken. Some store 3 measurements while others can store up to 30 measurements.
Battery Life. Lastly, the laser measure should have a long battery life so you can get the work done easily.
Conclusion
The laser measure is extremely helpful, especially for appraising. It actually has wide use, however, most of the time appraisers often use them due to its advantages.
The best laser measure for appraisers is those laser measures that can serve better measurements in terms of appraising. It reduces the chances of lacking inaccuracy, time-consuming, all the issues mentioned above. Overall, it's worth it to buy a laser measure rather than other conventional length measuring tools.
Getting the best laser measuring tool for your appraising work is important. The laser measuring tools above we provide for you.
Alternative
The above choices may not satisfy your searches, you can check out our outdoor laser measure reviews. These models are designed to measure long distances with ease in which the appraisers typically face. The laser dot is more powerful. And even, it comes with view finder and camera.