When it comes to measuring a small distance in an accurate way and better resolution, the micrometer is the only type of linear measuring tools that we recommend.
We guess that you have been able to differentiate the micrometer from caliper in this case. If you are not yet, then it's our pleasure to guide you through this page "Micrometer Vs Caliper".
The advantage of micrometer over caliper is highly obvious. It's able to measure within 0.001mm resolution. While caliper has 0.01mm resolution. Even though the difference seems small in number but it is actually significant in terms of resolution.
Perhaps, it's the reason why this stuff is called micrometer since 0.001 millimeter is equal to 1 micrometer.
Although micrometer provides great resolution, its range is limited. The most commonly used micrometers are only able to provide an inch of range measurement. More than 1 inch could affect accuracy. It's easy for the micrometer material to expand due to the heat transfer from the environment and your hands as well.
In reality, many micrometers are not able to provide accurate measurements because they are not truly calibrated regularly. As a result, the accuracy could be questionable. You have to understand that accuracy means 1mm that you measure must be the same as 1mm that International Standard states.
In addition, the tool must be high-quality manufactured. It's very disappointing if it falls apart after several uses. High precision technology must be applied during the manufacturing process. There are also several things that count on to create the best micrometer.
On this occasion, we are trying to help get your best micrometer by covering some of our findings. There is a collection of micrometers along with the reviews. Also, we make things clear about what you have to consider before making a purchase.
Brand
Mitutoyo
Igaging
Rexbeti
Igaging
Igaging
Mitutoyo
Starrett
Mahr
Model
293-340-30
SpeedMic
DM09
Ez Data
35-025
MDH-25MB
3732XFL
4151705
Buy here
Range
0-1"
0-1"
0-1"
0-1"
0-1"
0-1"
0-1"
0-1"
Resolution
0.001 mm
0.001 mm
0.001 mm
0.001 mm
0.001 mm
0.0001 mm
0.001 mm
0.001 mm
Accuracy
±0.001 mm
±0.003 mm
±0.002 mm
±0.003 mm


±0.004 mm
±0.0005 mm
±0.002 mm
±0.004 mm
Ratchet
Stop
Fixed
Thimble
Thimble
Thimble
Thimble
Thimble
Thimble
Battery
SR44
CR2032
CR1632
CR2032
CR2032
CR2032
CR2032
CR2032
IP Rating
IP65
IP65
IP54
IP65
Carbide
Read Manual
Data Output

- SPC

- SPC
- Bloetooth
- Hardwire

- SPC

- SPC

- SPC
- RS232
- Digimatic
Button
Functions
- (origin)
- (zero/abs)
- (hold)
- (in/mm)
- (origin)
- (in/mm)
- (abs/0)
- (on/off)
- (0/abs)
- (unit/set)
- (on/off)
- (set)
- (on/off)
- (abs)
- (in/mm)
- (data)
- (on/off)
- (set)
- (abs)
- (mm/in)
- (mode)
- (set)
- (hold)
- (on/off)
- (on/off)
- (hold)
- (in/mm)
- (set)
- (zero)
- (abs)
- (pr)
- (mm/inch)
- (0/abs)
True Zero
Certificate
Inspection
included
included
included
included
Included
included
Extra
ball anvil
ball anvil
ball anvil
heat shield
Battery Life
1,2 years
unclaimed
1 year
unclaimed
1 year
2 years
1 year
3 years
Auto Off
Warranty
1 year
2 year
Top 8 Best Digital Micrometers
#1. Mitutoyo 293-340-30: The Best Digital Micrometer
Highlight Value
Mitutoyo 293-340-30 is our first top-rated best micrometer. The thing that makes it stand out is its accuracy. It provides 0.001 mm resolution with ±0.001 mm accuracy, such a specification that the others cannot exceed. The certificate of Traceability to NIST is also available to request if needed.
Moreover, it is really protected and rated with an IP65 rating. Since dust and water can ingress and interfere with the internal system and cause fatal inaccuracy, a high IP rating is critical. IP65 is considered more than enough for standard use. In addition, it's highly impressive due to its high-quality build, the smooth thimble turn, and heavyweight.
Features:
Resolution: 0.001 mm / 0.00005″
Accuracy: ±0.001 mm / ±0.00005″
Traceable to NIST
Certificate of Traceability to NIST is requestable
Meets IP65 rating: successfully pass out dust and water jet test.
Buttons:

Origin
Zero/ABS
Hold
In/mm

An extraordinary smooth thimble turn
Carbide-tipped faces
Imperial (Inch) unit system for manual reading
1,2-year battery life under normal use
1-year warranty
Ratchet stop
Auto-off
Additional Review
As you look at carefully, this type has a downside. There is no data transfer feature. Luckily, Mitutoyo 293 comes with a variety of different series. There you could check this Mitutoyo 293-334-30 that comes with SPC output feature and ratchet thimble. All the rest is the same as the Mitutoyo 293-340-30 model.
For more detailed information about 293-340-30, you could go to our review here.
If you need a more economical option, you can buy this Mitutoyo 293-348-30. Why? Because it's providing a certificate of Traceability to NIST with lower price than Mitutoyo 293-340-30, as we write this (July 7th, 2019). Don't worry! The difference between 293-340-30 and 293-348-30 is only at their ratchet. The rest is the same. Mitutoyo 293-340-30 uses ratchet stop while Mitutoyo 293-348-30 uses ratchet thimble (friction).
What People Said About Mitutoyo 293-340-30
According to the consumer reviews collected from Amazon, the vast majority of people shared their happy experiences. Mitutoyo 293-340-30 is incredibly accurate and consistent. It's a high-quality product, the finest one, and excellent. Additionally, some consumers also responded positively to the inspection certificate that comes together with. In short, in spite of charging them more money, the product is worth to buy and a cost-effective option for such this an extremely accurate micrometer.
#2. Igaging SpeedMic 35-070-025: The Best Quickest Micrometer
Highlight Point
It's the quickest micrometer ever. The new "operating lever" feature (like the crank) that replaces the thimble function allows you to quickly open and close the spindle. So you are no longer need to rotate the thimble that takes ages. It makes your work faster and easier.
Not only do they provide you with speed, but critical protection against dust and water (IP65), the ability to send the readout data, and good accuracy are also the other reasons you have to take a look this agile one. Unsurprisingly, this is the second micrometer that we suggest you purchase.
Features:
Operating lever for quick measurement
Resolution: 0.00005″/0.001mm
Accuracy: ±0.00015″/0.003mm
Calibration certificate
IP65 rated micrometer
Buttons:

Origin
In/mm
ABS/0
On/Off

SPC data output
Ball anvil included for tube measurement
Non-rotating spindle
Auto shut-off in 5 minutes
Customer Reviews
This is one of the most buzz micrometers that we found on the web. There is the number of videos you can check that review this stuff. As easily guessed, many people are impressed with it because of its new crank lever that replaces the thimble function. It changes the way people use micrometer and results in a drastic measurement speed. The work becomes easier and faster.
#3. Rexbeti DM-09: The Best Budget Micrometer Under $50
Highlight Point
As an entry-level product, this is an adequate quality digital micrometer you can buy. Under $50 as we write this, you will get several important features such as "in/mm" converting button and "ABS" absolute button. When it comes to accuracy, the brand claims that they can reach to ±0.002 mm of accuracy. This is a great option if you need a good accurate digital micrometer with a tight budget.
Features:
Resolution: 0.001 mm
Accuracy: ±0.002 mm
Buttons:
1-year battery life
Carbide-tipped measuring faces
Ratchet thimble for single-hand use
Customer Reviews
Getting a micrometer with the lowest price might be doubting. However, as we read the buyer reviews on Amazon, it is actually absolutely wonderful. So far, the rating is good and no one seems to experience a significant bad journey. Despite one customer reported a little inaccuracy after repeated use; compared to those who report good performance, the overall score of this measuring tool is excellent as expected.
#4. Igaging 35-054-U01: The Best Micrometer Wireless Output Feature Under $50
Highlight Point
It provides you a wireless data feature that the others cannot give in this range of price point. Moreover, with a price under $50, you could the other two data output options, adequate IP rating, good accuracy, and high LCD visibility. What an economical option, buddy!
You are extremely flexible to choose from one of the three data transfer options available at once in a single tool: Bluetooth wireless, USB wireless, and SPC cable. In addition, it has a large screen along with large fonts to let you easily see the measurement reading. It's also IP54 rated that is sufficient to shield your micrometer from dust and water splash.
Features:
Wireless data transfer
Resolution: 0.001 mm / 0.00005″
Accuracy: ±0.003 mm / 0.00016″
IP54 (dust and water splash protection)
Buttons:

Set & On/off
ABS & in/mm
Data

Large screen and font for an easy readout
Can be used to measure the tube wall thickness
Carbide-tipped
However, the SPC cable, USB wireless, and Bluetooth adapter don't come together with this tool. So you need to buy them separately. The SPC cable consists of data cable USB only. You will connect the cable both to micrometer and computer. The USB wireless consists of two devices: data sender and data receiver. While the Bluetooth option consists of a single Bluetooth adapter that you will insert to the micrometer port.
The measurement is also traceable. It comes with a piece of paper that states like the following screenshot:
Customer Reviews
So far, we cannot gather enough information about this product from the perspective of the customers. There are little reviews and video only. However, the feedback is as expected, high rating.
#5. Igaging 35-025-40: Best Budget Micrometer with SPC Data Transfer Feature
Highlight Point
This is the most affordable micrometer with data transfer feature SPC cable. If you are planning to perform a statistical measurement but your budget is tight thus you can rely on this micrometer. In addition, like the typical Igaging micrometer product, they come with a unit of ball anvil that can be used for tubing wall measurement. Use 35-025-USB Mini USB Data Connect kit to connect your micrometer to a computer, etc.
Features:
Resolution: 0.001 mm
Accuracy: ±0.004064mm (±0.00016″)
Transferrable data using SPC cable
Buttons:
Battery CR2032
Carbide-tipped
Extra ball anvil
What did the customers say about?
Many customers seem very happy with their purchase. However, there are some sides need to note. In summary, the product is good and the problems that appear isn't a big deal. Most importantly is the accuracy and it's inexpensive, worth to buy for professional use.
#6. Mitutoyo 293-130: The Best Accurate Hand-held Micrometer 0.1 µm Resolution
Highlight Point
Instead of buying a laser micrometer or bench micrometer that can cost you about thousands of dollars just to get a one-tenth micron resolution, you are better off buying this Mitutoyo 293-130 MDH-25MB with more affordable price. Unlike them, this is absolutely portable.
This is extremely an amazing micrometer that can measure down to 0.1 µm ( 0.1 µm = 0.0001 mm ) resolution, 10 times smaller than the usual 1 µm ( 1 µm = 0.001 mm ) resolution digital micrometers in these days.
Features:
Resolution: 0.1 μ / 0.000005 in
Accuracy: ±0.00002 in
Buttons:
Carbide-tipped
Absolute origin
Auto-off after 20 minutes
We are happy to announce that there is another more affordable option than this Mitutoyo 293-130 for 0.0001 mm resolution micrometer. It's from Microtech, a brand name from Ukraine. It comes with the same resolution yet the price is three times more competitive than Mitutoyo. Even, it's equipped with a USB and wireless data output feature. Check it out here Microtech 11080258.
#7. Starret 3732XFL-1: An American Pride Micrometer
Highlight Point
In case you prioritize accuracy, this is the second option beside of the Mitutoyo 293-340-30 above. It has ±0.002 mm accuracy which is below the Mitutoyo ±0.001 mm. However, it's above of all the igaging products here and Mahr. Starrett is of American pride.
It has a unique button "Set" that functions to install any value at a certain point. So, when you close the spindle and anvil, instead of setting it zero, you can set it to another value.
Features:
Resolution: 0.00005″ / 0.001 mm
Accuracy: ±0.0001″ / ±0.002 mm
Buttons:

On/off
Hold
In/mm & set
Zero & ABS

Carbide-tipped
Thimble friction
Automatic shut-off after 30 minutes non-use
1+ year life
Manual reading (Imperial/Inch)
Ring-type lock
#8. Mahr Federal 40 EWR 4151705: Super 3 Year Battery Life
Highlight Point
For those who matter with battery power consumption, this is what you have to take a look. It is a highly energy-efficient product due to its new reference system.
The other reasons that make this Mahr 40 EWR 4151705 worth sharing with you are it gives you three kinds of data transfer options with a quality product that meets IP65 dust and water protection rating while the price is economically competitive. That being said, this can be your next choice if the Mitutoyo cannot reach your budget.
Features:
Accuracy: ±0.004 mm
IP65
3 optional data outputs: RS-232, USB, and Digimatic
Long-life battery power up to 3 years
Buttons:
Stainless steel spindle
Carbide-tipped measuring faces
Ratchet thimble lets you single-hand use
You are free to choose from what data transfer device you want: USB Data Cable 16 EXu 4102357, Opto RS232C Data Cable 16 EXr 4102410, and Digimatic Data Cable 16 EXd 4102411.
Customer Reviews
So far, it's not enough information to arrange about the customer reviews of this Germany brand name product. However, we guess that it has a downside. It seems this micrometer has no origin feature. You have to rely on the lock feature. So, before taking the measurement, make sure you have calibrated your micrometer at the zero position when both the measuring faces spindle and anvil are closed.
7 Top Picks for The Best Mechanical Micrometers
Warning!!! We conduct online research and gather the information below as accurate as possible. If you find any misinformation, we are happy to receive feedback from you. Our aim is to provide content as helpful as possible. Your assist can make our job better.
| Brand | Mitutoyo | Mitutoyo | Starret | Anytime Tools | Fowler | Clockwise Tools | HFS |
| --- | --- | --- | --- | --- | --- | --- | --- |
| Model | 103-260CAL | 101-117 | T444.1XRL | AT201872 | 52-229-201-0 | MMTR-01 | 16341 |
| Price | | | | | | | |
| Range | 0-1" | 0-1" | 0-1" | 0-1" | 0-1" | 0-1" | 0-1" |
| Resolution | 0.0001" | 0.0001" | 0.0001" | 0.0001" | 0.0001" | 0.0001" | 0.0001" |
| Accuracy | ±0.0005" | ±0.0001" | ±0.0005" | | ±0.00016" | ±0.00015" | ±0.00015" |
| Carbide | Yes | Yes | Yes | Yes | Yes | Yes (Thicker) | Yes |
| Unit | Inch | Inch | Inch | Inch | Inch | Inch | Inch |
| Ratchet | Stop | Thimble | Thimble | Stop | Thimble | Thimble | Stop |
| Marks | | | | Etched | | Etched | |
| Warranty | | | | | 1 year | | |
| | | | heat-insulators | | Plastic Insulated | | |
| Made in | | | | | | China | |
What to Consider Before Buying A Micrometer
1. Take the Correct Type
There are three types of micrometers: outside, inside, and depth micrometers. Each of them is designed for different tasks. These are the dimension they can measure:
Outside Micrometer: thickness, outside length, outside width, and outside diameter,
Inside Micrometer: inside length, inside width, and inside diameter,
Depth Micrometer: depth.
The very first step you have to take is to define the dimension you are going to measure. Since micrometer is not like the caliper, a kind dimension can only be measured by a certain micrometer.
2. Select The Correct Anvil
Select the appropriate anvil for the application you are facing. Besides the most commonly used flat anvil, there are lots of shapes available. For example, dealing with the thickness of a wall neck cartridge (tube wall thickness) is impossible with a typical outside micrometer. A kind of anvil that is designed standing perpendicularly toward the spindle is great to apply.
Moreover, a special anvil is needed to measure a piece of paper. The measuring faces have to be designed in such a way not to compress the object. That being said, the measuring faces should have a wider diameter. In addition, the spindle must move without rotating.
3. Measurement Range
Unlike the calipers that typically provide 6″ measuring range, micrometers provide a shorter range (1″). The ranges are normally stated as: 0-1″, 1-2″, 2-3″, 3-4″, 4-5″, 5-6″. You could perform with another measuring tool first such as ruler or tape measure to roughly estimate the length, then use the micrometer to measure further. For example, the reading with ruler shows it's more than 2″, to measure accurately and precisely, use the 2-3″ ranged micrometer.
4. The Resolution, Accuracy, and Precision
In metrology; the science of measurement, there are three components of measurement: Resolution, Accuracy, and Precision.
Resolution is the smallest reading a particular measuring tool can achieve. The smaller it is, the greater it is. A typical standard of micrometer today has to provide more than 0.01 mm resolution. Else, you are better off buying caliper.
Accuracy is the condition of uniformity between the measurement result of your tool and the actual value. The version of 1 inch of your micrometer has to exactly the same with the 1 inch that is established by international. In addition, the term of accuracy also refers to how small the uncertainty of a measurement. There will be an error that you cannot detect. That error is called uncertainty. The smaller it is, the better.
Precision is how consistent your micrometer generates value from several repeated measurements. You repeat the measurement up to 20 times and the reading shows value "5" all the time, it's consistent.
The combination of these three components builds a high quality accurate measuring tool.
5. Traceable to NIST
It's easy to claim that a micrometer is accurate. Accurate is in accordance with the international standard reference. But how can you tell that it's accurate? One possible way is by having measurement traceability to an established standard reference.
It's impossible to have your micrometer calibrated directly to international standard. The possible way is by means of a recognized metrology laboratory that is calibrated to the international standard. In this case, NIST has that kind of condition. NIST (National Institute of Standards and Technology) is a national institute in the United States that functions to run measurement standard development and other related works.
Simply, calibrating your micrometer to NIST means it's also calibrated to the international standard. So, you could imagine that there is like some chains that go from international standard to NIST to your micrometer. To indicate your mic has been calibrated to NIST, there are a series of the test your mic must undergo. Then a certificate of traceability to NIST can be obtained.
6. IP Rating (Water and Dust Resistance)
IP rating stands for Ingress Protection. It's the rating to state how protected an object from dust and water ingress.
Not all the micrometers come with IP rating. However, a typical digital micrometer should have this. An IP rated micrometer is needed when it comes to measuring in a harsh environment. Water could suddenly splash. The micrometer also could drop into a water vessel. Moreover, a hidden error can happen because of the entrance of dust. As the dust enters, even a small interference can make a significant inaccuracy. An IP rated micrometer is important for highly accurate measurement.
7. Mechanical or Digital Micrometer?
Mechanical micrometer means those who work based on mechanical components inside the tool such as screw and dial micrometer. While digital micrometer applies electronic principle to make a measurement. Each type has different upside and downside:
Mechanical Micrometer: Measuring with a mechanical micrometer makes you have to figure out the reading scales manually. It may take time for some people. Aside from that, the error by users can possibly occur frequently. Moreover, they are also relatively less accurate in terms of its resolution. However, they are relatively cheaper than the others, no battery needed, and workable in any condition.
Digital Micrometer: When people need a quick way to read the measurement, digital micrometer can handle it in handy. The most prominent thing about digital micrometers is its fast reading capability and easy to use. Most importantly, it has a greater resolution than the mechanical model. However, you need extra cost because it's relatively expensive.
You could educate first educate yourself here "Mechanical Vs. Digital Micrometer". You don't need to jump over the neighboring site.
8. Absolute Zero
There are few other names for this kind of feature. Some products call it Absolute zero, some call it Origin. Whatever the name, it's a feature that functions to memorize the zero point of the digital micrometer. In case your micrometer turns off, you don't need to recalibrate it each time you turn it on.
9. Buttons
The buttons function to give order to the micrometer. Some familiar buttons we can find in a digital micrometer are:
In/mm: This is what differentiates digital micrometer from the other type. You can easily convert the reading from inch to mm or vice versa.
Zero(0)/ABS: This is another must-have button. The first push (Zero/0) lets you set zero position at any point you want. The second push (ABS=absolute) order the zero position back to factory setting.
On/Off: to turn on and off the micrometer. Also, it's to save battery power consumption.
Origin: This is to set the zero position when the anvil and spindle are closed.
Hold: to hold the reading so that you can easily read it even though you change the spindle face position.
Data: If you click, it orders the data to be transferred into another device through the given interface.
10. Budget Range
When specification meets budget, that's the deal.
Simply easy, how you could get the best complete and useful specification with the lower-priced micrometer. Certainly, you cannot easily find a micrometer under $50 with an IP rating spec. If possible, you may see there is another downside you cannot tolerate.
11. Brand
There are some established brands such as Mitutoyo (Japan), Starrett (USA), iGaging (USA), Anytime Tools, HFS (USA), Clockwise Tools, Mahr (Germany), Fowler (USA), etc. While Rexbeti, Vinca, etc are some of the entry-level brands. Even though it's a USA brand, it doesn't mean they are manufactured in the USA. Some brands rely on another party to manufacture their products. No one has to care about this issue provided that the quality control fulfills the international standard operation.
Considering the brand matters when you need highly accurate micrometer. It must be made of an experienced company. An entry-level brand should be questionable for that case.
12. Transferrable Data
With this feature, you can display, save and analyze data measurement on the other media such as computer or tablet. Here are some interfaces available that we find so far:
SPC cable

. This is similar to USB cable.

RS232

data cable connection. A typical data connection to a computer.

Wireless Bluetooth

. This is for wireless data transfer.

Wireless USB

. There will be the sender and receiver.

Special cable

made by the company.
You need to check the interface before buying. Make sure your computer supports them to work properly.
13. Measuring Face Material: Is It Carbide Tipped?
The spindle and anvil measuring faces must be carbide-tipped. Carbide is a material that is more powerful than steel. It's able to resist wear because of repetitive uses. Fortunately, today's most micrometers have been empowered with this material. It's highly recommended to pick out the carbide-tipped micrometers instead of the conventional stainless steel one.
14. Unit System: Imperial or Metric?
For those who are planning to buy the mechanical micrometers, don't miss this. Unlike the digital in which you can convert the result in no time into another unit, mechanical micrometers only provide a one-unit system, consequently, you need to convert it manually. If you reside in the United States and familiar with the imperial system, then choosing a metric micrometer can be a trouble. Check out the product information first before continuing the purchase.
15. Manual Reading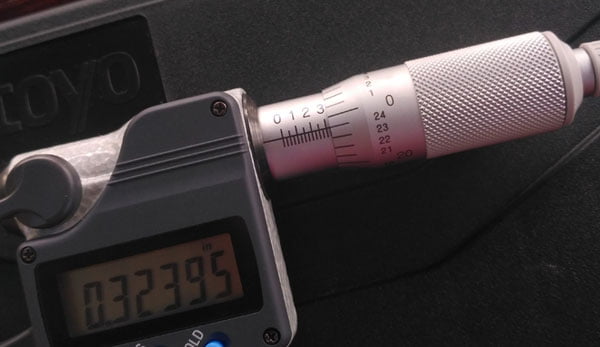 Manual reading means the ability of the digital micrometer to remain able to measure when the power is off. In other words, the thimble scale, the sleeve scale, and the vernier scale are still available even though it's digital micrometer. However, in general, a digital micrometer that has this feature is relatively expensive.
16. Ratchet Stop or Ratchet Thimble?
As we know that ratchet functions to give constant force to the object being measured. There are two types of ratchet: Ratchet Stop and Ratchet Thimble. The thimble that acts double as the ratchet and thimble is ratchet thimble. This allows you to operate it with a single hand because it's reachable by your fingers. While the ratchet stop has separated ratchet and thimble. This makes the ratchet fairly far and not easy to reach. If you prefer or will likely be working mostly in a single hand, then select ratchet thimble.
What Makes A Digital Micrometer be the Best One?
There are several aspects a micrometer has to have to be a great tool:
Great Resolution. It provides at least 0.001 mm resolution for digital micrometer. We suggest you to not buy the 0.01 mm resolution micrometer. You are better off buying caliper.
Excellent Accuracy. The measurement must be traceable and has small uncertainty. It can be easily known by the accuracy value claimed by the company. An accurate digital micrometer should poss great accuracy. In this coverage, we set the micrometer has at least ±0.004 mm accuracy.
Traceable to NIST. This is a determining factor. It's a legitimate assurance that our tool is accurate. Make sure the certificate of inspection you get along with the micrometer states its traceability to NIST. Certificate of Traceability to NIST is optional but important to obtain for your formal purpose.
Dust and Water Protected. A typical IP rating for digital micrometer ranges up to IP67. Someday, there might be better than this. It might be IP68. The IP rating certified micrometer is important for those who want to use it in a difficult workshop situation.
Transferrable data. If a micrometer allows the user to transfer the reading through whether a wired or wireless interface, that's a plus value. People commonly use this feature because they need to run a repeated measurement without noting the reading each screen displays it. Also, they can save the measurement data for reuse on other occasions.
Complete Buttons. Buttons provide easy-to-order instruction to the micrometer. One important button is "in/mm". This is what the other mechanical micrometer cannot do, converting the unit system into another in an easy way.
Origin / Absolute / True Zero. Whatever the name, if the system can memorize the zero point although the micrometer turns off, that's it. We consider that this feature should be available for accuracy and convenience during measurement.
Carbide-tipped Faces. This is the standard of micrometer today. Carbide material construction allows the spindle and anvil to face stronger and resists longer against wear.
Matching Price. How to get an excellent product at an affordable price. Hobbyist, home DIY, gunsmithing, reloading, metalworking, CNC shop, etc give us an idea who they are and what kind of tool they need. For the homeowner, getting a micrometer under $50 that can transfer the reading is the best buy ever. While for CNC machinist, getting a micrometer above $100 without an IP rating is a bad deal.
What A Mechanical Micrometer Becomes the Best One?
Unlike the digital micrometer, mechanical micrometer (screw micrometers) is less feature and usability. However, there are some important things the mechanical micrometers must poss.
Good Resolution. As mentioned before, we turn to micrometer due to its resolution and accuracy. Make sure your next micrometer is greater than 0.01 mm (0.00039″) resolution. In this page, we prioritize those that have 0.0001″ resolution micrometer.
Accuracy. Excellent accuracy represents the construction quality of the micrometer, especially the threaded spindle. An amazing cutting tool that shapes it is the key. A high-quality screw can reduce hidden error and increase accuracy. In this list, we cover only those who have at least ±0.0005″ accuracy.
Traceable to NIST. Traceability to NIST means your micrometer is confirmed as accurate. It meets the international standard. It can be recognized by the certificate of inspection which comes along with the micrometer. Further, a Certificate of Traceability to NIST is requestable for a more formal situation.
Carbide-tipped Measuring Faces. Carbide material is very resistant to wear. We will be facing various workpieces. Some of them may cause damage to the measuring faces. Therefore, it's important to select the micrometer with this kind of layer to improve durability.
Etched Marks. Etched marks help us read the scale marks clearly. It also makes the marks not easy to fade. While printing marks can be easily scratched and fade.
Final Decision: Which One to Pick Out?
Best Micrometer for Accurate Measurement
There are several options available when it comes to the best digital micrometer for accurate measurement. We undoubtedly recommend Mitutoyo 293-340-30. It's precise and accurate. The price makes sense. It comes with a certificate of inspection from Mitutoyo in which the standard they use is traceable to NIST.  You could request the certificate of its traceability to NIST as well for further purposes.
In addition, it exceeds the IP65 rating criteria. You could try by flushing a bucket of water onto it and nothing will happen. The thimble turn is astonishingly smooth. It feels resistance there but the turn is amazingly smooth. Perhaps, it's the reason for the successful accurate pressing to the workpiece.
While the screw micrometer, we recommend Mitutoyo 101-117. For a kind of screw micrometer in these days, a 0.0001″ resolution and ±0.0001″ accuracy is extremely good. Again, there are also other choices. We suggest buying this one if the price doesn't matter with you.
Best Alternative Micrometer
On the other hand, in case you need the best micrometer which charges you lower budget, then we suggest Igaging SpeedMic 35-070-025. It's an excellent one that costs around $100. Most importantly, it's the quickest one to perform the measurement. Moreover, It's also IP65 rated, and the data output port is available.
Best Budget Micrometer Under $50
It's clear that Igaging Ez Data, Rexbeti, and Igaging 35-025-40 deserve to be the best digital micrometer under $50. Both of them have different upside and downside. Igaging Ez Data provides three data output options with adequate accuracy. Igaging 35-025-40 is more affordable than Igaging Ez Data but only has one data transfer option (SPC cable). However, Rexbeti is more accurate than both of them.
Rexbeti is one of the entry-level brands. They still have limited products. While iGaging is the veteran player, they have a series of micrometer products and other precision tools.
On the other hand, Anytime Tools AT201872, Fowler 52-229-201-0, Clockwise Tools MMTR-01, and HFS 16341 are the top picks for the best screw micrometers under $50. According to the claim of each brand, we conclude that HFS 16341 is the most accurate one (±0.00015″ accuracy). Surprisingly, it's also the best economical option as we write this.
HFS stands for Hardware Factory Store. It's an industrial equipment supplier in Covina, California. They also sell a variety of hardware equipment through their website.