A micrometer is a precision measuring instrument that gives you a chance to measure down to a .00005″ (0.001 mm) resolution.
There are several types of micrometers available. They are designed to fulfill market needs. Different applications require different micrometer models. But the most commonly used is the outside model with flat anvil that we are talking about in this page.
The outside model with flat anvil measures thickness and outside diameter. However, it cannot measure the thickness of a tubing wall. In this case, ball micrometers (mic with ball anvil) will be appropriate to use. Further, an outside micrometer with a flat anvil cannot measure depth and inside diameter.
If you are going to buy a new micrometer, you are at the right stop. In this post, we are covering 13 micrometers (both mechanical and digital models) that we found on the market worth sharing with you. Most of them come with flat anvil as well. We also cover the ultimate guide to buying a micrometer.
You could skip to the end of the article to take a look at the best micrometers that we recommend and the reasons why to buy them. In case you just start learning to buy your best micrometer, we suggest learning some basic things about micrometers such as the body parts (anvil, sleeve, thimble, ratchet, etc).
Product
Picture
Major Specification
Price
1. Mitutoyo
293-340-30
[Best Overall]
Resolution: .00005"
Accuracy: ±.00005"
Range: 0-1"
2. Vinca
[Best for Budget]
Resolution: .00005"
Accuracy: ±0.002 mm
Range: 0-1"
3. Rexbeti
Resolution: .00005"
Accuracy: ±.00254 mm
Range: 0-1"
4. Mitutoyo
293-348-30
Resolution: .00005"
Accuracy: ±.001 mm
Range: 0-1"
5. Mitutoyo
101-113
[Best Mechanical Micrometer]
Resolution: .0001"
Accuracy: ±.0001''
Range: 0-1"
6. Mitutoyo
103-177
Resolution: .001"
Accuracy: ±.0001"
Range: 0-1"
7. Anytime
Tools
AT201872
Resolution: .0001"
Accuracy:
Range: 0-1"
8. Anytime
Tools Set
Resolution: .0001"
Accuracy:
Range: 0-1", 1-2", 2-3", 3-4", 4-5", 5-6"
9. Mitutoyo
103-907-40
Resolution: .0001"
Accuracy:
Range: 0-1", 1-2", 2-3", 3-4", 4-5", 5-6"
10. Mitutoyo
293-130
Resolution: 0.1 μm
Accuracy: ±.00002"
Range: 0-1"
11. Igaging
35-025-40
Resolution: .00005"
Accuracy: ±.004064 mm (±0.00016″)
Range: 0-1"
12. Accusize
Tools
Resolution: .0001"
Accuracy: ±.00016''
Range: 0-1"
Top 13 Best Micrometer Reviews 2022
1. Mitutoyo 293-340-30 Digital Micrometer
[Best Overall]
The best micrometer so far that we highly recommend is Mitutoyo 293-340-30. It's a great pick for everyone who wants a high degree of measurement accuracy, smooth thimble operation, heavy solid feel, and long last use.
Specification
For specification, it gives you .00005″ (0.001mm) resolution with an incredible ±.00005″ (0.001mm) accuracy. You can't go wrong with this choice. If you're going to take a highly accurate measurement, this is what you're looking for.
Water and Dust Resistant
Moreover, it's designed to able to resist dust and water. The product meets the IP65 rating. The IP65 rating means it's been tested with dust and water jet test and successfully pass out. As interference can mislead the reading, this is absolutely one thing that determines its accuracy.
Nice Ratchet
An accurate measurement using a micrometer takes into account the pressure applied. You need to worry about the pressure with this micrometer because the ratchet is reliable. Keep rotating the ratchet and it will slip itself (sounds tick tick tick) when the anvils completely clamp the object being measured.
Manual Reading is Available
There are an LCD screen and 4 buttons (origin, zero/ABS, hold, and in/mm). They are powered by a single SR44 battery. Normally, it can last for 1.2 years. In case it's off, you could still use it. The manual scale is available in inch reading.
Overall, it's no doubt for us to recommend this one. It's accurate, precise, smooth, heavy, solid, and long last. You could also hand it down to your son someday. It's almost perfect except it lacks the data transfer feature. If you are looking for this with a data transfer feature, go to Mitutoyo 293-334-30.
Buy on GlobalTestSupply
Pros:
Excellent accuracy and precision
IP65 rating
Nice ratchet
Smoothly operated (thimble rotation is smooth)
Manual reading is available if the battery runs out
Cons:
Expensive, but it should be okay
2. Vinca DMCA 0105 Digital Micrometer
[Best Budget]
Another best digital micrometer to take a look at is Vinca DMCA 0105. This one is a great choice due to its friendly price and several functionalities that a digital micrometer should have.
Similar to Mitutoyo, it comes with a manual scale that allows you to keep measuring in case it's suddenly out of power. However, the manual scale is in inch only. You have to buy a new LR44 battery to turn it on again and convert it to mm.
Other points that we like from this tool is its large LCD (1.25″ x 0.5″) and buttons that support functions such as unit conversion, tolerance setting, data hold, and relative/absolute mode. These functions will give you a great experience when operating it.
For accuracy, it comes with .00005″/0.001mm resolution which is excellent. However, compared to Mitutoyo 293-348-30, the precision is slightly lower, only provides ±0.002mm. Despite lower, it is actually reasonable due to the price.
So far, according to most customers, this tool measures consistently. However, we don't see any comment said it's as smooth as Mitutoyo. If you are on the budget and looking for the best one beside Mitutoyo, this is a recommended choice to pick.
Pros:
Manual scale available
Affordable
Large LCD display and a lot of buttons
Cons:
3. Rexbeti Digital Micrometer
This is an adequate digital micrometer that you could buy. It allows you to measure down to .00005″ (0.001mm) with ±.0001″ (0.00254mm) accuracy. The resolution is great and the accuracy is not too bad.
There are three buttons. The O/ABS (Origin/Absolute) button functions to zeroing the micrometer at any point. Unit/Set functions to convert the reading either to mm or inch. And the last button, On/Off functions to turn on and off. Easily save battery power by turn it off when not needed.
As you could see, it's ratchet thimble. It allows you to be possible using it without the stand. So, it's suitable to carry around. Like other micrometers, it's made with carbide-tipped on the anvil face for more durable and wear resistance. It also reduces errors.
Under $50 as we write this, you get several great functionalities on the buttons which is nice. When it comes to accuracy, the brand claims that they can reach to ±0.002 mm of accuracy. This is a great option if you don't need a significant accurate digital micrometer.
Pros:
Affordable
Easy to use ratchet thimble
Cons:
4. Mitutoyo 293-348-30 Digital Micrometer [Coolant Proof]
Currently, Mitutoyo is the top brand to go when it comes to buying a precision measuring tool, especially micrometers. You can't go wrong with their high degree of accuracy and quality products.
This one, Mitutoyo 293-348-30, is one of the best options of Mitutoyo micrometer products you have to really consider. It feels heavy and solid in the palm of your hand and the thimble spins smoothly. More importantly, it gives a dead accuracy as you expect.
It provides a resolution of .00005″ (0.001mm). This number may not surprise you but with an accuracy of ±.00005″, this gives you a high precision measurement. As it's made by Mitutoyo, it's easy to trust their claim.
In comparison with Mitutoyo 293-340-30, this Mitutoyo 293-348-30 doesn't come with a ratchet. The thimble acts double, as a thimble and a ratchet. It will slip itself when it's tight, allows you to operate with a single hand even though your hand is small.
Another great thing is the IP65 rating. Small dust can possibly enter and water as well can immerse in the electronic board. As it is the heart of the system that processes the measurement to the display, tiny interference can give a false reading. This rating means the device is assured able to resist dust and water for a couple of several minutes before they really enter into.
Buy on GlobalTestSupply
Pros:
Accurate
Feels heavy and smooth operation
Single hand operation is enable
Water and dust protection
Cons:
5. Mitutoyo 101-113 Vernier Micrometer
[Best Mechanical Micrometer]
If you are looking for the best mechanical micrometer, Mitutoyo 101-113 is the choice that you should pick. This outside micrometer has a .0001″ resolution which is great for this type of mic. Its resolution is gained from the extra vernier scale that you could see located on the sleeve.
For accuracy, This model has an accuracy of ±.0001″ accuracy. Is it just a claim? Mitutoyo products are satisfying. To ensure further, you could own this Mitutoyo micrometer with a certificate of traceability to NIST so that its accuracy is valid and traceable to NIST standards.
Having a mechanical mic like this Mitutoyo 101-113 lets you free of battery. You don't need to worry to put it in the box for a long time. Unlike the digital model that requires you to remove the battery, otherwise, it will probably leak. This flat anvil mechanical mic will stay uncorroded and ready to use anytime you want.
However, as an imperial (inch) mechanical micrometer, you have to convert the reading manually to metric (mm). Besides, the two-hand operation is required to measure properly because it uses a ratchet stop.
All in all, in some cases you don't use the micrometer frequently, a mechanical micrometer is the best choice to go for. There is no battery and it's ready to operate anytime.
Buy on GlobalTestSupply
Pros:
No battery to operate
High resolution and accuracy
A great choice for infrequent use
Cons:
6. Mitutoyo 103-177 Budget Mechanical Micrometer
In case you need a low-budget mechanical micrometer, this Mitutoyo 103-177 can be your choice. Mitutoyo precision measuring tool products are awesome. Their quality is the top-level one on the market.
Even though it comes with a .001″ resolution, its accuracy is excellent which is ±.0001″ according to Mitutoyo site [Source/Page 13]. That's a great accuracy for this resolution.
Another reason you will decide on this Mitutoyo 103-177 is the price. If you make a comparison, though this mic is the lowest resolution on this list, its price is affordable. Perhaps, you are looking for a quality micrometer plus affordable, this is for you.
This model has a measuring range of 1″ which suffice for general uses. The face is coated with carbide which is good for tear and wear resistance. And the graduation in the sleeve and thimble is imperial (inch).
Buy on GlobalTestSupply
Pros:
No battery needed
Accurate
Mid-price point
Quality
Cons:
mechanical; you need to read the readout manually
7. Anytime Tools AT201872 Micrometer [Budget Mechanical Micrometer]
This
Anytime Tools micrometer is the next best choice of mechanical micrometer that provides good resolution and friendly for the budget.
However, in our opinion, we recommend this for occasional use. In other words, this is a wise choice to pick for hobbyists that don't use it for heavy-duty use.
The resolution is good, gained from its additional laser-etched vernier scale on the barrel. As a result, it serves up to .0001″ resolution which is very nice.
Pros:
Affordable
Good resolution
Great for hobbyists
Cons:
8. Anytime Tools Mechanical Micrometer Set 0-6″ for Machinist
Machinist is one of the users that require micrometers a lot. They use it to measure the piston, camshaft, etc which vary in size. Therefore, it's required to purchase the set rather than a single one. The set is expected to come in different measuring ranges.
Herewith, this Anytime Tools micrometer set comes in 6 different measuring ranges to serve measurement up to 6″. The ranges are 0-1″, 1-2″, 2-3″, 3-4″, 4-5″, 5-6″. So, if your piston is about 3.75″, you could use the micrometer that has a range from 3″ to 4″.
That said, this set contains 6 micrometers. Don't worry about its accuracy. The resolution is .0001″. You could calibrate it immediately when arrived using the calibration bars that come with the micrometer set.
However, in our view, this one is not ideal for everyday and heavy-duty use. It'd be nice for occasional and light use. Overall, this is a great choice for beginners in their home shop.
Pros:
Great for machinists
Up to 6″, serve wider ranges
Good measuring range
Cons:
Recommended for light use
9. Mitutoyo 103-907-40 Mechanical Micrometer Set for Machinist
The best micrometer for a machinist should be highly durable, accurate, and able for heavy-duty use. This one is fulfilling those requirements and gives you a set of 6 micrometers with different measuring ranges.
Respectively, the ranges are 0-1″, 1-2″, 2-3″, 3-4″, 4-5″, and 5-6″. It comes with a wooden box case which is inside, there is a box of 5 calibration bars as well as the 6 wrenches.
The smallest range micrometer (0-1″) comes with friction thimble which means the thimble and the ratchet are assembled in a single part to serve two functions together. This should allow you to be able to use it single-handed. The rest are designed with a separated ratchet.
For resolution, each of them has a spec of .0001″ graduation which is excellent for the mechanical model. Overall, this micrometer is accurate and smooth, highly recommended for professional purposes. You can't go wrong with it for your machinery jobs.
Buy on GlobalTestSupply
Pros:
Accurate
Up to 6″ measurement range
A complete set, containing 6 micrometers
Cons:
10. Mitutoyo 293-130 Super .000005″ (0.1 μm) High-Resolution
Instead of buying a laser micrometer or bench micrometer that can cost you about thousands of dollars just to get a one-tenth micron resolution, you are better off buying this Mitutoyo 293-130 MDH-25MB with more affordable price. In addition, it is also portable.
This is extremely an amazing micrometer that is able to measure down to 0.1 µm ( 0.1 µm = 0.0001 mm = .000005″ ) resolution. It's 10 times higher than the usual 0.001 mm resolution of most digital micrometers in these days.
Moreover, it is able to provide ±.00002″ accuracy to serve greater precision. For highly professionals or lab purposes, this can be purchased with the SPC cable to allow you to transfer and store the reading directly to other supported devices such as computers.
Buy on GlobalTestSupply
Pros:
High precision
Data measurement can be transferred to a computer
Cons:
Expensive compared to most micrometers
11. Igaging 35-025-40 with SPC Data Transfer Feature
This is the most affordable micrometer with data transfer feature SPC cable. If you are planning to perform a statistical measurement but you are on a budget, you may want this one.
To perform that data transmission, you could use a 35-025-USB Mini USB Data Connect kit to connect this micrometer to a computer.
The resolution is good, 0.001mm. However, the accuracy is not too good, ±0.004064mm (±.00016″). If you are not using this for highly accuracy purposes, then this should suit the job.
There are four functions simplified into two buttons:
On/Off & Set (first button)
ABS & Mm/in (second button)
This may be not easy for everyone to operate the buttons, but you'll get them used to. As you could read on the manual, there are two types of pressing the buttons: "press-&-release" and "press-&-hold".
Press-&-release the first button will turn the mic on or off. While press-&-release the second button will activate the absolute and relative measuring mode. Press-&-hold the first button will set the datum for the absolute mode. While press-&-hold the second button will convert the reading either to mm or inch.
Powered by a CR2032 battery, you don't need to worry to replace it in case of runout because the battery is easy to get. In addition, like the other Igaging micrometer products, they come with a unit of ball anvil that can be used for tubing wall measurement.
Pros:
Transferrable data
Good resolution
Affordable
Cons:
12. Accusize Industrial Tools S916-C750 Micrometer with 5 Interchangeable Anvils
Another great micrometer to consider for machinists is this Accusize Industrial Tools interchangeable anvil micrometer. It comes with 5 different types of anvil pit to measure pitch diameter accurately.
For accuracy, it's graduated in .0001″ resolution and ±.00016" for its precision. Like other vernier micrometers, this resolution should be more than sufficient to cover various different measurements.
This one comes in a 1-inch measuring range from 0 to 1″. Fortunately, there are other 5 individual micrometers like this with different measuring ranges. You could purchase them both individually or in a set based on the requirements of your jobs.
Pros:
Great for machinist
Comes in different measuring range up to 6″.
Cons:
Things to Consider Buying A Micrometer
1. Take the Correct Type
There are three types of micrometers: outside, inside, and depth micrometers. Each of them is designed for different tasks. These are the dimension they can measure:
Outside Micrometer: thickness, outside length, outside width, and outside diameter,
Inside Micrometer: inside length, inside width, and inside diameter,
Depth Micrometer: depth.
The very first step you have to take is to define the dimension you are going to measure. Since micrometer is not like the caliper, a kind dimension can only be measured by a certain micrometer.
2. Select The Correct Anvil
Select the appropriate anvil for the application you are facing. Besides the most commonly used flat anvil, there are lots of shapes available. For example, dealing with the thickness of a wall neck cartridge (tube wall thickness) is impossible with a typical outside micrometer. A kind of anvil that is designed standing perpendicularly toward the spindle is great to apply.
Moreover, a special anvil is needed to measure a piece of paper. The measuring faces have to be designed not pressing the paper too tight. In addition, the spindle must move without rotating.
3. Measurement Range
Unlike the calipers that provide greater measuring range, micrometers provide shorter. The most commonly used is a 1-inch range. However, there are actually other ranges typically for machinery jobs: 0-1″, 1-2″, 2-3″, 3-4″, 4-5″, 5-6″ and even up to 12″.
You could perform with another measuring tool first such as ruler or tape measure to roughly estimate the length, afterward, use the micrometer to measure further. For example, the reading with ruler shows it's more than 2″, to measure accurately and precisely, use the 2-3″ ranged micrometer.
4. The Resolution, Accuracy, and Precision
In metrology; the science of measurement, there are three components of measurement: Resolution, Accuracy, and Precision.
Resolution is the smallest value/number of a particular measuring tool that can read. The smaller it is, the greater it is. A typical standard of micrometer today has to provide more than 0.01 mm resolution. Else, you are better off buying caliper.
Accuracy is the condition of uniformity between the measurement result of your tool and the actual value. The version of 1 inch of your micrometer has to exactly the same with the 1 inch that is established by international. In addition, the term of accuracy also refers to how small the uncertainty of a measurement. There will be an error that you cannot detect. That error is called uncertainty. The smaller it is, the better.
Precision is how consistent your micrometer generates value from several repeated measurements. You repeat the measurement up to 20 times and the reading shows value "5" all the time, it's consistent.
The combination of these three components builds a high quality accurate measuring tool.
5. IP Rating (Water and Dust Resistance)
IP rating stands for Ingress Protection. It's the rating to state how protected an object from dust and water ingress.
Not all micrometers meet the IP rating test. However, a typical digital micrometer should meet this qualification. An IP rated micrometer is important when it comes to measuring in a harsh environment. Water can suddenly splash. The micrometer also can possibly drop into a water vessel.
Moreover, a hidden error can happen because of the entrance of dust. As the dust enters, even a small interference can make a significant inaccuracy. An IP rated micrometer is important for highly accurate measurement.
6. Mechanical or Digital Micrometer?
Mechanical micrometer means those who work based on mechanical components inside the tool such as screw and dial micrometer. While digital micrometer applies electronic principle to make a measurement. Each type has different upside and downside:
Mechanical Micrometer: Measuring with a mechanical micrometer makes you have to figure out the reading scales manually. It may take some time to calculate for some people. Aside from that, the user error can possibly occur as well. Moreover, they are also relatively less accurate in terms of resolution. However, they are relatively cheaper, no battery needed, and workable in any condition.
Digital Micrometer: When people need to quickly read the reading, digital micrometers can handle it in handy. The most prominent thing about digital micrometers is its fast reading capability and easy to use. Most importantly, it has a greater resolution than the mechanical model. However, you need extra cost because it's relatively expensive.
For more details, you could read our article that discusses this here "Mechanical Vs. Digital Micrometer".
7. Buttons
The buttons function to give some orders to the micrometer. Some familiar buttons we can find in a digital micrometer are:
In/mm: This is what differentiates digital micrometers from the other type. You can easily convert the reading from inch to mm or vice versa.
Zero(0)/ABS: This is another must-have button. The first push (Zero/0) lets you set zero position at any point you want. The second push (ABS=absolute) orders the zero position back to the factory setting.
On/Off: to turn on and off the micrometer. Also, it's to save battery power consumption.
Origin: This is to set the zero position when the anvil and spindle are closed.
Hold: to hold the reading so that you can easily read it even though you change the spindle face position.
Data: If you click, it orders the data to be transferred into another device through the given interface.
8. Transferrable Data
With this feature, you can display, save and analyze data measurement on the other devices such as computers or tablets. Here are some interfaces available that we find so far:
SPC cable

. This is similar to USB cable.

RS232

data cable connection. A typical data connection to a computer.

Wireless Bluetooth

. This is for wireless data transfer.

Wireless USB

. There will be the sender and receiver.

Special cable

made by the company.
You need to check the interface before buying it. Make sure your computer supports them to work properly.
9. Measuring Face Material: Is It Carbide Tipped?
The spindle and anvil measuring faces must be carbide-tipped. Carbide is a material that is more powerful than steel. It's able to resist wear because of repetitive uses.
Fortunately, today's most micrometers have been empowered with carbide. It's highly recommended to pick out the carbide-tipped micrometers instead of the conventional stainless steel one.
10. Unit System: Imperial or Metric?
For those who are planning to buy the mechanical micrometers, don't miss this. Unlike the digital in which you can convert the reading, the mechanical micrometers only provide a single unit reading. As a result, you need to convert it manually.
If you reside in the United States and familiar with imperial reading, then choosing a metric micrometer could be an issue later.
11. Manual Reading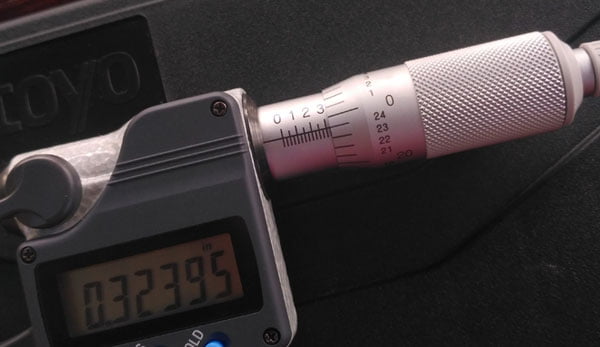 Manual reading means the ability of the digital micrometer to remain able to measure when the power is off.
In other words, the thimble scale, the sleeve scale, and the vernier scale keep etched even though it's a digital model.
However, in general, this kind of digital micrometer should be expensive.
12. Ratchet Stop or Ratchet Thimble?
As we know the ratchet functions to give the right pressure force to the object being measured.
There are two types of ratchet: Ratchet Stop and Ratchet Thimble.
The thimble that acts double as the ratchet and thimble is called ratchet thimble. This allows you to operate it possibly with a single hand because it's reachable by fingers.
While the ratchet stop has separated ratchet and thimble. This makes the ratchet fairly far and not easy to reach. If you prefer or will likely be working mostly in a single hand, then select ratchet thimble.
Conclusion
A micrometer gives you a significantly better resolution (.00005″ or 0.001 mm) rather than using a caliper (vernier or dial model) whose a typical .001″ resolution. Even, the digital caliper model only gives .0005″ resolution. So, you need to switch to micrometer when it comes to fine resolution and accuracy.
There are several aspects of a digital micrometer that you can consider:
Resolution.
Accuracy
Traceable to NIST
Dust and Water Protected (IP rating)
Transferrable measurement data
Aable to set zero reading at any point
Carbide-tipped Faces
There are some important things the mechanical micrometers you can consider:
Resolution
Accuracy
Traceable to NIST for US use
Carbide-tipped Measuring Faces
How the graduation is marked/printed on the thimble and sleeve – It should last
Time to Decide: Which Micrometer to Pick?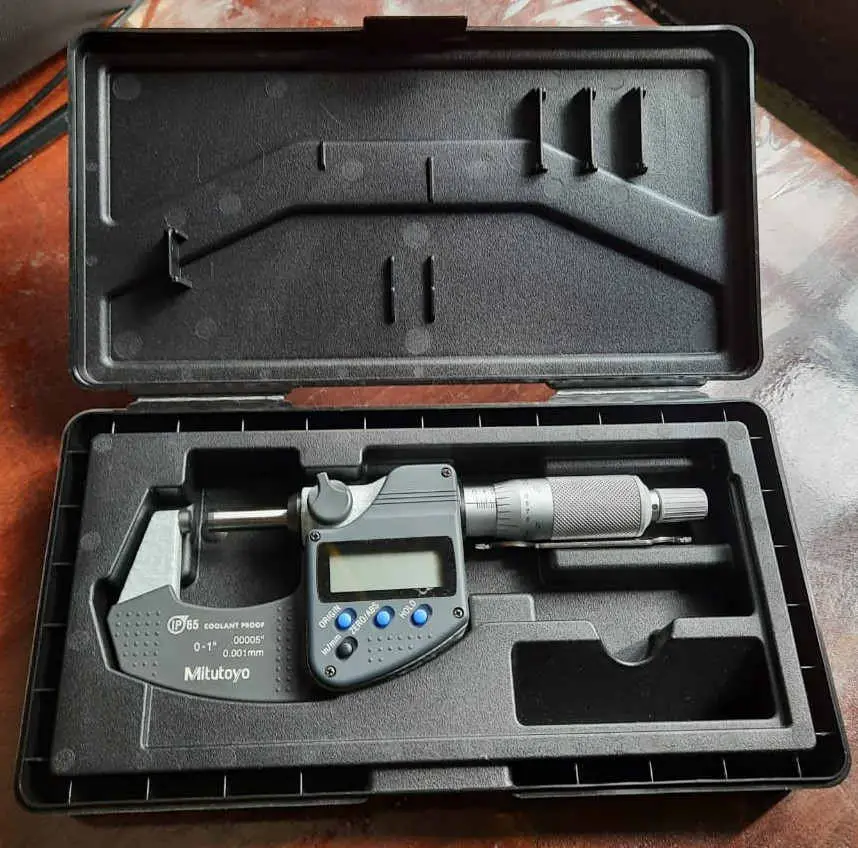 People go to buy a micrometer because looking for a tool that provides more accurate and precise measurement than calipers. Therefore, when deciding, these two things (accuracy and precision) should be our first consideration. Afterward, consider other features.
Finally, we undoubtedly recommend Mitutoyo 293-340-30 as the best micrometer overall. It's worth every penny. You could buy the model that comes with the certificate of traceability to NIST as well. For build quality, it looks solid, luxury, and haveing an incredibly smooth rotating thimble. Further, it meets the IP65 rating for dust and water protection that keeps long last accuracy. For the best mechanical micrometer model, you could choose Mitutoyo 101-113 as it has great resolution and accuracy.
If you are looking for lower price rating mics, go to Vinca and Rexbety. They provide the same resolution but lower accuracy.
Other lower-priced mics from the mechanical model such as Mitutoyo 103-177 and Anytime Tools are great considerations as well. If your budget is under $100, pick Mitutoyo 103-177 (seen on the 9th of June, 2020). Pick Anytime Tools AT201872 if lower than $50 (seen on the 9th of June, 2020).
To get the highest resolution micrometer, Mitutoyo 293-130 is the only option available. They also allow you to transfer the measurement reading to the other device using the cable.
To Measure Internal and Depth Dimension
These are the choices for outside measurement, if you need to measure the internal dimension (diameter, etc) of an object with greater resolution and accuracy, you need an inside micrometer. Further, you need a depth micrometer in terms of depth measurement.