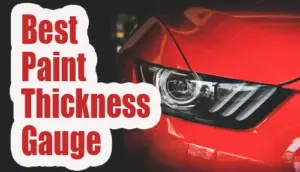 Are you going to buy a used car? Wait a moment! You need this tool before going further, a paint thickness gauge.
As the name suggests, it's a measuring tool that functions to measure the paint thickness of a particular surface. Because this tool is commonly used to inspect a used car, we will discuss the paint gauges that are intended mostly for car panel surfaces only.
A paint thickness gauge can tell you several things. It can tell that the car has experienced a repair, repainting, accidents, etc [Defelsko]. Appraise the overall condition, dominate the negotiation, and get the best price by revealing the car history.
However, selecting the best paint thickness gauge can be so challenging for a beginner. Since they vary based on the price, picking a hundred dollar one seems not a wise choice. Besides, you will use it only for one time. The thing comes different when you run a car dealer business that handles several purchases a day, you need the cutting-edge one.
In this section, we offer 10 best paint thickness gauges that come from the different price range. They are from the simple to the fastest one.
Brand
Picture
Continuous
Mode
Range (µm)
Data
Output
Price
1. Allosun
0-2000 /
(0-80mil)
2. VVV 3003
0-750 µm
3. Eray SR-100
0-2000 /
(0-80mil)
4. Carfidant
0-1250 /
(0-50mil)
5. Nicety
0-1250 /
(0-50mil)
6. Carsys
7. VVV 206
0-1350 /
(0-53mil)
8. Extech
0-1250 /
(0-49mil)
9. Eray A770
0-2000 /
(0-80mil)
10. Elcometer
Top 10 Best Paint Thickness Gauge 2020
1. Allosun EM2271 – Simplest Paint Thickness Gauge
Allosun EM2271 is the easiest-to-use paint thickness gauge. Using it is very straightforward. The price is affordable. For infrequent use, this one is good to go.
There are only two buttons: test (order to measure the thickness) and unit (to change the unit reading). Simply install the battery, hit the test button, and then put the probe into the surface. Make sure to perpendicularly put the probe into the surface because it impacts the accuracy.
This stuff is actually smaller. You might not even imagine that size (about 7 x 4 x 2 cm). So, it's a nice tiny compact gadget that will fit in your pocket and your budget as well.
Range: 0 – 2mm / 0 – 80mil
Resolution: 0.1mm / 1mil
Size: 7 x 4 x 2 cm
It runs by battery power, a typical watch battery CR2032 3 Volt. While the range measurement is from 0.0-2.0mm (0-80 mil) with resolution 0.1 mm.
It's manufactured to measure the thickness of non-magnetic coating such as paint, enamel, plastic, epoxy, etc. The base material must be iron or steel or aluminum. That said, it will not work for the wood base.
Things that we don't like from this paint thickness tester is its accuracy. It can easily interfere with the temperature and relative humidity of the environment. However, it actually works. Instead of working by guessing, this gauge is more accurate than your senses. So, if you are going to use it for inspecting a used car, it still works for you.
2. VVV-Group 3003 – Magnetic Paint Thickness Gauge
Another simple one is this VVV-Group 3003 paint thickness gauge. This one is unique. It works using the magnet and a spring inside the system.
The magnet will stick into and give the reading based on the sticking strength.
If you put the magnetic ball onto your car panel, you'll see it will be tightly sticking into. If the coating is thick, the ball will easily detach when pulled, vice versa. While the spring inside the system functions to hold the ball. If the sticking is strong, the spring will stretch further, vice versa.
The color where the farthest stretch stops will show the thickness and the property of the coating.
Black. The thickness ranges from 520 – 750 µm. Surfaces after filling and lacquering.
Red.  The thickness ranges from 300 – 520 µm. Surfaces after tinsmith repairs.
Orange. The thickness ranges from 200 – 300 µm. After lacquer repairs.
Green. The thickness ranges from 100 – 200 µm. For original lacquers.
Blue. The thickness ranges from 0 – 70 µm. Thin lacquer coat.
Other things make it stand out are no power needed and its pen-shaped design. It's actually totally a mechanical tool. Moreover, its design allows you to measure at a hard-to-reach, small, and curved area in which the usual flat-probe paint thickness cannot do that.
However, it's not applicable for coating with an aluminum base. So, for car paint inspection, it will work for some of them. Nowadays, more and more car panels are made of aluminum. Since that, make sure you know when to use this one.
3. Eray SR-100
Perhaps, you don't a complex paint thickness gauge, just an accurate and comes with a great price (medium price point), this is your best stop.
There are three buttons: Mode, Power, and Unit Zero. The mode button functions to change the measuring probe whether auto, Fe, and NFe. Choose the auto for automatic detection of the base material.
The power is to turn on/off. And finally, the Unit Zero button has some multiple functions. A flash hit on it allows you to choose from the unit reading available (mm, µm, and mil). While holding it a bit longer will enter calibration mode.
Range: 0 – 2mm
Resolution: 0~500um(1um) and 501~2000um (0.01mm)
Size: 1.85 x 0.7 x 3.23 inch
Don't worry in case you forget to turn it off. The battery will not dry up since it will automatically shut down after two minutes without no operation. Aside from that, you can see on the screen a battery bar to notify you if the battery starts to lose power. So it will not run out of power during the work.
Surprisingly, the package comes with some important pieces of equipment such as metal calibrations, film calibration, and the user manual. This is truly a complete paint thickness gauge, for this kind of price point.
4. Carfidant milPRO-9482 – Simple and Sophisticated
The next ergonomic and easy-to-use paint thickness indicator is Carfidant milPro. The way to use it is simple. Just by putting the probe into the given surface and all the reading will be displayed on the blue font LCD.
As you could see there is no button. The only blue LED will turn on if the probe is properly sticking into the surface.
Unluckily, the unit reading is only in mil. Interestingly, this tool is able to detect the material base (iron Fe or aluminum Al) and automatically present it on the LCD.
Range: 0-1250µm / 0-50mils
Resolution: 0.1 mil
Aside from that, the probe seems to be one of the reasons it is accurate. The probe is designed to be kind of more chewy, adjustable to the surface so that it provides better results.
Carfidant milPro-9482 is fairly temperature resistant. Even though still required to calibrate when exposed to the outside of the tolerated temperature, the accuracy can be trusted.
It comes with a set of calibration equipment. This is important for us to ensure its accuracy. There you'll find calibration foils, substrate steel, and substrate aluminum. Do calibrate when it's exposed to an abnormal environment condition.
Overall, Carfidant is great to choose from for measuring the paint thickness. It's compact, accurate, and reliable. The range is adequate 0-1250 µm (0-50mils) with 0.1 µm. By means of this paint thickness gauge, car history can be revealed easily.
5. Nicety CM8801-FN
Nicety CM-8801-FN is a decent yet easy-to-use paint thickness gauge you could buy for measuring vehicle paint thickness.
It provides a dual metal-recognizing feature in a single probe. Therefore, whether the substrate is iron/steel or aluminum, it has no problem with. In addition, it will automatically display the substrate material on the LCD.
This one is easy to use. There are no complicated buttons. However, it takes a bit longer about 2 seconds to measure. You need to stick the probe properly, wait until it emits a sound and the result can be seen. Don't drag the probe when you move into another spot.
Range: 0-1250 micron / 0-50 mil
Resolution: 1 micron / 0.1 mil
The calibration process is really simple, easy and customizable. You can set zero at any thickness point you want. Also, you can set a certain reading on any point you want.
Furthermore, it's possible to access the last 10 readings by pressing the MEM button, and turn backward and forward by pressing the "+" and "-" button.
It comes with a nice carrying case, two calibration metals (steel and aluminum), four different pieces of calibration films, and an instruction manual.
6. Carsys DPM-816 Pro
Even though looks ergonomic, it has more functionals than the Carfidant above. The resolution is also amazing, 0.01 mm.
Manufactured in Russia, you might want to give this one a try. It's simple by looking but you need to read the manual before really touching the buttons because there can be multiple orders to be done in a single button with different pushing duration.
Range: 0.1 mil / 1 um / 0.01 mm
Resolution: 0-3000µm
Size: 4.1 x 1.7 x 1.2 inch
This is your friend to accompany inspecting in cold winter. It's okay to use under extreme temperatures. The lowest permissible temperature use is -13°F/-25°C. While the highest temperature is 104°F/40°C.
It comes with a set of calibration kit: two plates of aluminum and steel and two calibration films of 1000µm and 700µm. So, there are two points available to calibrate.
What you can do with this gauge? Actually many things. There, you can turn on/off the backlight, activate the automatic shutdown, selectable 3 operating modes (A, M, P), change the unit reading, calibrating, 2 point calibration, 6 point calibration. This gauge seems designed for those who have been familiar with calibration.
7. VVV-Group CM-206FN
Compared to Nicety CM8801-FN, VVV-Group CM-206FN is more advanced and complete in terms of its functionality. And this one is also the best budget paint depth gauge we offer to you.
Like the standard paint thickness gauge, this one has fulfilled the criteria of being able to detect magnetic and non-magnetic material base in a single probe and display it on the screen.
One thing that really stands out of this PTG is its resolution. This one provides it up to 0.001 mils resolution.
Feel an enjoyable inspection due to its speed reading. It doesn't need to take too long to take a single reading. Though fast, you need to wait for the audible tone sounds to take the reading. No continuous reading feature is available. In addition, it's able to measure the coatings despite the surface is convex.
Range: 0 to 1350 μm / 0 to 53.2 mils
Resolution: 0.001 mils
Before you use it, you need to calibrate it first. The way we calibrate it is very easy. Press a bit longer the most-righted button, take the metal, and take the reading. Repeat the process for the second metal. It should read zero and you can use it now. The proper instruction can be read in the manual.
On the screen, you could vividly see the reading. There is also the average readings can be seen. The unit reading displayed on the screen is also convertible in three different units: micron, mm, and mil. Select which one you are used to with.
It comes with two rectangle calibration metals: aluminum and iron, a small carrying pouch, and manual instruction. The calibration instruction will be seen clearly in the manual. In the case of calibrating, you could only calibrate the zero reading because no calibration films included.
Don't get confused about choosing between CM-206FN, CM-208FN, and CM-288FN. The 208 has more functionalities especially on display we can see some more statistical readings such as the lowest reading, the highest reading, and the average, which is more preferred for precision measurement. While the 288 has an extra standard deviation value on the LCD and the construction is more ergonomics.
8. Extech CG204
Even though it looks a bit dated and the display is small, never underestimate its capability. It has a complete of features you might not think of.
Like the standard paint thickness gauge, it's been designed to detect ferrous and non-ferrous base material automatically. So, this is good to measure paint thickness of a car.
On the display, you could actually access the information such as the number of readings, average readings, max and min reading, and standard deviation. Surely, this functionality can be activated when you turn on the "continuous" mode. You could select the "single" mode to measure one by one reading. Each reading is taken, you'll hear a tone.
Range: 0-1250 μm / 0-49 mils
Resolution:
However, this might confuse you at first. Learn the manual to master the buttons and functions thoroughly.
Besides that, the two working modes help you to perform a set of measurements and save the readings and statistical data on the built-in memory. The direct mode is to save the data despite it's off. While the group mode is to save the data under certain calibration.
Connect your Extech CG204 to a computer through the given USB cable to transfer the data. It comes with a CD that contains the software to interface the computer to paint gauge.
9. Eray SR-A770
Eray SR-A770 is not just one of the best paint thickness gauges that we are interested in, but also it posses much more functionality. With this price range, this one should pull over your attention. Nicely, the data is also transferrable.
It can measure the thickness of a variety of coating whether the base is magnetic or non-magnetic metal. Unlike the coating thickness gauges above which are seemingly designed for the car paint only. This one is usable for other purposes as well.
Range: 0-2000µm
Resolution:
And the reading is available in mm, µm, and mil.
What makes it contrast to is its two measuring modes: single and continuous. The continuous mode doesn't need time delay to display the reading. While the mode single forces you to read the reading one by one. This is absolutely the comparable ability than the coating thickness we've mentioned above. So, you can quickly scan the surface you want.
10. Elcometer 311-B – Superior Paint Thickness Measurer
Elcometer 311 Model B is absolutely a fast-reading, sophisticated, and high-end
paint thickness measure.
Feel a quick reading! It can handle up to 60 readings in a minute. That means one second per reading. In addition, no need to calibrate at the first arrival. Just get it out of the box and ready to use.
The display is very informational. There you could know how many times you have taken the readings, the lowest paint thickness is, the average thickness is, and interestingly the Elcometer Index Value. It's an outstanding feature that lets you know the overall condition appraised by this smart tool. The greater the value, the more possible it has had undergone repairment.
Moreover, no need to change the probe to measure the paint with the steel or aluminum base. This Elcometer 311 B is designed to automatically easily measure the paint no matter the base is steel or aluminum. The display expressly tells you what the material base is.
Furthermore, feel an enjoyable measurement in outdoor. This one is exceptional because it has met the IP64 qualification. No worry about work whether on dusty sites or on a rainy day. It's clearly designed for professionals.
What is Paint Thickness Gauge?
It's a tool that measures the thickness of paint without destructing it. As you know that this sort of coating is very thin and there is only one side that appears, we need a special tool to do the job.
The term paint is still general and wide. It could be the paint of the pipe, bridge, engine, etc. One scope area that usually employs this instrument is the paint of vehicle panels. This measuring tool is very important for a vehicle to uncover the hidden condition beyond its beautiful look.
The way we use a paint thickness gauge is easy. Just stick the probe into the car panel and the thickness reading will be displayed on the screen. The difficult part may happen during the calibration. You may not be familiar with it.
It works based on these three working principles: magnetic induction, eddy current, and ultrasonic [Source]. However, the ultrasonic gauge is commonly used for superior precision in which further results can be analyzed in more detail. In the case of vehicle thickness, since they use steel and aluminum as the base, the applying of magnetic induction and eddy current are highly decent.
If a paint thickness gauge is able to measure the paint on both magnetic (iron, steel, stainless steel, alloy, etc) and non-magnetic metal (aluminum, brass, zinc, etc), then it probably applies both magnetic induction and eddy current principle in a single probe. This may give you the flexibility of use regardless of what the base is.
Main Factors to Figure Out
Here are some highly important factors that you need to figure out in the case of buying a paint thickness gauge:
Measurement Range: The thickness tester must pose the common measuring range of paint thickness, at least 0-750µm (0 – .75mm). There are usually about 0.1-0.17 mm for the combination of painting primer, base, and clear coat.
Versatile Base Detection: Since most vehicles nowadays use steel and aluminum as the panel basis, the gauge must be usable on both of those bases. Steel is considered as the magnetic metal, while the aluminum as the non-magnetic metal.
Speed: If you need to measure fast, then select the paint gauge whose a continuous reading feature. While the individual reading, in contrast, requires you to measure one by one in which each measurement is usually separated by a tone.
Accuracy: How could you tell that the paint thickness gives a wrong reading? The best practice for that is by using the calibration kit. Some products tend to have a significant error due to the environment temperature and humidity. If you focus on accuracy, look up to the error tolerance and temperature and humidity limit.
Easy to Use: The size dimensions, buttons, comes with user manual come into play in terms of how easy it is to use. The build and construction have to be comfortable with the handheld. Moreover, it's not too big so that it can measure most of the spots.
Calibration: This kind of gauge needs frequent calibration. If possible, purchase that comes with a set of calibration metals and films. It will help you make some control of the accuracy of the gauge. You also don't to buy it separately and save money.
Summary
Preparing yourself with the best paint thickness gauge before buying a car is highly encouraged. This tool will be reliable to inspect the condition of the car for you. Most importantly, you can avoid losing thousands of dollars due to dealing off with an upset car. Here you have the chance to get the best possible car with our best paint thickness gauge selection above which we enlist from the lowest to the highest price point. Hope you enjoy it.