The ruler is the most familiar linear measurement tool in our life. It's easy to find and generally affordable. People use a ruler to draw a line with a certain defined length. In addition, it functions to measure a linear distance between two spots.
Commonly, a ruler comes in imperial (inch) and metric (cm) reading. The graduation is a tenth of a centimeter or tenth of an inch. A ruler for school kids has a typical length of 30cm. It may be different for other purposes. Some are made from metal, some are also made from plastic or wood. Even, some of them are flexible which means made of special material.
In this post, we are going to present some options for you about the best ruler on the market.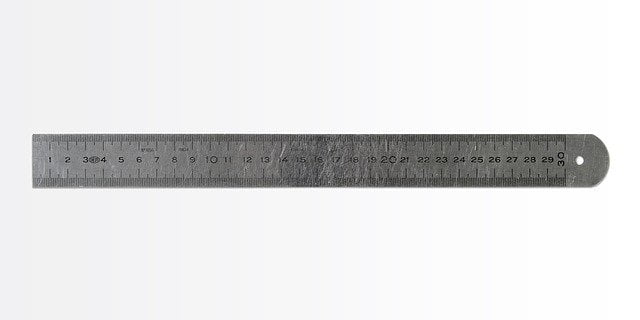 Product
Picture
Material
Purpose
Price


1. Mitutoyo
[Best Overall]


Tempered Stainless
Steel


Versatile





2. Starrett


Tempered Steel


Versatile





3. General
Tools


Stainless Steel


Versatile





4. Eboot


Stainless Steel


Versatile





5. Klein
Tools


Fiberglass


Versatile





6. Simple
Precision


Anodized Aluminum


Architects





7. Arteza


Aluminum


Architects





8. Calculated
Industries


Metal


Architects





9. Alvin


Plastic


Architects





10. Fiskars


Wood


School Kids



Top 10 Best Ruler Reviews in 2023
1. Mitutoyo 182-105 Tempered Stainless Steel Metal Ruler
[Best Overall]
So far, when it comes to quality measuring tools, you can go to Mitutoyo. It is the most persistent brand that produces great measuring tool products. The same thing goes for if you are looking for the best metal ruler, Mitutoyo stands up as the first option.
It's not only made by quality but also the ruler serves you with amazing functionality. It provides the reading in inch and cm. The imperial (inch) is one side and the metric (cm) is behind. The graduation of the inch is in 32th and 64th of an inch. While the cm is 10th and 20th of a centimeter.
The markings are very amazing; it must be not an easy thing to etch those graduations. People are also amazed because the markings are sharp, clean, and easy to read. So, if you need more accuracy, just use the smaller graduation side. Use the bigger graduation side for decent reading.
It's made from tempered stainless steel. You could realize it's stiff and thick. It's not easy to bend.
2. Starrett C604RE-6 Spring Tempered Steel Rule
Another option for the best metal ruler that we present in this post is Starrett C604RE-6 ruler. Starrett is an American brand and pride, a based-on-USA company that produces precision measuring tools like Mitutoyo. In this case, Starrett is still one of the best leading brands and let's see what she has.
It's not weird if both you and we call this ruler as an imperial ruler because there is only imperial reading (inch) etched on both sides of the ruler. Interestingly, the graduation is available in 4 graduations: 8th, 16th, 32th, and 64th (of an inch). If you know that you will be dealing with inch measurement, then this ruler is right to pick up.
Due to the reading, it may not look versatile but this one is absolutely unique. There are 4 graduations you could choose from the most accurate to the quickest one. It means if you need accuracy, switch to the 64th graduation side. For quick reading, there is the 8th graduation available to switch.
3. General Tools 300/1 Flex Precision Stainless Steel Ruler 6″
General tools 300/1 is an affordable option if you are on a budget. What we like from this ruler is the sliding pocket that can act as a depth gauge as well.
This is an imperial ruler. From the picture, we know it's only in inch graduation. The overall length of this ruler is 6 inches. In our opinion, this is the best one for school kids or home use.
However, the markings are only one-sided. Behind the marked side, there are some fraction-to decimal-conversion tables.
4. Eboot Stainless Steel Ruler with Conversion Table
Another option for the affordable ruler that we enlist here is from eboot.
It comes with two rulers: one is 12 inch and the second one is 6 inch. What we highlight form this ruler is the metric reading. It comes with imperial and metric reading. So, this is versatile.
Like General Tools above, we suggest everyone to use this for home use, office and home use only. It's not recommended for professionals such as in engineering or architecture.
5. Klein Tools 910-6 Durable Fiberglass Folding Ruler
The next best ruler is Klein Tools 910-6 folding ruler. As the name suggests, this ruler can be shortened due to its foldable property. In order to measure longer distance, you could extend it. Meanwhile, to measure a short distance, just open some folded pieces.
Another advantage of using folding ruler is its portability. It's very possible to take into a pocket and carry it around. It's able to measure a long line and short line as well. Its overall length is 6 feet.
6. Arteza Triangular Architect Scale Aluminum Color-Coded Grooves
Another scale ruler currently available on the market is Arteza. Basically, both Arteza and Simple Precision scale rulers above are similar. However, Arteza is an affordable option for your budget. It comes in three different colors to quickly select the scale you want.
7. Calculated Industries 6025 Scale Master Pro Digital Plan Measure
[for Map]
The quickest way to measure the real distance of linear or irregular line is by using this Calculated Industries scale master pro. You just need to scribe the wheel following along the line and the real number will be shown up on the screen, as simple as that way.
Certainly, you could set up first the scale through the buttons available. For a better insight into how this stuff looks like and how to use it, we prefer you to watch this video. To be honest, the product on the video is the 6135 model however it's from the same brand. This is only for giving you an idea of how this tool is about.
This tool is a very perfect choice if you are an architect. It's fast and simple. Your job will be simplified and fast up. However, it's a bit expensive so you have to spend more. If you see the price pays off, just carry on.
8. Alvin 110P High Impact Plastic Architect Triangular Scale
If you are looking for a scale ruler made from plastic, then here it is. It's not bad being made of plastic as long as strong enough. Here is Alvin 110 P scale ruler for architects.
9. Fiskars 01-005358 Wooden Ruler
The last option that we present is a wooden ruler from Fiskars. It's lightweight and unique. Made from wood, this is a wise option if the use is aimed for children. Wood doesn't contain harmful chemical substances and it's safe if they put it in the mouth.
It's marked in metric and imperial graduation. Its length is 30 cm / 12 inch. Overall, this is ideal to use for school kids rather than plastic ones or even the metal one.
How to Choose the Best Ruler for your Needs
1. Material
It's important to consider the material of the ruler you are going to pick. If it's made from metal, it is probably stiff. It could be a little bit flexible but not intended to be a flexible ruler. The plastic one may be great to choose from but it's sort of easy to break. Another material is wood. Although it's lightweight and safe for children, it's easy to ruin the accuracy. For professional use, then we recommend using the metal ones.
2. Accuracy
Accuracy is important for serious measurement. In this case, you have to be able to differentiate between accuracy in two different terms. Firstly, it's about how exactly the same it is with the standard ruler. Secondly, it's about graduation.
We don't know how traceable to the standard length the ruler is. A certificate of traceability is absolutely required. However, when it comes to graduation, the high quality marking etcher is the key. The smaller the graduation it provides, the better it's in terms of accuracy. For engineering, mechanics, and architects, this is important. For school, office, and home use, the general 8th graduation is decent.
3. Length
There are several options available in this case. You could pick up the 6 inch one or the longer ones. This is actually about your needs.
4. Laser Engraved Markings
The graduation is marked with linear lines and numbers. These marks can easily fade out due to wear and a long period of use. The printed markings are considered easy to become blurry and fade out. Therefore, we suggest preferring the engraved one.
Summary
That's all that we present on this page. It's actually not too overwhelming to choose the best ruler as there are decent options available on the market and their quality competes with each other. These are just our preferences but should be useful to give you a quick list of selections. Whether it's for school, office, engineering, mechanics, or architects, the products are on the list.
However, if you still have no idea what to choose from, we recommend the Mitutoyo ruler for everyday use. It's highly durable and accurate. If you are familiar with imperial, then Starrett is amazingly a great pick. There are 4 graduations to switch that make it versatile in any condition. For the budget option, you could buy the eboot ruler.
If you require to check whether its graduation is accurate or not, you could buy a precision ruler and then compare the graduation. The same thing goes the same with any tool that comes with a ruler.