A sewer camera is used to diagnose the issue inside the pipe of the sewer system. This camera will be pushed down to the pipe using a cable. Due to dark, some illumination LEDs are built into the camera. Some cameras can rotate, controlled remotely. Then the video capture can be watched live on the screen that is integrated into.
Things such as tree roots, collapsed pipes, grease, paper, and sagging pipe are some of the causes that could lead to clogging in the sewer system.
As we saw on the market, a sewer camera inspection could cost you hundreds and even thousands of dollars. On the other hand, the sewer inspection projects that homeowners pay in the USA could cost less than that price [Source]; the cost may change at any time. That said, you are way more saving money if you could do it yourself (if you do it more than once).
Instead of digging by guessing, you can mistakenly dig the false area. Further, you could break the sewer system and loss more money.
Using this tool will allow you to inspect what is inside and the position where the trouble is. Then deciding what is the best further action to solve the problem.
Looking for a sewer camera on the market could be overwhelming. However, don't worry because we've compiled the top 10 list here. These are the best sewer camera that we've successfully put together. The following table is the best view on a desktop browser. But, if the diameter of your sewer pipes is smaller than you expect, you may need a drain camera.
Brand
Cord Length
Screen Size
Buy
1. HBUDS
[Best Overall]
30 m / 100 ft
&
50 m / 165 ft


7 inch

2. Wohler VIS350 Plus
[Best for Professionals]


30 m / 100 ft


7 inch

3. Comstex
[Best for Homeowners]


30 m / 100 ft


9 inch

4. Anysun


30 m / 100 ft


7 inch

5. Anysun


30 m / 100 ft


9 inch

6. Ridgid
40798


30 m / 100 ft


4 inch

7. HBUDS


20 m / 65 ft


7 inch

8. IHBUDS


30 m / 100 ft


7 inch

9. L-Limink


15 m / 49.2 ft


Smartphone
Top 9 Best Sewer Camera Reviews in 2023
1. HBUDS Sewer Camera with Locator
[Best Overall]
This HBUDS sewer camera is the best sewer camera that we recommend after considering its functionality and price. Not only does it inspect your sewer line system with its great specification, but also helps you find the area you have to dig in. So, it really helps finish your sewer issue.
Combo (Two Instruments in One)
The camera head functions combo both for capturing images/videos and as the signal transmitter (built-in transmitter). That said, you don't need to mount any beacon (transmitter) to the camera head that can make the camera head difficult (even not able at all) to get into the pipe.
After finding the issue with the camera, turn on the locator to pinpoint where the camera head takes place. The camera head that functions as the transmitter will transmit a 512 Hz signal, and the locator will catch that signal. Any locator that can pick up 512 Hz signal can actually be used as well.
Great Specification
7″ HD color monitor; decent monitor size.
IP68 camera head; makes it waterproof in case of water condition in sewer line.
12 pcs adjustable LED light for light source. Inside the pipe, these LED lights are highly critical to generating decent quality pictures/videos.
4500 mAh for 6-8 hours of working time; enough to accompany an inspection job along the day.
100 and 165 feet cable length
It includes the 8GB SD card which is important to share the pictures/videos to someone else.
The locator; functions as the signal receiver. It detects 512 Hz signal and able to detect up to 23 feet
Camera head; it behaves as the signal transmitter as well, transmitting a 512 Hz signal.
Special Instruction
To keep your sewer camera system always good, you have to follow the best practice. If you need to bend at 90°, make sure the pipe diameter is 6″ or greater. Smaller diameter than 6″ causes break to the cable rod.
All in all, if you need a set of drain or sewer inspection instruments, this HBUDS product is for you. It comes with a camera inspection system and locator. The camera system has great specifications and quality. While the locator can detect the camera head (as the 512 Hz transmitter as well) up to 23 feet (7 meters) in depth. The combination of these instruments makes it suitable for drain and sewer pipe inspection. It's also suitable for any pipe inspection (perhaps in the manufacturing area) as long as the inside pipe diameter meets the camera head spec to get into.
Pros:
A sewer camera with locator; the sonde is built in the camera head.
It makes your purchase easier
Great cable length up to 165 feet; the 100 feet cable is also available
Decent monitor spec with HD quality
Cons:
2. Wohler VIS350 Plus Sewer Camera
[Cutting-Edge Sewer Camera for Professionals]
Another sewer camera that comes with a locator is Wohler VIS350 Plus. In simple words, it's compact (easy to carry), intelligent (the camera head), and a problem solver.
If you are looking for a sewer camera for professionals and don't matter about the price, Wohler VIS350 Plus is the choice to go.
360° Pan

,

180° Tilt

, and

Self-leveling

 Camera
The great advantage of the Wohler VIS350 Plus is its camera. It has the functionalities and features that a professional should have.
Firstly, it can tilt 180° and pan 360°, allowing you to discover what's inside the sewer pipe more thoroughly.
Besides, the camera head has an automatic self-leveling feature. The camera can rotate itself to become level. Sometimes, when the camera gets into the pipe down the line, suddenly you can't recognize what is captured by the camera because the camera itself is messing up. It is not clear which direction is the gravity. This feature will easily turn the camera vision back to normal (to be level), almost similar to what the Gimbal does.
It comes with two camera heads. One is 1 1/2″ in diameter and the smaller one is 1″ in diameter. The 1″ diameter camera, however, lacks pan and tile features.
For water resistance, the camera is protected by a dome; it comes with 5 replaceable domes by the way. The company says it's IP67 rated.
100 feet Push Rod
A longer cable means the capability to reach a farther distance. In case you have a long sewer line, then preparing the sewer camera with 100 ft cable means you are going to tackle the issue.
Screen
Maybe, the disadvantage of the Wohler VIS350 Plus is its screen size which is only 7″. However, it's detachable which is great.
In terms of functionality, it's amazing. It displays the distance reading and the gravity direction as well.
Locator
Buying this product means buying the L200 locator. This locator comes with a visual display. It functions as the receiver in which will detect the position of the camera head that transmits a certain frequency. The cross sign can help you easily find the position of the camera head.
If you are going to inspect a pipe that is more than 2 inches (diameter) and larger, then we recommend this one. Since the camera is able to rotate, everything surrounding the vision ahead can be highly captured and reported. So you can more possibly completely scan the environment with nothing missing out.
Pros:
High mobility due to compact size; great for plumbing and sewer inspection jobs
100 ft cable for longer reach
tilt up to 360° and pan up to 180°
self-leveling camera; less struggle
for pipe diameter of 2″ and more
Cons:
for professionals, the 7″ screen seems not enough although it's functional.
Read more about the review here
3. Comstex Sewer Camera (100-feet Cable; 9-inch Monitor; 12 LEDs) –
[Best Budget for Homeowners]
This Comstex sewer camera system provides you with great specifications for sewer inspection. It has a 100-feet cable length, 9-inch color monitor, slim IP68 camera head, and 12 lighting LEDs.
It comes with 23mm camera head diameter. If you set the protective cover, there are two covers, the diameter can be 1.42″ and 4.09″. So, the smallest pipe it can get into is 1″ diameter.
If you think Mophorn is too expensive, then this Comstex should cover your need. The contrast differences between Mophorn and Comstex are its camera head capability and lighting LEDs. Mophorn has a 360-degree rotational camera while Comstex has a straight ahead camera. Both of them has 12 adjustable LEDs.
All in all, this Comstex sewer camera is the best sewer camera in the price range of about $500. And if you are looking for the best budget sewer camera, we agree to advice you buying this one. This model is great for homeowners and even for plumbers.
Pros:
Almost maximum spec with low cost
Long cable
Wider screen
12 lighting LEDs
Cons:
4. Anysun Sewer Inspection Camera (100-ft Cable; 7-inch Monitor; 12 LEDs)
Another best sewer camera that comes at friendly price scope but provides great specifications is this Anysun sewer inspection camera. It has a 7-inch monitor, 100 feet cable length, IP68 rating camera head, distance counter, 12 LEDs for lighting, and 8-hour of operating time.
The color monitor lets you see what is captured by the camera. A 100-feet cable should cover various sewer lengths. The cable has an IP68 rating (the highest rating level is IP69) which means highly resistant to water and dust ingress. This IP rating is very important for the camera since the sewer is surrounded by water and very wet. The distance counter is displayed on the monitor to tell you how long the cable has been pulled. This length gives you an estimation of the position of the camera head is. It can work for up to 8 hours which means a day of hour work. If you need to work more, don't worry, the power supply is included. The camera has 12 LEDs that will enlighten inside the sewer pipe.
If you are going to inspect what is actually happening inside the sewer pipe, then this sewer inspection system instrument will shoot and take videos for you. In this case, its monitor width and length cable should suit you and work for most situations. All of these advantages can be obtained at an affordable investment that can save you up to thousand dollars.
Pros:
Long cable with water and dust resistant camera
Distance counter (counting the pulled cable length)
12 lighting LEDs to take photos and capture videos clearly
Cons:
Don't bend the cable less than a 90 degree
5. Anysun 9″ Monitor 100 feet Cable Sewer Camera
The next option to choose from the market is the Anysun sewer camera. This one has a large 9-inch monitor, excellent cable length (100 feet), and a standard camera head. For homeowners, this one is more than enough.
This sewer camera system is equipped with a 9-inch TFT monitor. For sewage inspection, it allows you to view what is being captured with ease. That's good. In terms of how far it can reach, the cable length is 100 feet (30 meters) which is good. We see this is the most recommended cable length.
However, the camera head is standard but it's okay. As said before, this one should be enough for homeowners with occasional use. It's designed to use for pipes at 0.75 to 8 inches. After the battery is fully charged, it's able to work up to 8 hours.
Pros:
100 feet cable length
Large screen monitor (9″)
Cons:
6. Ridgid 40798 SeeSnake L100 Lightweight Sewer Camera
The need for compact and lightweight tools is demanding. By using Ridgid 40798 SeeSnake L100, you could take advantage of its compact dimension and bring it into a tight place, anywhere you want.
Even though it's smaller than the others, the push cable can extend up to 100 feet (20 meters 30 meters) which is way more than we expected. Moreover, the camera inspection CA-350, in spite of the small screen as well, can bring an adequate image and capture a nice video for you. Nicely, it can be detached and connected to other Ridgid SeeSnake monitors. In case, you need a bigger view, change the monitor.
Ridgid 40798 is equipped with sonde frequency which is the reason we recommend this for you. You may need to locate the location of the broken sewer pipe. By means of the sonde 512 Hertz frequency and an underground locator, the location can be detected and the excavation process can proceed more accurately.
Pros: 
Long cable
Sonde frequency for locating
Small, compact, and lightweight
Cons:
No cable meter counter
Small screen (but changeable)
7. HBUDS H-20MCAM Sewer Camera; 65 Ft Cable
If you think your sewer line is pretty short, then this instrument may suit your need. The clarity of the image and video capture, working hours, cable length, and the camera itself will provide you comfort during the job and also an economical option according to the price.
This HBUDS H-20MCAM sewer inspection provides a 20-meter long cable. It's rigid yet bendable enough. However, it cannot bend for less than 90°. Moreover, the 7-inch screen is wide enough to view the condition of the pipe. Along with the shade, it enables you to view it clearly outdoor.
Also, the flexible camera will run a mission successfully to surpass the P-trap pipe. Most importantly, the camera meets IP68 criteria to work around water. The red soft-touch ball is designed to protect the camera from scratch. You could detach it to fit a smaller pipe but not recommended because it can harm the camera. It can fit a 1.5-inch pipe diameter when the ball protection is installed.
Another thing is the battery. It can support your work up to 9 hours, totally no worry about the power source. The battery will power the system and also the 12 adjustable LED lights. That is pretty enough to brighten the working area inside the pipe. Overall, HBUDS H-20MCAM will be a great sewer camera purchase for you.
Pros:
Standard model to meet most needs
Economical choice
Cons:
8. IHBUDS 100ft Color Monitor Sewer Camera
This sewer camera comes with a 100 ft cable. So, in terms of cable length, this should cover all residential sewer line issues.
The camera is flexible, equipped with LED light to work in the case of a dim environment, water-resistant with an IP68 rating. An IP68 rating is more than enough to protect the camera from water in the sewer. A typical diameter of a sewer line is about 4 inches. So, even if it's submerged, not really an issue.
It comes with a 7-inch color screen. The size is not large but sufficient to display what the camera captures. It also allows you to record the footage with the DVR recording function. There is an 8 Gb memory card to store the file but you could also upgrade up to 32 Gb.
The screen is battery-powered and the battery is rechargeable. Plug it into a 110 Volt outlet to charge the power. The fully-charged battery can last up to 8 to 10 hours which should cover the working hours in a day. Charge during the night, use the next day.
Pros:
100 ft cable for longer reach
DVR recording
Good video capture
Cons:
9. L-Limink Wireless Inspection Camera
[Low Cost & Preinspection Camera]
Before inspecting your sewer pipe, perhaps, the problem is taking place in the sink or drain line. L-Limink has a small camera head that will do the inspection for you. Buying this low-priced endoscope camera can be a wise choice.
Don't overestimate it. This camera is water-resistant that meets the IP67 rating qualification. It's the most deciding factor to buy. Moreover, the cord is actually long 15 m/49.2 ft, and fairly adequate to support some pretest inspection. Most importantly, it's semi-rigid. So you could push it through the line without bending.
L-Limink is super simple. It works wirelessly. Simply, you could turn on one of the wifi button, and connect with your android through the app that you could download based on the instruction. Enjoy the high-resolution 1080p capturing along with the 4-time zoomable video for confidence. The 2200 mAh battery is amazingly able to support your inspection up to 5 hours after fully charged for sure.
Pros:
Affordable
Long cable
Small camera diameter
Cons:
Others on the List
This section is meant to show you some other inspection sewer camera systems that are available on the market, but they are unfortunately restricted in terms of the information. Since we see they lack information, we are a bit doubtful to review them.
They are:
Pipe Raptor GLS-150 Sewer Camera 512hz Sonde Built-In 150′ Pushrod 4 Year Warranty [Check price! #ad]
Mabelstar Sewer Inspection Camera with Sonde Transmitter [Check price! #ad]
MS-17280 Mabelstar Sewer Inspection Camera with Sonde Transmitter + Locator and Self-Leveling [Check price! #ad]
These sewer cameras come with a sonde transmitter. It's really helpful to find the right place where the clogging position takes place.
Things to Consider Purchasing Sewer Camera
1. Camera
Controlling the camera is highly challenging. The best sewer camera should be able to capture 360° of upfront view and the side. Aside from that, steering the camera to enter a sharp bending pipe can be sometimes impossible. To tackle this challenge, you need a high-end-level camera. Some companies try to collaborate with the camera with a robot. The simple one is by designing a push pan-tilt camera to run at harsh pipe traffic.
More importantly, the camera has to be water-resistant. It's the first factor to consider. The camera must be able to work in a wet area and containing water. In this case, a sewer camera must pose at least an IP67 rating.
Another important thing to consider from the camera is its diameter. The camera head diameter may too fit with your sewer pipe diameter. Knowing the camera diameter and your sewer size is important before buying.
2. Screen
A clear usable image and video capture are very important to view the condition inside the pipe. This is the main thing you have put attention on. In addition to the usable capture, the screen should be big enough so that the users easily see the capture.
3. Cable Length
The cable length plays a huge part to support your inspection tool. Some sewer systems may have a longer pipe, while the others don't. If the cable can extend until 30 m, it is considered suitable to use for most sewer systems [Source].
4. Battery
Make sure that the system is battery-powered and able to perform an inspection for a pretty long time. Our suggestion is to buy those that last for 8 hours. This number means to be able to cover the job in a day. In the night, you recharge the battery power to use later in the next day.
5. Lighting
The camera has to come with good lighting. Since the environment inside the pipe is lacks lighting, a sufficient amount of LED lights can absolutely help you observe the sewage system.
6. Locator or Sonde
The advanced models typically come with this Sonde. During the operation, the camera head will carry the sonde. That means the camera head acts as the sonde carrier as well. After finding the location where the issues take place, use the locator to locate that sonde. That's very easy. By means of this locator and sonde, the excavation can be highly accurate and even better avoid you making mistakes (lost money).
The Sewer Camera Inspection Limitation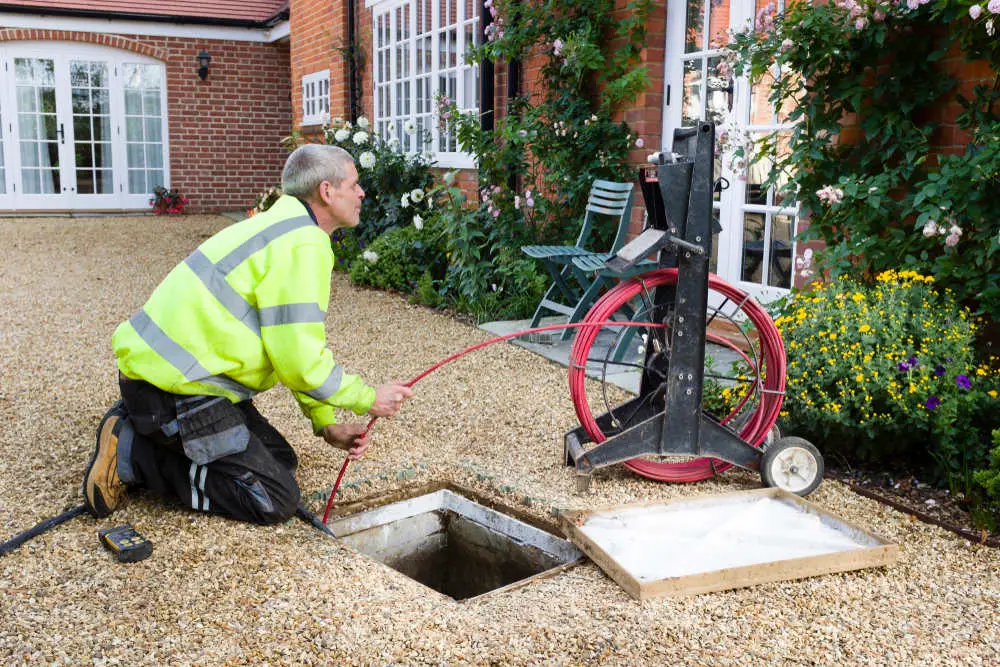 As a pipe inspection camera, its main purpose is to do a visual inspection of what happens inside the pipe. However, it has incapabilities that you have to know.
1. Sewer camera cannot determine a pipe is exactly leaking or not
You can guess but you cannot make sure it's a leak.
First of all, the reason is the camera. It's not capturing the image/video in a microscopic scale. You have to upgrade the camera but so far, we don't know that kind of camera existing.
Moreover, a small crack covered by buildups such as calcium, grease, soap scum, etc is not easy to detect by the camera, except your plumber has tons of experience. If you are the homeowner, you are likely unable to spot it.
A potential crack that occurs at the outside of the pipe may develop to the inside of the pipe. Surely, your camera cannot anticipate it.
2. Sewer camera should not get into your drain line from fixtures
The sewer problem is not only about tree roots or pipe collapse. There are many issues such as grease, hair, and many more in which this problem may not locate in the sewer line. Your problem may locate in an area nearby the drain line. And of course, you have to check your drain line as well.
So, don't expect to buy a sewer camera for all problems with your plumbing system.
Suppose that you may have a pretty large diameter camera head. Besides, your cable cannot be bent lower than 90 degrees.
If you want to check the plumbing problem from the fixtures (sink, toilet, bathtub, etc), surely your sewer camera head is too big and the cable will break apart. The pipe diameter that connects to these fixtures can be 3″, 2″, and even 1 1/2″. Worse, you have to face the trap pipe. Still, you can use it, but no guarantee.
You need a special camera that has a smaller diameter of the camera head and a more flexible cable to tackle the drain line. Therefore, there should be a classification between the camera for sewer and drain lines. If you are a professional plumber, we are sure you will need a drain camera for your reputation.
Flushable Sonde or Attachable Sonde?
When employing the sonde, you have two options whether to use the attachable sonde or the flushable sonde. The attachable sonde lets you install it on the camera head of your sewer camera inspection. On the other hand, the flushable sonde lets you flush it along the pipe and see where it is exactly getting stuck.
Don't worry! It will float if you flush it with water.
So, it can be said that the flushable sonde lets you eliminate the use of a sewer camera in regard to inspecting the sewer pipe. That said, it's a cheaper way.
These are the choices available for flushable sonde:
The two above floating flushable sondes transmit a 512 Hz signal. So, you need a locator that can pick up this signal.
If you prefer the attachable sonde, you can use Ridgid 16728 #ad. It's not cheap. But a professional plumber should have it in their equipment. This sonde also transmits a 512 Hz signal.
Some of the locators that can pick a 512 Hz signal are Ridgid 19238 NaviTrack #ad and Leica DD130 #ad.
Sewer Camera Vs. Drain Camera
Sewer lines and drain lines are different, especially in terms of pipe diameter and pipe turns. In this case, you should use the proper tool for drain inspection. Take a look at our top 10 drain cameras. They come with a tiny camera head. And our top choice has a .25″ cable diameter. So, it's extremely superior to sneaking along small pipes.
Final Verdict: Which One to Pick
There are various options for the best sewer camera that is available to choose from. In this post, we've successfully put together some of them here. To be honest, selecting them is fairly time-consuming. They are also expensive as well.
If you are a plumber and looking to buy the best one, we are sure that you would like to pick the HBUDS sewer camera with locator. It helps you do the inspection and locating. The cable length is amazing. It's available in 165 and 100 feet cable lengths. Because it comes with a locator, meanwhile considering the price, this is the best cheap sewer camera option available.
For more professional purpose, Wohler VIS350 Plus is no doubt. The pan and tilt camera, self-leveling, cable length, distance reading, gravity direction, locator, and small camera diameter makes it stand out from all the choices of sewer camera we serve in this review.
On the other hand, for homeowners that needs the best budget choice, the Comstex sewer camera is our best recommended. The screen is 9 inches (large enough). To reach the farthest distance, the cable is 100 feet. It comes with a standard camera head. Nicely, the camera has 12 adjustable LEDs so it'll be bright inside the pipe when activating all of the LEDs.
From all trouble makers that make your sewer line clogging, perhaps it's caused by tree roots. In this case, you could use a foaming root killer or copper sulfate to kill them. This way needs a regular flush but is much cheaper rather than breaking open the sewer line.
But, if you decide to dig, make sure you are digging at the right location. If the HBUDS sewer camera with locator doesn't meet your expectation, it is available another underground locator with a sonde to locate the clogging position that could save you time and money wasting.