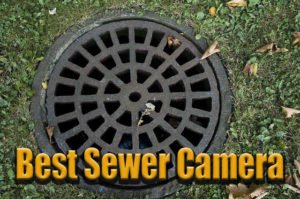 Running a mission to inspect what is going on at the sewer line cannot be done with a naked eye. In this case, a sewer camera is absolutely needed. It is actually an endoscope but there are some built-in features that will be very helpful for crawling in the sewer line. And on this page, you'll find the best sewer camera from our selection.
A sewer camera may cost you hundreds and even thousands of dollars and they actually pay off. Instead of digging by guessing, that could lead to a false target, you could break the sewer system and loss more money. Using this tool will allow you to inspect what is inside and the position of the trouble as well. Then deciding what is the best further action to solve the problem.
Looking for a sewer camera on the market could be overwhelming, seriously. However, don't worry because we've compiled the list here. These are the best sewer camera that we've successfully put together.
Product
Picture
Cord Length
Screen Size
Buy from
L-Limink


15 m / 49.2 ft


Smartphone




Teslong


5 m / 16.4 ft


4.3 inch




HBUDS


20 m / 65 ft


7 inch




Aukfa


30 m / 100 ft


7 inch




Ridgid
40798


30 m / 100 ft


4 inch




IHBUDS


30 m / 100 ft


7 inch




Mophorn


30 m / 100 ft


9 inch



Top 7 Best Sewer Cameras 2020
1. L-Limink Wireless Inspection Camera (Affordable Choice)
This is the first inspection camera that we recommend because of its affordable price and some other advantages. Before you hire a true professional sewer service, you may decide to do it your own. In that case, buying a low priced endoscope camera can be a wise choice.
Don't overestimate this one. The camera is water-resistant that meets IP67 qualification. It's the most deciding factor to buy. Moreover, the cord is actually long 15 m/49.2 ft and fairly adequate to support some pretest inspection. Most importantly, it's semi-rigid. So you could push it through the line without bending.
L-Limink is super simple. It works wirelessly. Simply, you could turn on one the wifi button, and connect with your android through the app that you could download based on the instruction. Enjoy the high-resolution 1080p capturing along with the 4-time zoomable video for confidence. The 2200 mAh battery is amazingly able to support your inspection up to 5 hours after fully charged for sure.
Pros:
Cons:
2. Teslong Inspection Camera
Its clear image capture and video record are better in comparison with L-Limink. In addition, the dual lenses (upfront and side) and 8 pcs LED lights make viewing more wider and better.
However, it's only suitable for a short-range inspection due to the provided cord that is quite short 16.4 feet. But it's semi-rigid, which means able to pass through the line without bending.
Teslong is a simple and portable inspection camera that you could use to inspect a typical small diameter drain line. The 1080P screen resolution displays the capture well. Powered by 2600mAh rechargeable battery will allow you to use for up to 6 hours after completely charged.
The recording is enabled with this Teslong inspection camera. Save the image and video on the 16GB TF card and then transfer its data to the computer for freely analyzing.
Pros:
Simple and portable
Clear image and video recording
Cons:
3. HBUDS H-20MCAM Sewer Camera; 65 Ft Cable
This is the best sewer camera we highly recommend. It exceeds all the standard needs for most sewer pipe inspection. The clarity of the image and video capture, working hours, cable length, and the camera itself will provide you comfort during the job and also an economical option according to the price.
It offers a 20-meter long cable. That's the standard length that we recommend. It's rigid yet bendable enough. However, it cannot bend for less than 90°. Moreover, the 7-inch screen is wide enough to view the condition of the pipe. Along with the shade, it enables you to view it clearly outdoor.
Also, the flexible camera will run a mission successfully to surpass the P-trap pipe. Most importantly, the camera meets IP68 criteria to work around water. The read soft-touch ball is designed to protect the camera from scratch. You could detach it to fit smaller pipe but not recommended because it can harm the camera. It can fit a 1.5-inch pipe diameter when the ball protection is installed.
Another thing is the battery. It can support your work up to 9 hours, totally no worry about the power source. The battery will power the system and also the 12 adjustable LED lights. That is pretty enough to brighten the working area inside the pipe. Overall, HBUDS H-20MCAM will be a great sewer camera purchase for you.
Pros:
Standard model to meet most needs
Economical choice
Cons:
4. Aukfa AK7D1 Sewer Pipe Camera
Aukfa AK7D1 is actually similar to HBUDS H-20MCAM, but this one owns more improved features. Things that set them apart are the cable length, distance counter, and free 8 Gb SD card.
The cable length will support your inspection up to 30 meters. And you could trace how many lengths the cable has extended by seeing on the monitor. It clearly appears on it. Save the recorded video on the SC card. The slot can be found at the battery box. Enjoy a free 8 Gb SD card but you could buy a larger storage one. It can support up to 16 Gb.
Some people realize that counting the distance of the cable is very important to locate the position of the camera where the trouble is found. Therefore, this tool seems to be your choice because it's programmed with instant distance cable reading on the screen.
Pros:
Equipped with counter distance
Long cable
Cons:
Not able to pass through all types of pipe fittings
5. Ridgid 40798 SeeSnake L100 Lightweight Sewer Camera
The need for compact and lightweight tools is demanding. By using Ridgid 40798 SeeSnake L100, you could take advantage of its compact dimension and bring it into a tight place, anywhere you want.
Even though it's smaller than the others, the push cable can extend up to 100 feet (20 meters 30 meters) which is way more than we expected. Moreover, the camera inspection CA-350, in spite of the small screen as well, can bring an adequate image and capture a nice video for you. Nicely, it can be detached and connected to other Ridgid SeeSnake monitors. In case, you need a bigger view, change the monitor.
Ridgid 40798 is equipped with sonde frequency which is the reason we recommend this for you. You may need to locate the location of the broken sewer pipe. By means of the sonde 512 Hertz frequency and an underground locator, the location can be detected and the excavation process can proceed accurately.
Pros: 
Long cable
Sonde frequency for locating
Small, compact and lightweight
Cons:
No cable meter counter
Small screen (but changeable)
6. IHBUDS 100ft Color Monitor Sewer Camera
When it comes to looking at the best sewer camera for a long sewer line and provides a great visual experience, this IHBUDS should take your attention. Let's see what it has.
Cable
This sewer camera comes with a 100 ft cable. A typical length of the sewer line could extend up to 125 feet. But it's rare. The most general ones are no longer than 100 feet. Perhaps, you want to figure it out on your own but that's the number that we get from here. So, in terms of cable length, this should cover all residential sewer line issues.
Camera
The camera is flexible, equipped with LED light to work in the case of a dim environment, water-resistant with an IP68 rating. An IP68 rating is more than enough to protect the camera from water in the sewer. A typical diameter of a sewer line is about 4 inches. So, even if it's submerged, not really an issue.
Screen
It comes with a 7-inch color screen. The size is not large but sufficient to display what the camera captures. It also allows you to record the footage with the DVR recording function. There is an 8 Gb memory card to store the file but you could also upgrade up to 32 Gb.
The screen is battery-powered and the battery is rechargeable. Plug it into a 110 Volt outlet to charge the power. The fully-charged battery can last up to 8 to 10 hours which should cover the working hours in a day. Charge during the night, use the next day.
What People Said
So far, according to customer reviews, this sewer camera is a great investment that would save you time and money. Instead of hiring a plumber that could cost almost a unit of this sewer camera, you'd better off buying your ownself and do it yourself multiple times as you want.
Pros:
100 ft cable for longer reach
DVR recording
Good video capture
Cons:
7. Mophorn Sewer Camera 9″ Color LCD Monitor
It's time to upgrade your sewer inspection camera to be more advanced in order to work comfortably.
100 ft cable
A longer cable means the capability to reach a farther distance. In case you have a long sewer line, then prepare the sewer camera with 100 ft cable means you are going to tackle the issue.
9 inch Screen
It makes sewer inspection so much fun because the screen displays the capture larger. You are not required to guess what when you find it hard to analyze.
360° Rotational Camera
This is what others cannot do. It comes with a 360° rotational camera for a full inspection.
If you are going to inspect a pipe that is more than 7 inches (diameter), then we recommend this one. Since the camera is able to rotate, everything on the left, above, right, and under of the camera can be highly captured and reported. So you can possibly completely scan the environment with nothing missing out.
Pros:
100 ft cable for longer reach
360° rotational camera
wider screen
Cons:
Things to Consider Purchasing Sewer Camera
1. Camera
Controlling the camera is highly challenging. The best sewer camera should be able to capture 360° of upfront view and the side. Aside from that, steering the camera to enter a sharp bending pipe can be sometimes impossible. To tackle this challenge, you need a high-end level camera. Some companies try to collaborate with the camera with a robot. The simple one is by designing a push pan-tilt camera to run at harsh pipe traffic.
Most importantly, the camera is water-resistant. It's the first factor to consider. The camera must be able to work in a wet area and containing water. In this case, a sewer camera must pose at least an IP67 rating.
2. Screen
A clear image and video capture are very important to view the condition inside the pipe. This is the main thing you have put attention on. In addition, the screen is big enough for the user easy view. Some sewer camera system model owns the feature that displays on the screen how many lengths the cable has extended.
3. Length
The cable length plays a huge part to support your inspection. Some sewer system has a longer pipe, while the others don't. A standard length is about 20 meters but for confidence use, try to buy the 30-meter sewer cable.
Final Verdict: Pick One for Me?
There are various options for the best sewer camera that is available to choose from. In this post, we've successfully put together some of them here. To be honest, selecting them is fairly time-consuming. They are also expensive as well.
If you are still struggling to find your one, but nothing seems to be okay with you, we recommend the HBUDS H-20MCAM. And if you are not struggling to choose from, we keep suggesting this product. Hbuds H-20MCAM is indeed not from a reputable brand. But, from the video reviews; we found it after a tiring search, this one is really fine. It meets for most use of sewer inspection. Many people have shown their satisfactory experience. All in all, HBUD H-20MCAM is the best sewer camera we recommend you to buy.
From all trouble makers that make your sewer line clogging, perhaps it's a tree root. In this case, you could select to use a foaming root killer or copper sulfate to kill them. This way needs a regular flush but much cheaper rather than break open the sewer line.