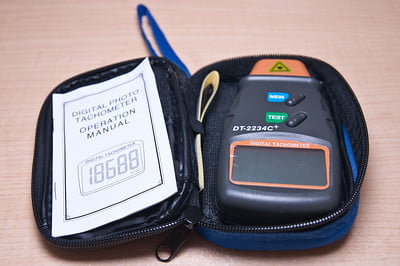 Tachometer is a measuring tool that functions to measure the RPM speed of a particular rotating object. If you are going to measure the RPM speed of a spindle motor of a milling machine, this device is able to do that.
People use this device in many areas such as automotive, DIY repair, industries, metalworking, etc. That said, there are a variety of tachometer types available on the market in which the purpose of each model is different one another.
For example, a tachometer for automotive is not ideal; even unable, to use for industries. While a tachometer for the chainsaw is designed for small machines that work by the inductive method. The tachometer for accurate measurement should be versatile for all purposes.
In this post, we are going to present some best options available on the market that you could take a look. The next section is the buying guide. It's some factors you need to take a look at when buying.
Product
Picture
Type
Great for
Buy from
Auto Meter
Automotive
Car, Jeep, etc
Neiko
Laser
Versatile
Extech




Laser
Versatile
Shimpo




Contact
Lathe,
Mill Machine
Hardline




Inductive
Motorcycle
Electronic
Specialties




Laser
Versatile
REED
Instruments
R7050




Laser
Versatile
Top 7 Best Tachometers
1. Auto Meter 233911 Autogage Silver Tachometer
Auto Meter 233911 is great to install in your car. This device allows you to quickly spot the RPM of the machine while driving. Its silver color will look amazing in your car dash panel. It's suitable to use for 4-8 cylinder engines and 12V ignitions.
Pros:
Cons:
2. Neiko 20713A Non-Contact Laser Photo Tachometer
Neiko 20713A is a tachometer that is designed for non-contact RPM reading. It works using a laser. This tool is very simple. There are two buttons. The "MEM" button functions to store the readings. And the "TEST" button functions to run the reading.
It's able to measure the RPM speed with a range of 2.5 to 99,999 RPM. You could save the last, maximum, and minimum reading and show it on the screen later. Its size is about the palm of your hand. In terms of power, it just requires three AAA batteries.
Overall, Neiko is a great laser tachometer. If you are going to inspect the spindle speed of your lathe or mill machine, this one is able to do the job. This is our favorite option for those who are on the budget. The brand Neiko is not too bad. Another good product from Neiko is its automatic center punch.
Pros:
Cons:
3. Extech 461920-NIST Laser Tachometer with NIST Certificate
A certificate of traceability is highly required to claim that a certain measuring instrument is accurate and precise. In this case, a certificate of traceability to NIST is the certificate that you can trust. For professional or scientific, you need to purchase the instrument along with this kind of certificate.
Extech 461920-NIST is the best laser tachometer for handheld and non-contact use. It comes with a certificate of traceability to NIST. So, if you are looking for a reliable laser tachometer, this is the best one to pick up. However, it's considered expensive but well worth the money.
It's able to measure the speed of a spinning object up to 99,999 RPM. There is no need to contact the rotating shaft to measure the speed. Powered by 9 Volt battery, it's able to run the measurement wirelessly and store some readings.
4. Shimpo DT-107A Handheld Contact Tachometer
Another way to measure the RPM speed of a particular rotating object is by measuring it directly. In this case, Shimpo DR\T-107A is designed to measure the rotating speed by using a wheel.
The wheel or roller will be contacted to the rotating object. For instance, this wheel will contact the conveyor belt in the milling machine. When the belt rotates, the wheel rotates as well, the RPM is counted.
5. Hardline Products HR-8061-2 Chainsaw Tachometer
We call this stuff as chainsaw tachometer. Why? Because many people use it for chainsaw hour usage tracking. One of the advantages of using this one is no need to wire the cable to the spark plug. You are just required to mount it on the chainsaw.
It works inductively. That said, the vibration of the chainsaw is used to measure the RPM speed. Another advantage is the battery. There is a small battery inside of this tachometer so you need to connect it to a power source. Even it can last for up to 10 years.
This instrument has been reviewed in our previous article "Best Hour Meter". Hourmeter is similar to tachometer but it's made to track how many hours the machine has run or worked. This is important for maintenance, etc.
6. Electronic Specialties 328 EZ Tach Plus
Another small engine tachometer that we present on this page is ES 328 Ez-Tach tachometer. It's able to measure the speed up to 20.000 RPM. From the customer reviews, we can conclude that it 's suitable for 2 and 4 stroke engines. For motorcycles, surely it's able to do the job. It's also great to use for generators, snowmobiles, and outboards.
Pros:
Cons:
7. REED Instruments R7050 Compact Photo Tachometer and Counter
Another photo tachometer that we have on the list is Reed Instruments R7050. It's able to calculate revolutions per minute (RPM) and the total revolutions of spinning objects without getting into contact with them due to the built-in laser pointer.
This laser allows you to calculate the RPM although you are distanced up to 1.6 feet away from the object being measured. That said, you are safe from the rotating object and harmful engine without a lack of accuracy. As advertised, it has 0.05% accuracy.
Like other tachometers, this one comes with internal storage to save some data such as last reading, minimum, and maximum reading. We see this is as the standard feature of a digital laser tachometer should feature.
Along with this tool, you can purchase the product with a certificate of traceability to NIST. That means, for professional use, this is one of the other great options available on the market to pick out.
Tachometer Buying Guide
Choosing the best tachometer for your needs is not complicated. There are a few things you just need to consider. However, if you are too careless, you could pick the wrong one and end up wasting time and money.
1. Choose the Right Type/Model
A tachometer for car dash is different from tachometer for inspecting the spindle speed of a lathe. It's the same thing with the motorcycle tachometer.
In terms of how it works, a laser tachometer is different from a contact tachometer. Laser tachometer makes use of laser beam. While contact tachometer utilizes a wheel that contacts the spinning object. When the object is spinning, the tachometer's wheel is spinning as well.
Whether it's handheld or non-handheld, that depends on your need. For monitoring, the non-handheld should be preferred. A handheld tachometer is preferred for inspecting a particular spinning object.
2. RPM Range
It means the RPM range it can measure. Smaller range limits its measurement to faster rotation.
3. Accuracy
For a professional or scientific purpose, an accurate tachometer is extremely required. Accuracy means it's traceable to the standard measuring instrument that is acknowledged by the world.
Conclusion
Those are 7 best tachometers available currently on the market that we successfully put here together. As you could see, they look different by type and model. But, their function is the same, to measure the rotation speed.