A tally counter is a tool to count the events. The mechanism can be either a digital or mechanical. In some cases, it can be a software or app, which is installed on your devices.
Typically, a mechanical tally counter is encased with metal material to protect the internal mechanical components. A digital tally counter, on the other hand, is usually encased with a plastic case to protect the electronic circuits and components.
Commonly, tally counters are used for various needs. Runners, swimmers, cyclers, and many sports benefit from this simple tool. Sports audience who want to keep track of the lap or score also gets the advantage of this tool. As long as you need a tool to count with a no-brainer, this is what you want.
In this post, we cover several tally counters that we consider the best ones from the market. They are both from the digital and mechanical ones.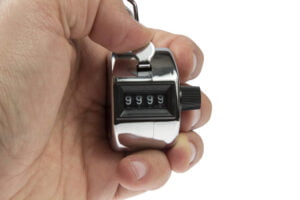 Product
Picture
Model
Advantages
Price
1. Digi 1st TC-890
[Best Overall]
Digital
- Very functional
- For professionals
- Highly intuitive to use
2. Ktrio
Mechanical
- No battery needed
- For many purposes
3. Feeko
Digital
- Very affordable
- Nice for kids
4. Easton
Mechanical
- No battery needed
- Two counters in one
- Great for baseball
5. SC SportCount
Digital
- Quick to click
- Wrapped around the finger
- For swimmer, runner, etc
Top 5 Best Tally Counter Reviews
1. Digi 1st TC-890 Digital Hand Pitch and Tally Counter
[Best Overall]
Digi TC-890 digital tally counter is the best overall tally counter that we recommend to you. It serves you with all the great functions that you could get from the buttons.
It's easy to add the reading as well as the subtraction. These two functions have separate buttons so that you don't get confused to click the buttons. In case you made a mistake click, you could easily subtract with ease.
In addition to the functional buttons, there are spotted the right and left buttons as well. The right button is to reset the reading to be zero, while the left button is to set the start reading to be any number you want. It comes with an audible alarm as well.
In terms of the counting range, it is able to count from 0 to 9999 (4 figure reading). Since it's digital, it requires an LR44 battery.
Pocket size; the dimensions are 5 x 0.75 x 2.25 inches.
The weight of the product is 2.05 ounces.
The battery required for this counter is LR44.
Overall, Digi TC-890 is the model that is right for tallying. It's the best tally counter that we recommend. Actually, there are other models from the brand, however, we'd like this one due to its major functions for tallying. Another thing is the audible alarm. Silent operation is also available. Due to the functions, you could use this tally counter for almost any occasion except swimming and running due to the size.
Pros:
Great for many things
Comes with great buttons: easy to reset, to add and subtract increment, and to set any reading on the screen
Very intuitive to use
Cons:
For some people, the battery may be the issue
2. Ktrio Metal Hand 4-Digit Mechanical Tally Counters
Ktrio tally counter is a type of mechanical tally counter that comes with a lanyard. Like a typical mechanical model, this metallic silver-colored tally counter is easy to operate. The increment range provides 4 figures which mean able to display the counting from 0 up to 9999. The style is trendy and appropriate to use for sports activities.
The color of this product is silver with an extra lanyard.
The case is made of metallic material.
Pocket size, the dimension is 2 x 1.85 x 1.5 inch.
The product weight is 65g or 0.143lb which is normal.
The benefit of using the Ktrio tally counter is obvious. Since it is mechanical, it doesn't require a battery to operate. The counter works by mechanical components. You could save a unit of this model to use for a long period of time without a worry thinking of its power.
However, the drawback comes up when you have to subtract the reading. In case you are making a wrong click and you need to subtract the number on the reading, you can't do that. The solution is to subtract later at the end of the counting.
Although the subtraction button is not available, it doesn't mean you can't reset the reading. If you want to reset it to be zero, you could rotate the knob which is positioned at the side near the reading. It may take several rotations until the reading gets back to zero.
Overall, this handheld mechanical tally counter is classic yet functions well. It runs without any battery and easy to use. Encased with metal case, it's expected to last long. Store one unit of this model in your toolbox. In case the digital one is running out of power, this one could help. You could also rely on this one. It is pocket size and no worry to carry.
Pros:
Classic tally counter
Reliable to counter events
No battery
Cons:
3. Feeko 7 Finger Tally Counter
Looking for the simple and small one? This Feeko 7 tally counter would be your finger counter. It's designed to use in your finger. Simply wrap it around on one of your fingers (index finger is recommended) and use your thumb to click the button.
There are two buttons. This is the advantage of this tiny tally counter. Although it's small, the reset button is available. You could reset the reading easily with a single click.
A single purchase contains 7 units which is an economic option. You could buy one for your family. Another great thing is its capability to display up to 5 digit reading. Once again, even though it's small, its function deserves to consider.
The body of the counter has made of ABS with an LCD screen display.
The dimensions of the product are 57 x 1.18 x 0.79 inches.
The weight of the product is 0.32 ounces.
The counter has a large function button.
The battery size of this product is A10.
Since it's wrapped on the finger, it's convenient to use this tool. The color and plastic material doesn't look cheap. Charging you with a small amount of money, this gadget is a nice buy for you that can do the trick for you. It makes counting become an easy task. You could employ it for many things such as stitching, lap counting, and so on.
Pros:
Affordable
Can be wrapped around a finger
Cute for kids
Cons:
4. Easton Home/Road Dual Pitch Tally Counter
Instead of using two separate tally counters, Easton offers you simplicity by providing two thumbs at the same counter. This design allows you to track two different countings at the same time. For baseball, this is a great counter to carry for count tracking of the home and visitor pitchers.
It has a metallic body with two knobs to reset the reading.
The product color is black.
The product's weight is 2.2 ounces which means highly possible to carry anywhere.
Since it's not plastic, along with the weight which is a little heavier than the plastic ones, this tally counter feels solid and the design looks professional. In terms of ergonomics, it's comfortable to use with one-handed operation. If you are coaching, you need to keep one in your coaching bag.
Pros:
Great for game score recording of two teams.
No battery power needed
Cons:
5. SC SportCount Lap Counter; No-Brainer Swim Lap Counter
SC SportCount lap counter is basically like the general tally counter. However, it's exclusively designed to wrap around your finger. It's also able to use in water. Therefore, if you are searching for a tally counter for swimmers, cyclers, and runners, this one is the ideal option for you.
Its small size allows you to use it for any performance. You just need to wrap it around your finger like the picture shown beside. This counter is able to display an incremental counting from 0 to 9999. Of course, this range is more than enough to count how many laps you have passed out. For swimming, it works down to 50 meters in depth which is surely more than enough.
The product's weight makes you happy; it is 0.4 ounces.
There is a need for one lithium-ion battery for this product.
The highly contrasting thing about this counter is the absence of the reset button. So, how to deal with it? It provides you one thumb button for two functions: counting and resetting. To reset, hold down that button for 3 seconds until the zero reading appears. Another way to reset is you could also leave it unused for 30 minutes and it will turn off automatically.
Pros:
Great for swimming, running, cycler, and alike that needs hands to be free.
Lightweight
Wrapped around finger
Cons:
Not backed up with an IP rating label
How to Choose the Best Tally Counter for You
1. Mechanical Vs Digital Tally Counter
Decide on which model is the best for you. We recommend the digital tally counter provided that it comes with great button functionality.
Both have different advantages. The mechanical one operates without any battery, while the digital one does. It's very easy for the digital model to reset the reading. You just need one click to reset. On the other hand, the mechanical model asks you to turn around the knob several times until the reading goes back to the "0000" reading.
– Mechanical Type
If you take a closer look at the mechanical components of the mechanical tally counter, there are 4 rings assembling into a single ring. Each ring goes clockwise from 0 to 9 when it counts. The combination of those 4 rings makes a great incremental range from 0 to 9999 (4 figure reading).
The counter turns on by clicking a button which is typically located just above the display screen. A single click causes one number to get advanced by the first ring. Once the counter has achieved 0009, the second ring pushes one step forward, and the very first ring returns to zero, indicating 0010.
In case you want to hold the counter, a metal ring may be added, and roughly half the ring is twisted to enable it to fold flush with the counter if not in use.
Resetting is easy. The dial is placed at the side to reset the counter. This knob turns all those rings that exhibit the same integer (usually zero). When the shown number hits the number on the other rings, they will all switch until the indicator is set back to 0000.
– Digital Type
Similar to the digital tally counter, one single button hit can cause the reading to increment. This is surely an advantage if you need reliable and quick counting.
Most digital tally counters come with a reset button. In this case, it's an advantage for you because all you have to do is by touching the reset button and everything on the reading screen will turn to 0000 in no time, with a single click. No extra effort to do it like the mechanical counter.
However, this device requires a battery which is for some people may be a slight disadvantage. It means that it can run out of power and you have to replace the battery. If you need frequent use, we would like to suggest the digital model.
2. Size
Size is a thing that matters as well when selecting a tally counter. It should be easy to put into your pocket pant. Even if you hang it on your neck, it shouldn't be too large or you will end up being awkward to others. When it comes to a tally counter that is wrapped in your finger, a slim and elegant one would be nice.
3. The Purpose
The purpose of using the counter can determine which one is appropriate for you. Though this is not critical, it makes everything convenient. Let us explain. You can count in the proper way using a general counter but the one that can be wrapped on the finger would be a great choice. Even, when it's water-resistant, it will be useful to carry for swimming.
On the other hand, if your intention to buy a counter is to count the score of two teams playing a certain sports game, you have to buy the one that offers two counters. One counter can give mislead score for you while two counters can accurately record the score.
Conclusion
These are some best tally counters that we select from the market for you. There are many other good tally counters over there but this list should be enough to give you a great selection.
If you don't know what to pick, let me do it for you. The Digi 1st TC-890 digital tally counter would be the best bang for the buck option. It provides all the functions of the best tally counter. You could add and subtract the reading easily. Moreover, you could set the start reading at any number you want. Resetting is very easy due to the separate button for this function. All those benefits charge you at an affordable price.
Hopefully, this post helps you a lot to make a quick decision to buy a tally counter. If you may look for another stuff to count events, perhaps hourglasses can be your alternative choice. It actually doesn't count events, but it gives you an interval time.