A tape measure, or a measuring tape as other people call it, is essential if you want to measure lengths ranging from 0 to 100 feet.
It is the best option, especially for its portability. Many of them can comfortably fit in your pocket. Additionally, tape measures are affordable and mainly mechanical, meaning they don't need a battery to operate. Some are designed with belt clips to make them easy to carry around at the job site by just hanging them on your belt.
However, selecting the most appropriate tape measure for a specific task can be challenging if you are a beginner. These essential tools come in all designs and sizes for various technicians and professionals. Some factors to consider for a new tape measure include the blade length, measurement unit, material, and hook, among other features. Also, you should understand different tape measure classifications to make an informed decision.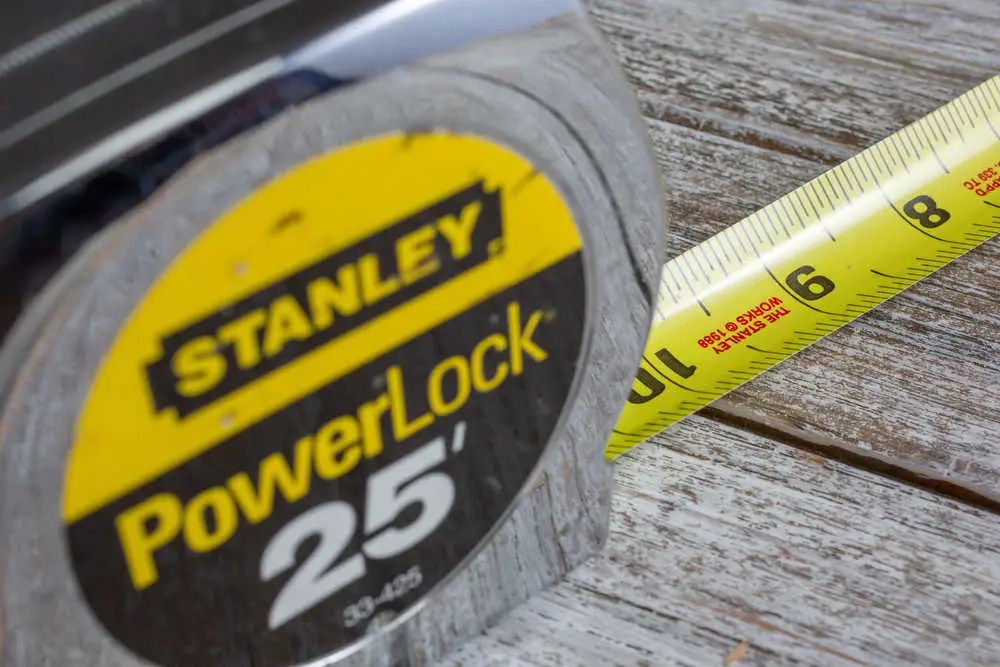 The following chart shows a list of the 12 best tape measures to consider and the features that make them appear on the list. These selected tools are ideal for surveyors, carpenters, electricians, builders, contractors, and other professionals. Each tape measure offers a unique feature you can use to make the best decision on what you want to buy.
Products
Pictures
Blade Length
Description
Price
1. Stanley
33-425
[Best Overall]
measuring range: 25 feet
Best 25 feet tape measure for builders & construction
2. eTape16
75-DB-RP
measuring range: 16 feet
Best digital tape measure
3. Komelon
SL2825
measuring range: 25 feet
Another best 25 feet tape measure with self lock
4. Milwaukee
48-22-7125
measuring range: 25 feet
Best magnetic tape measure
5. Kutir
56-7525
measuring range: 25 feet
Another best magnetic hook tape measure
6. General Tools
LTM1
measuring range: 16 feet
Best laser tape measure
7. Stanley
33-835
measuring range: 35 feet
Best 35 ft tape measure for builder, contractor, carpentry, etc
8. Stanley
33-115
measuring range: 10 feet
Best small pocket size tape measure
9. Komelon SM5425
measuring range: 25 feet
Best tape measure with fractions / fractional graduations (for woodworking)
10. Tajima H1550MW
measuring range: 5 meters
Best precision class I tape measure
11. Perfect Measuring Tape
measuring range: 100 feet
Best 100 feet tape measure
12. Stanley 33-725 Fatmax
measuring range: 25 feet
Best framing tape measure
Top 12 Best Tape Measure Reviews in 2023
1) Stanley 33-425 –
Best 25 Feet Tape Measure for Builders & Construction
Stanley PowerLock 33-425 is a 25-feet long tape measure that comes in silver and yellow colors. This tool is known for its reliability, durability, affordability, versatility, and portability. You can also choose it as one of the best-performing and accurately calibrated measuring tapes suitable for any application.
This tape measure has the old fashion design, but the definition of old is gold. Its quality is top of the class and has all features of a measuring tape any professional would desire.
Features:
ABS case offers protection against impacts from dropping and abrasion.
Relatively long – features a 25-feet blade.
A sturdy blade that can stand still up to 7 feet in length
Secure blade locking system prevents blade slippage and enhances safety
Highly durable blade constructed with Mylar Polyester film
Corrosion-resistant end hook
16" and 19.2" stud center markings are printed on its blade.
Pros:
Reliable, durable, and affordable
Long-lasting, corrosion-resistant end hook
7-foot standout
Comes in two color options to choose from
Protective casing prevents damage if it drops
Relatively long measuring tape
Cons:
Not be as sturdy as advertised
Read more about Stanley 33-425 here…
2) eTape16 ET16.75-DB-RP –
Best Digital Tape Measure
eTape16 ET16.75-DB-RP is a one-of-a-kind digital tape measure with a blade length of 16 feet. It is designed electronically for accurate measurements and enhances user experience with faster readings. eTape16 ET16.75-DB-RP Digital Tape Measure has different function buttons, inbuilt memory for storing measured values for future reference, and an LCD display screen.
eTape16 ET16.75-DB-RP Digital Tape Measure is one of the few tools available that shows you digital reading on the screen. Additionally, this tool can perform 11 other functions, which include the following:
Can/bottle opener
4-Position wrench
Butterfly Screw Wrench
Direction Wrench
Knife Edge
Saw Blade
Screwdriver
Ruler
Key-chain Hole (for easy attachment onto your gear)
This tape measure is ideal for outdoor adventures and DIY projects around the house.
Features:
Clear LCD display screen for showing readings and other information about the device.
Five buttons for the following purposes:
Unit conversion
Mid-point distance measurement
Display measured value without locking the blade
Differential measurement between two consecutive measurements
Changing between inside and outside measurement modes
Two memory sets for temporarily storing measured values
Two blade buttons for showing readings on the LCD screen and locking or releasing the blade
Pros:
Measured value storage
Accurate length measurement
Easy-to-read value displayed on the screen
Multi-purpose tape measure
Intuitive interface
Highly portable
Unit conversion ability
Durable and weather resistant
Cons:
The blade length could have been longer
Read more about this digital tape measure here…
3) Komelon SL2825 –
Another Best 25 Feet Tape Measure with Self Lock
Komelon SL2825 is another reliable tape measure loved by different professionals and technicians for its self-locking mechanism. It automatically stops the blade from recoiling back whenever you take any measurements. Besides, you can make the blades retract with just a touch of a button.
Komelon SL2825 is an affordable tool with a nylon-coated blade that resists weather elements. It is reliable and durable and has a rubberized case to reduce impact.
Features:
The self-locking mechanism automatically locks the blade and prevents it from retracting
Push button to retract the blade
25-feet nylon-coated blade for durability
Rubberized case that reduces damaging impacts when the tool falls
Pros:
Very affordable
Easy to use
Highly portable
Reliable and durable
Ergonomic case design
Cons:
The self-locking mechanism may fail after some time
Read more about Komelon SL2825 here…
4) Milwaukee 48-22-7125 –
Best Magnetic Tape Measure
Milwaukee 48-22-7125 is another choice of best tape measure worth it considering. It is double-sided scale, long-standing blade, bold reading graduation, and smooth operation. According to the manufacturer, this tape measure has a 12-inch standing, one of the best we have seen.
Milwaukee 48-22-7125 has many other unique features. The blade end has a magnetic hook that can stick to ferrous materials, allowing you to get stable measurements. Besides, the readings on the blade are printed in large fonts. You can accurately read the values from a distance.
Features:
25-feet alloy steel and nylon-protected blade
Automatic blade locking
16" and 19.2" stud center markings
Double-sided marking
Rubberized case for impact and wear protection
A thumb-switched button for locking the blade at a particular point
Lightweight and portable
Attractive red and black design
Long standout of 9 feet
Durable alloy steel blade
Double-sided printing in large fonts
360-degree hook attachment
Wear and impact-resistant
Smooth blade recoiling
Cons:
5) Kutir 56-7525 Rubber Case –
Another Best Magnetic Hook Tape Measure
Kutir 56-7525 is one of the best magnetic hook tape measures with a 25-foot-long blade. This tool has an incredible 7 feet standout and top-notch quality. Despite the affordability, Kutir 56-7525 is the best option for interior designers, carpenters, metal or woodworkers, architects, and other DIYers.
Kutir 56-7525 measuring tape is the best option if you work alone in a metallic workshop. It features a magnetic end hook that allows you to find an accurate value without a fuss. Besides, the values are printed in bold fonts for easy reading from a distance.
Features:
25-feet sturdy matte blade with 7 feet standout
Shock-absorbent top-grade rubberized casing material for accidental drop protection
Magnetic end hook to get accurate measurements even when working alone.
Easy-to-read bold numbers printed on the blade also provide an accurate reading, even from a distance.
Pros:
Affordable
Accurate
Relatively long blade
Easy to read bold numbers
Magnetic end hook
Lightweight and portable
Shock-resistant ABS material casing
Cons:
Read more about Kutir 56-7525 here…
6) General Tools LTM1 –
Best Laser Tape Measure
General Tools LTM1 is a 50ft laser measurer with a 16ft tape measure combo, making it a one-of-a-kind measuring tool on this list. It is undoubtedly one of the best tape measures to consider if you need a versatile tool. It is flexible and can suit any purpose you subject it to.
General Tools LTM1 is precise and can measure a distance of up to 50 feet to within ¼ inch accuracy. It is also compact, lightweight, and portable.
Features:
Large, clear LCD screen for quick readings
Button-activated 50-feet LASER system powered by two AAA batteries – makes measuring distances much faster.
Pros:
Compact, lightweight, and portable
Very accurate
Highly versatile
Button-activated LASER measurements
Measures lengths twice as fast as the standard 25-feet tape measure
Ideal for both short- and long-range measurements
Cons:
7) Stanley 33-835 –
Best 35 Foot Tape Measure for Builder, Contractor, Carpentry, etc
Stanley 33-835 PowerLock Tape Measure is quite similar to the Stanley 33-425 model, but with a few differences. This measuring tool features a stronger and longer blade, extending up to 35 feet long. It is the best choice if you are a builder or a contractor.
Features:
Retractable tape measure with 7-foot blade standout
Allow steel and Mylar polyester coated blades to improve durability
Chrome high-impact ABS casing offers protection against extreme weather elements and impacts.
16" and 19.2" stud center marking – simplifies framing jobs.
Pros:
Corrosion and rust resistant
Longer blade length
Secure blade lock
Tru-Zero end hook for accurate measurements
Cons:
8) Stanley Tools 33-115 –
Best Small Tape Measure
Stanley Tools 33-115 is the best choice if you are looking for a small tape measure that can easily fit in your pocket. Despite the size. This tape measure is reliable, durable, and accurate. It reflects the known Stanley quality in every aspect. Be it the design, blade material, and other features, Stanley Tools 33-115 has it all.
Features:
Compact and portable – easily fits in your toolbox without occupying much space.
Chrome-plated durable plastic casing offers protection against impacts and weather elements.
PowerLock, an in-house locking mechanism, locks the blade for accurate measurements.
Pros:
Compact and portable
Blades smoothly slide out and retract inside
Small yet reliable and durable
Long-lasting alloy steel blade
Cons:
Blade length should have been longer
9. Komelon SM5425 –
Best Tape Measure with Fractions
Komelon SM5425 is one of the best measuring tapes with fractions. The SpeedMark fractional graduation on the blade makes this tool unique.
Komelon SM5425 features a non-glare white blade for outdoor use. There will be no light reflected back to your eyes. So, you can easily take measurements and record accurate readings. The casing of this measuring tape is made of a thick rubber jacket to enhance grip.
More picks for the best tape measure with fractions are here.
Features:
25-feet long, alloy steel, anti-glare, acrylic-coated blades with SpeedMark fractional graduation.
Anti-slip thick rubber jacket to prevent accidental drops
Protected end hook Stud markings on the blade
Switch for locking the blade when taking measurements
End hook for attaching its blade to the end of surfaces for one-hand operation
Pros:
Anti-glare white blade
Thick rubber jacket with ergonomic design
One hand operation
Acrylic blade coating – rust and corrosion resistant
Relatively long blade
Cons:
10. Tajima H1550MW –
Precision Tape Measure
Tajima H1550MW is one of the tape measures if accuracy is your concern. It may not be ideal regarding blade length, but it beats most competing products in quality and reliability. Tajima H1550MW is rated class 1 in measurement accuracy with 0.6mm based on a 5 meter blade length. If you didn't know, Class 1 has the most accurate tape measure available. Most professionals and technicians prefer this for different applications. Some even use it to calibrate other tape measures.
More options for the best precision tape measures (Class I & II) are here.
Features:
Ultra-hard end hook ensures consistent accuracy of both inside and outside measurements.
Slide lock button for holding the blade out when taking measurements.
16-foot-long blade with precise graduations ideal for benchwork where accuracy is everything.
Certified to EC Class I / Class 1 standards – the highest accuracy available
Pros:
Very accurate
Lightweight and portable
Corrosion and rust-resistant stainless-steel blade
Ergonomic design and strong metallic casing
Retractable blade and slide lock mechanism
Cons:
Blade length could have been longer
11. Perfect Measuring Tape –
Best 100 feet Tape Measure
The second last tool on our list of the best measuring tapes is crowned as the longest, with a blade length of 100 feet. You guessed it right if you said this tape measure is ideal for surveyors and contractors who want to measure the site's perimeter.
Perfect Measuring Tape also boasts high quality and flexibility. Its non-stretch, wear-resistant, vinyl-coated fiberglass blade gives it the durability and reliability desired in a surveyor's tape measure. Additionally, this measuring tape rewinds quickly into its enclosed ABS plastic case once the job is done.
This surveyor's tape measure also comes in different lengths. You can find a 165 feet long blade, which you can buy if it suits your job.
Check out more choices for the best 100 feet tape measures here.
Features:
Collapsible carrying strap to enhance accessibility and have the job done faster.
Closed reel design with locking looped end piece and fast rewinding after use.
Enclosed ABS plastic casing with rubber grips
180-degree pivot hand reel
Flexible expanding handle
100-foot-long wear-resistant vinyl-coated fiberglass blade.
Pros:
Ultra-long blade
Relatively affordable
Fast rewinding
Protective ABS casing with rubber grips
Collapsible carrying case for accessibility and portability
Ideal for indoor and outdoor use
Cons:
12. Stanley 33-725 Fatmax – 
Best Tape Measure for Framing (Standout up to 11 feet)
Stanley 33-725 Fatmax Tape Measure is the record holder for the best standout of 11 feet. It is the best choice if you need a measuring tape suitable for framing. This tool is the last on this list but an ideal choice for most carpenters, metalworkers, builders, architects, and other professionals.
Apart from having the best standout, Stanley 33-725 Fatmax Tape Measure also stands up to abrasion and impacts it faces at job sites. It features an added blade armor coating that enhances durability and service life.
More framing tape measures here.
Features:
25-foot-long retractable blade with the first 6 feet reinforced with blade armor coating to make it last longer.
Mylar polyester film coating runs throughout the entire blade length to enhance its durability.
11-inch tape standout and 16-inch and 19.2-inch stud center markings to make framing jobs easier.
High-impact case with non-slip rubber to withstand hostile work environments
Heat-treated springs with longer lifespan and offers smooth blade recoil.
Pros:
Smooth blade recoil
High standout of 11 feet
Relatively long blade length
Durable and reliable
Large font numbers make it easy to read measurements
Cons:
Things to Consider Buying A Tape Measure
Buying an appropriate measuring tape for your application can be challenging if you don't have information about these tools. Their high number and differences in features and design can confuse you if you don't know what you are looking for. Fortunately, we have this buying guide here to help you make an informed decision.
This buying guide covers the main factors you should consider when shopping for a new tape measure. It may not be as extensive as possible, but with features and specs of tape measures to consider.
1. Blade Length
Blade length determines the distance you can measure. If you are a surveyor, go for a tape measure with the longest blade, probably the Perfect Measuring Tape. This tool can measure up to 100 feet away. Carpenters and other bench workers may not need that length, and anything between 10 and 25 feet should suffice.
If you need to measure up to 300 feet distance, maybe, it is not easy to do but using laser measure, it's easier. That distance may fade out your vision to view the laser dot. You can use a special model of laser measure for outdoor use to view the dot from the distance.
2. Mechanical or Digital Model?
Mechanical types are the most common model and can perform most tasks of a digital tape measure. Consider the latter option if you need a faster and easy-to-use tape measure. A digital tape measure has an LCD screen. Some can even convert values from one unit to the other. You can buy one of these if you like its features. But prepare to dig deeper into your pocket because it's commonly charge you more.
3. Durability
This is an obvious factor to consider if you need a new tape measure. These tools are considered long-term investments and can last for more than a decade with proper maintenance. Choose ones with corrosion and rust-resistant blades. The casing and recoil springs should also be as durable.
4. Readability
How well can you read the values printed on the blades? Your choice depends on how far away you want to take your reading or your vision. But we recommend a tape measure with bold or large fonts if you choose a mechanical one. Reading the digital tape measure values is straightforward, and we have nothing to add.
5. Accuracy
Tape measures are grouped as Class I, II, and III depending on accuracy. Class I measuring tapes are the most accurate and often used in precision-oriented applications. This information is usually printed on the labels on these tools.
However, some tape measures are not labeled. You can know their accuracy by calibrating them against a precision ruler. Comparing the graduation on the two tools will give you a result to help you conclude if your tape measure is accurate or not.
6. Graduation Unit
Some tape measures are graduated in metric (m, cm, and mm), and others in imperial (feet and inch). Only a few have fractional graduations. What you choose depends on your region and the intended purpose and is straightforward. For example, a woodworker would choose a fractional measuring tape.
7. Special Feature
Features such as magnetic hook, self-locking, note, rubber case, etc may be helpful for you. You should consider these features before deciding to buy.
FAQ
Q: Is the tape measure accurate?
A: It depends. If you need the more accurate one, you can pick the Class I or Class II tape measures.
Q: How to check the accuracy of a tape measure?
A: You need to compare the graduation of your tape measure to a length standard. Another way of checking your tape measure accuracy is by comparing yours to the more accurate tape measure (Class I). If you don't have the Class I tape measures, you can compare them to a precision ruler. However, the best practice is to send your tape measure to calibration lab and let the metrologist send the error report to you.
Q: How does the tape measure work? What makes it retractable?
A: Inside this length measuring tool, there is a coiled metal that pulls your tape back if you pull it out from the house.
Final Thought
This is the end of this post about the best tape measure to consider. We hope you can make an informed decision this far if you read the entire article. However, it can still be challenging. That is the reason we have a few recommendations for you.
Stanley PowerLock 33-425 tape measure is the best overall tool for every professional. It features a 25-foot-long blade, ideal for most applications. This measuring tape is also cost-effective, durable, easy to use, accurate, portable, and reliable. However, it is mechanical and may not fit you if you want a digital one.
Consider eTape16 ET16.75-DB-RP as the best alternative to the first recommendation if you want a digital tape measure. It has an intuitive user interface and a large clear LCD display screen showing readings and other information. eTape16 ET16.75-DB-RP also has additional features that make it more versatile than any other on this list.
Our last recommendation is the Tajima H1550MW measuring tape. This tool is a Class I, meaning it is the most accurate and precise tape measure available. Consider precision-sensitive applications because it remains precisely accurate for inside and outside measurements.