The best tape measure fulfills the user's expectation. It has a prominent feature that other tape measures don't. It promises great performance. The specifications and price are also determinable. It's not broken earlier, most importantly.
Selecting the best tape measure should not be a difficult task, even though you are a beginner. There are some considerations that you need to know before going further such as the blade length, unit measurement, material, the hook, special features, etc. Aside from that, you have to be able to know some tape measure classifications in order to fully understand which one is what you are looking for.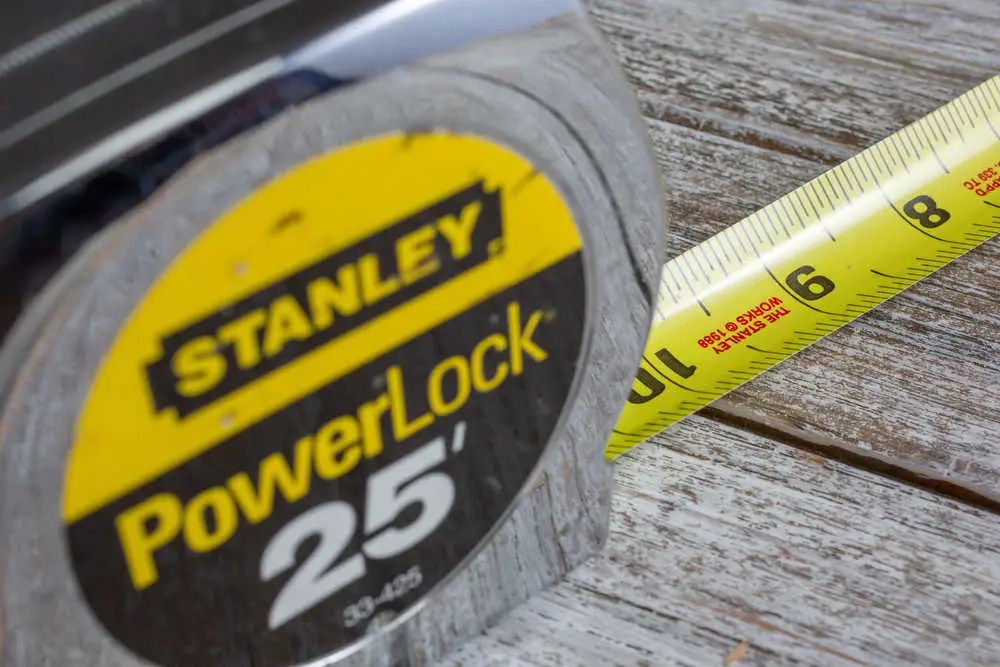 The following table is a quick list of best tape measures we are selecting from the market. There are suitable for trades, carpenters, electricians, builders, contractors, surveyors, etc. Each of them offers different features that allow you to be able to choose based on your needs. Moreover, we make sure they are from reputable brands and extracted from actual customer reviews.
Products
Pictures
Blade Length
Description
Price
1. Stanley
33-425
[Best Overall]
measuring range: 25 feet
Best overall and for the money
2. eTape16
75-DB-RP
measuring range: 16 feet
Electronic tape measure
3. Komelon
SL2825
measuring range: 25 feet
Self-locking feature
4. Milwaukee
48-22-7125
measuring range: 25 feet
Magnetic hook
5. Kutir
56-7525
measuring range: 25 feet
Magnetic hook
6. General Tools
LTM1
measuring range: 16 feet
Laser tape measure
7. Stanley
33-835
measuring range: 35 feet
Extra long blade
8. Stanley
33-115
measuring range: 10 feet
Pocket size
Top 8 Best Tape Measure Reviews 2022
1) Stanley 33-425 Tape Measure
[Best Overall]
Stanley 33-425 is a highly long-lived, cost-efficient option, wide-usability and satisfying performance tape measure for your daily measuring work. In spite of its old-fashioned design, the quality is unquestionable. This is the number one retractable tape measure we recommend buying.
Key Features:
Protected with chrome ABS case to withstand from impact, dropping and rubbing.
Comes with 25 feet blade by 1 inch.
The blade is able to standout until 7 feet.
Secure blade locking system protects your hands from getting hurt and prevents blade slippage.
The blade is designed with highly durable material, Mylar Polyester film.
Its end hook is corrosion resistant and it will last you for a long time.
Printed on the blade the 16" and 19.2" stud center markings for framing jobs.
2) eTape16 ET16.75-DB-RP Digital Tape Measure
[Best Digital Model]
This is an exceptional tape measure designed electronically to serve faster, easier, and accurate measurement. You'll be experiencing a fantastic measuring journey with this tool because of the various different functions of the buttons, memories to store measurement result, and high-visibility LCD.
Key Features:
A large and clear LCD display to print out the measurement and other running modes.
Five major buttons:

The unit conversion button is to convert measurement results into metric or imperial.
Hold button is to display the measurement result on the LCD without locking the blade.
The mid-point button is to display the mid-point distance of the measurement on LCD.
The rezero button functions to show the result of the second measurement less than the first measurement.
The inside-outside measurement button is to turn on inside or outside measurement mode.

Two memories (M1 and M2) to store temporarily the measurement result.
Two blade buttons:

The blade lock button is to display the measurement result on the LCD with locking the blade.
The blade release button is otherwise.

Super durable and weather resistant tape measure.
3) Komelon SL2825 Self-lock Tape Measure
The most-loved feature of Komelon SL2825 is its self-locking mechanism. It automatically holds the blade from recoiling whenever you pull it out. The only thing you do is to push the button to retracts the blade. It's reinforced with a rubberized case to ensure durability against damaging impact.
Key Features:
Its self-locking system allows the blade to lock automatically when it is pulled.
Easy retraction with the help of a push-button.
Comes with nylon coated blade that provides increased durability and prevents the blade from chipping after using it for a long while.
The Impact resistant rubberized case acts as a shock absorber.
It has an ergonomic case design for maximum comfort of the user.
4) Milwaukee 48-22-7125 Magnetic Tape Measure
Another top tape measure that you could consider is the Milwaukee 48-22-7125. If you are looking for large reading graduation, double-sided, long-standing blade, and smooth operation, then this could be your choice.
According to the official site, the blade can reach up to 12″ of standing. Besides, its graduation numbers are large. You could easily read the reading from a distance. Moreover, the magnetic hook allows you to measure when there is no place to hook. It can stick to a ferrous material and measure with a stable position, thus improve accuracy.
For the reading, it comes with an imperial system (inch). It also has some markings for framing, making it nice to pick for a framing tape measure. The overall length of the blade is 25 feet and the blade width is 1.83 inches.
Key Features:
It comes with nylon bond blade protection for a long-lasting blade.
Rubbered case to absorb vibration in case it drops or another damaging impact.
Medium blade length 25 feet.
Incredible standout ability up to 9 feet in length.
Five-point reinforced frame.
16" and 19.2" stud center markings
Markings on both sides, top of and behind the blade.
A firm thumb-switched locking system to hold the blade at a particular point.
Additional finger stop under the tape measure to hold the blade using your index finger.
Smooth blade recoiling.
5) Kutir 56-7525 Rubber Case Magnetic Hook Tape Measure
This is one of the best magnetic hook tape measures on the market. Good option for those who work without a friend. Shielded with rubber case creates a great layer of protection.
Key Features:
The magnetic hook allows you to work independently and gain precise measurements as well.
The magnetic hook is coated in chrome for rust resistant.
The ABS rubber case keeps it secure, protected, and shock absorbent.
Double markings on the front and back side of the blade.
Available in metric and inch scale.
It has a stainless matte blade that is weather resistant.
The blade keeps straight up to 7 feet in length.
6) General Tools LTM1 Tape and Laser Tape Measure
You are going to enjoy an accurate and faster measurement until 50 feet in length using this laser measure. Whether with laser or blade, it's flexible and depends on your need. The LCD screen permits you to read measurement result easily.
Key Features:
It is a 2-in-1 length measure that combines two measuring tools into one.
Measuring becomes twice faster than standard 25-feet tape measures.
Up to 50 feet long to be measured with laser measuring option.
A 16 feet tape measure with easy readability.
The simple LCD screen for quick and clear reading measurements.
Only need two AAA batteries to power the system.
7) Stanley 33-835 35-Foot Tape Measure
Stanley 33-835 is similar to Stanley 33-425 which mentioned first before, however, the length's blade is strongly longer than. If you are a fan of Stanley but looking for a longer one, then this one is appropriate for you.
Key Features:
It has a 7-foot blade standout.
The mylar polyester film extends the life of the blade while making it long lasting for you.
Chrome high impact ABS case that protects it from extreme weather conditions and also when it drops or gets rubbed against rough surfaces.
Secure blade lock.
Comes with a 16" and 19.2" stud center marking to help with framing jobs.
Corrosion and rust resistant, it will be functional even in moisture.
8) Stanley Tools 33-115 Pocket Tape Measure
This tape measure is compact and a perfect size to carry around inside of your pocket. No need to worry it will occupy a lot of space. Therefore, if you are looking for a small yet reliable tape measure, then this Stanley 33-115 is our recommendation.
Key Features:
Its pocket size lets you save it in your toolbox without considerably consuming space. You can also save it in your pocket and bring it anywhere you want because it's very lightweight and handy.
The case is assembled with chrome-plated durable plastic, which protects it from cuts or nicks. It also ensures durability so that you don't have to invest in a tape measure again.
PowerLock is a great locking mechanism from Stanley and you can easily measure securely and accurately.
The blade slides out very smoothly and retracts smoothly as well.
It's 10 feet long blade which makes this small-yet-reliable tool reasonably fit in your pocket.
How to Choose Tape Measure
It's important to do some preparation before picking out a tape measure. That is to say, there is some consideration you can take into account in order to get the best result such as price, blade length, durability, readability, accuracy, locking system, ergonomics, and etc. You also need to decide which specs and features you might think it's worth it to buy.
1) Price
While looking for a tape measure, you need to figure out your budget and then according to your budget you need to choose the best tape measure that suits your needs and budget. There are both expensive and affordable tape measures available for you. We strongly advise not to purchase more than $20 for a general type one because it's not a smart choice. It is not necessary that you buy the expensive one when the affordable can do the same.
2) Blade Length
Since you will be measuring a particular length of an object, it is important to identify the blade length of the tape measure you are going to buy. If you are not sure which length you are appropriate with, we recommend picking out the 25 feet blade.
3) Durability
Find a tape measure that is made with high-quality materials so that it lasts you for a long time and you don't have to invest in another tape measure down the road. A case and blade which are made of high-quality materials are a great combination to guarantee your tape meter's lifespan.
4) Readability
The tape or the blade should be very easily readable so that you can note down the accurate measurements. Basically, a wide blade with big numbers and clear marks are adequate. However, if you want more, you could rely on an electronic tape measure that will give you the exact number of measurements through the digital screen display.
5) Accuracy
As a long retractable ruler, the graduation accuracy of the tape measure can be critical in some situations. Some tape measures are labeled with Class I, Class II, and Class III. This label shows the accuracy level of its graduation. However, tape measures may not be labeled but meet one of the class. So, to ensure its accuracy, you may want to buy the labeled one.
Another way to know that your tape measure is accurate is by performing a calibration. You can use a precision ruler to compare your tape measure graduation accuracy with it.
6) Locking Mechanism
The tape measure should come with a strong and secure locking mechanism to prevent the blade slipping while measuring and protect your hands from getting hurt during retraction. Additionally, if it has a self-locking feature as the Kamelon SL2825 has, then it should be the better one.
7) Ergonomics
In addition, while looking for a tape measure you need to see whether it would fit perfectly in your hand or not. In this term, both the dimension and the shape determine it. You also need to make sure that the material feels comfortable on your hand. Even though this case is not necessary, it's fairly important for some users in which they may have allergic with a sort of material.
8) Easy to Use
Another factor that you need to consider is how it's easy to use, if you are unable to use the tape measure easily then there might be no point to invest in it. You need to look for a tape that you can easily use without wasting much time and energy. You should be able to get your work done without any hassle.
9) Special Feature
For instance, a digital tape measure can serve better performance for you. It's faster, easier, and quicker to use during measurement. You might need a special feature to fulfill your need but keep considering the price. If another general measuring tape can serve equally, you may regret the purchase in the future.
10) Unit Measurement
If you might not be familiar with metric measurement, you can avoid it and choose the imperial one. You can buy a tape measure with a dual scale instead. Buying a single scale may charge you time when you need to convert the measurement into another unit. In the United States, the vast majority of users use metric measurement (inch, feet, yard, and mile).
The most essential requirement to be a good tape measure is certainly it doesn't break down earlier. Moreover, despite it's fully equipped with a ton of features, it's useless when one day use ends up with an unexpected event. Make sure you have read the factors to consider when buying a tape measure above before choosing.
Final Thought
In this article, we have successfully presented a list of the 8 best tape measures after doing a lot of research. We also have mentioned their features so that you can have a clear idea of what features are available and what you are looking for. Finally, we hope that this article will help you buy the best tape measure that will make your measuring easy and less time-consuming.