It's very risky doing excavation without proper locating. You are very possible to hit the buried wire and cause absolute damage. An underground wire locator is highly required in this case.
According to the Common Ground Alliance, there are more than 20 million miles of underground utilities spread over in the United States. This surely increases the chance that the site you are going to excavate may bury this kind of electric transmission.
An underground wire locator will save you time and money by locating the invisible wire's path and measure the depth easily, accurately, and fast. It is designed exclusively more powerful in comparison with the general wire tracers. The transmitter sends a greater electric signal and the receiver is more advanced. Moreover, the wire tracer doesn't provide a depth measurement feature.
Not only does it prevent digging the wrong area, but this wire locator also shows you the breaks that might happen.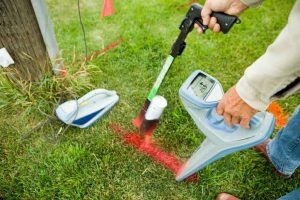 Searching for the best underground wire locator on the web can be confusing. Here you could enjoy what we've put together all of our findings, the top 9 best underground wire locators. Keep reading will take you to our buying guide and other useful information for your digging needs.
Products
Images
Frequency
Mode
Price
1. RIDGID
19238
NaviTrack
[Best Overall]
Sonde: 16 Hz, 512 Hz, 640 Hz, 874 Hz, 33 kHz
Line Trace: 128 Hz, 1 kHz, 8 kHz and 33 kHz
Passive AC: 60 Hz, 50 Hz
- Active
- Passive
- Sonde




2. Leica
DD130
512 Hz, 640 Hz,
8 kHz, 33 kHz

- Passive
- Direct
- Clamp
- Induction




3. Tempo
BLL-200
33 kHz
- Passive
- Direct
- Clamp
- Induction




4. Armada
Pro871C
2 kHz, 33 kHz
- Passive
- Direct
- Clamp
- Induction




5. Tempo
501
447.5 kHz
- Direct
- Clamp
- Induction (Antenna)
6. Mastech
Ms6818
125 kHz
- Direct




7. Armada
Pro290
33 kHz
- Direct




8. Noyafa
NF-816-C
200 kHz
- Direct




9. Kolsol
F02
200 kHz
- Direct



Top 9 Best Underground Wire Cable Locator Reviews 2023
1. Ridgid 19238 NaviTrack Scout Underground Pipe Locator
[Best Overall]
Ridgid 19238 NaviTrack Scout is overall the best underground wire and cable locator that works for most jobs of locating (wire, cable, and pipe locating). Even, it's also a great choice for plumbers since it can work with a sonde. If you are looking for the reliable one, this one is what we recommend. It comes with a lifetime warranty as well.
You are free to use any of the locating methods: active, passive, and sonde. And they are available in several frequencies that allow you to choose from depending on the issue you are facing. So, this is clearly very versatile to use.
Sonde (in Hz): 16, 512, 640, 874, and 33k
Active method (in Hz): 128, 1k, 8k, and 33k
Passive method (in Hz): 60 and 50.
It's common to find the wire or cable is shielded and carried by a utility pipe that might be made of PVC or metal. Instead of injecting an electron into the pipe, we utilize an agent called a sonde.
Sonde is a tube-shaped battery-powered signal transmitter that will get into the pipe and crawl along the line; commonly using a drain cable to push the sonde. At a particular position where it stops, we pick its signal using this Ridgid NaviTrack Scout locator.
Equipped with a visual mapping screen, your job is so much easier now. It shows the position of the sonde using the poles and equator. The intersection of the poles and equator is where the sonde is. For a more detailed tutorial, watch the embedded video below.
Ridgid Navitrack Scout will give you a bang for your bucks. It's expensive but being confident during the pipe locating is important, especially if this is the professional job you are handling.
2. Leica 6014157 DD130 Underground Locator Ext Frequency Kit
The next underground locator is Leica 6014157. It's a high-end model that will support your locating up to 33 feet deep. Moreover, the IP54 rating convinces the user that there is protection against water entrance that would interfere with the system. In addition, the hazard alarm will tell you that you are near the dangerous cable.
There are four frequencies that the transmitter can generate: 8 kHz, 33 kHz, 512 Hz, and 640 Hz. It gives you a full choice in terms of locating either long-range tracing (8 and 33 kHz) or short-range tracing (512 and 640 Hz). Also, the low frequencies (512 Hz, 640 Hz) will do a good job for metal pipes. You could choose the way you trace down: direct, induction, and clamp induction.
Leica DD130 would be your nice purchase. Along with its tremendous features, it's intentionally designed for a professional contractor that works outdoor and wants everything safe and secure. However, since it doesn't work with a sonde, this one is considered less versatile and therefore we put at the second-best choice.
3. TEMPO Communications BLL-200 Buried Wires or Cables
Tempo BLL-200 is one of the best underground wire locators that we recommend because it comes with a complete set of tools you need to locate in your preferred way. You could do both passive locating (without the transmitter) and active locating (direct connect, clamp, and induction).
Hence, this tool would be suitable for HVAC, telephone cable, CATV cable, line voltage, security system wiring, and water pipe as long as they are conductors. Whenever access to the cable is impossible, select whether the induction or clamp method you want. For locating a live line, make sure the voltage doesn't exceed more than 600VAC or 300VDC.
Both the transmitter and the receiver use 4 x 1.5V AA batteries. This transmitter uses a 33.3 kHz frequency to do the jobs. The display may not be as sophisticated as we expect but it would help. Some of them are signal strength, depth reading, battery indicator, etc. Tempo BLL-200 was actually Greenlee BLL-200.
4. Armada Pro871C Underground Cable Locator
This one is the competitor of Tempo 501 because they provide an almost similar specification and price range. But, the Armada Pro871C transmitter comes with two frequencies: 2 kHz and 33 kHz.
The 2 kHz is considered as the low frequency which is good for a good conductor and long-range locating. While the 33 kHz is suitable for short-range and mostly used one. In case the 33 kHz is a bit inaccurate because it induces another conductor, it can be switched to 2 kHz for another result.
It can be used in the mode of deductive (direct connect), induction, clamp, and passive (without the transmitter). The passive mode permits you to pick up a power network and radio line frequency. In short, all the equipment is available to accomplish your everyday changing challenge.
Even though it doesn't come with a screen, the combination of buttons, knob and LED indicator will give you complete information in comparison with Tempo 501. By means of that interface, you could select whether to use peak or null sound mode, adjust the sound volume, and change locating mode.
5. Tempo 501 Tracker II Cable Locator
[Budget Choice]
Imagine if you have to bend over along the way of locating a wire, that would be a terrible option. A Greenlee 501 with a stick wire locator is your best friend to tackle that issue. Locating becomes effortless now.
Not only that, it provides you to locating with three different methods: direct connect, inducing antenna, and inducing clamp. The inducing clamp will allow you to trace without disconnecting and cutting the wire off as the direct connect does. So, it will be fast and easy, saves you time and money. That said, it could tackle a wide range of problems you might face in the field. Furthermore, it can be used to detect metallic pipelines as well.
It can assist you to locate cable distanced up to 4000 feet from the transmitter and the max depth is 7 feet. In addition, the adjustable sensitivity will be very helpful to amplify a small detection to easily listen to. Tempo 501 is not just for a homeowner, but also for a professional electrician. They will like it so much. It's simple but possesses all you need. Nicely, Tempo 501 comes to conquer your problem at a reasonable price.
6. Mastech Ms6818 Underground Cable Pipe Locator
Mastech MS6818 is not just an underground cable locator, but also a wall or concrete cable locator. It is more advanced with the screen that allows you more easily to detect the cable. Working with the sound turns off can be possible since the screen helps show the line.
If you need a detector to trace down an underground cable or inside a wall, then this one will do that for you. It's also able to find the short circuit, fuses, and used for floor heating to find the interruption.
As the wire goes deeper, the signal may decrease and the sound does too. With this cable pipe locator, you could adjust its three helpful sensitivity levels. Rise to higher if you need clear sound, vice versa.
It comes with two devices: transmitter (right picture) and receiver (left). They both work using a 125 kHz frequency to detect. For direct mode, use the alligator clamps and the ground rod. These components are available on the purchase. Buying Mastech Ms6818 can be an economical option because it's usable for lots of applications.
7. Armada Pro290 Underground Wire and Cable Locator
Compared to Noyafa and Kolsol, Armada Pro 290 has wider use. It works for a multi-stranded wire. Most importantly, it's able to look up the break as you could easily indicate it by the stopping sound.
Armada Pro 290 is a reliable underground cable locator for homeowners in which you need precise and able to measure for several purposes. Locating dog fence wire for dog collar system, sprinkler wire, swimming pool light wire, etc can be accomplished with this tool.
The transmitter is built-in with the case while the receiver is handheld. The frequency that the transmitter emits is 33kHz and the receiver is designed for that frequency. For more convenience, you could select the null or peak mode of the sound to be while the receiver is exactly above the wire. In addition, it comes with a ground stake for better grounding. The red LED on the case will light clearly as the grounding is done properly.
8. Noyafa NF-816-C for Pet Fence Wires, Metal Pipes, Telephone Wire, Coax Cable
In case you want to search for underground pet fence wire breaks, instead of digging it up along the day, you are better off using this Noyafa NF-816-C. It's able to provide locating with a depth of about 2 ft and a length of about 1000 ft.
Using it actually is straightforward. Make sure you have de-energized the wire to be located first. Then, you need to ground the black cable (of the transmitter), while the red cable (of the transmitter) is connected to the wire to be located. For better results, you could apply a copper pipe as the connection of the transmitter and soil by driving it in.
Noyafa NF-816-C is truly a budget-friendly underground wire locator. It's not the best of the best but works adequately. This is a nice entry-level product you would give a go. In addition, it also comes with a headphone for accurate hearing and calm work.
9. Kolsol F02 with Earphone
[Best for Pet Fence Wires]
Another option for locating buried pet fence wire that we recommend is Kolsol F02. It's actually similar to Noyafa, but what makes it apart from is its depth measuring capability as they claim it would locate wire with 3 ft max depth.
How to operate is quite similar. It works by deductive/direct-connect method. So you have to connect the ground wire of the transmitter to the soil and the red wire will be connected to the wire to be located. The downside is also the same with Noyafa, it only works for single-core and double-core wire. That said, it tends to be a wire locator instead of a cable locator.
For a homeowner, it is a wise decision to buy this one. You could check the wire break with ease. It comes with an affordable price point for most homeowners but saves you time and money. Kolsol F02 is a popular underground wire locator that would a great investment for you.
What is Underground Wire Locator?
Before we go further, keep in mind that an underground wire locator is an underground cable locator as well. Simply, that cable consists of some wires. Both of them will detect the electromagnetic field on the wire or cable.
This is a great invention. More and more wires are buried in the ground. The demand for this tool increases and the improvement becomes more obvious.
An underground wire locator consists of two main components: transmitter and receiver. The transmitter will transmit an AC current to the wire being located. As the current is circulating, the electromagnetic field occurs. The receiver functions to detect that electromagnetic field and allows it to follow its path. You'll also know the depth. Further, by means of this wire locator, you could find the breaks without days of hand digging.
There are two methods of detecting: passive and active. Passive detection is to detect the wire in which the electricity flows on there such as power lines. In this method, you don't need to inject any signal into the wire. The electromagnetic field has existed there. In short, you don't need the transmitter. On the other hand, the active detection requires you to inject.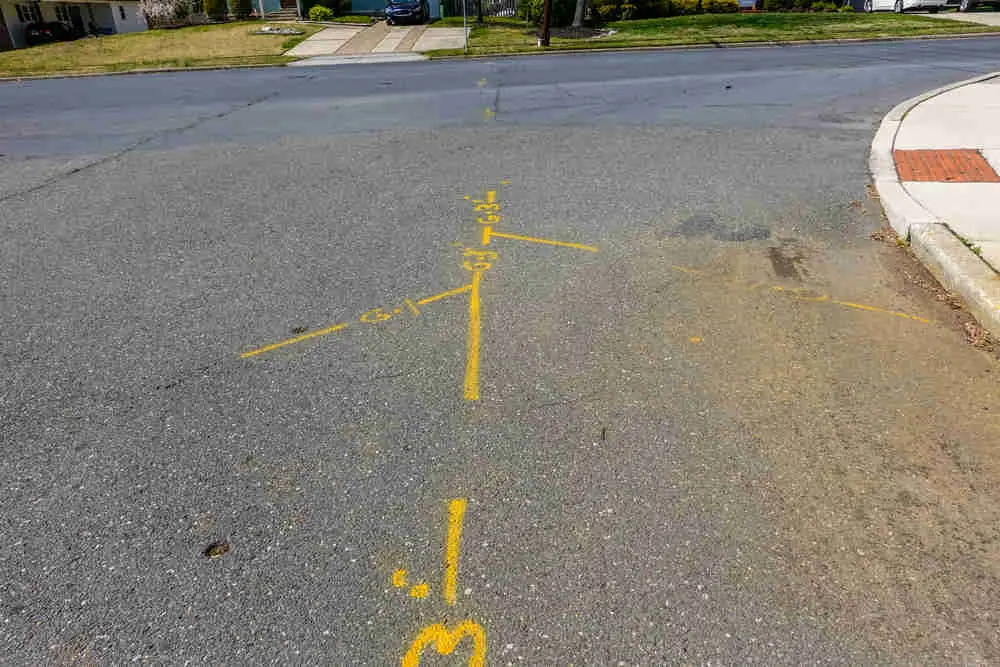 Unlike the wire tracer which generally employs a tone generator, the tools and equipment for underground utilities will face more challenges. As the wire is buried in the ground, it easily dissipates. Throughout this underground tool, the transmitter acts as a signal generator that injects a particular AC current. You could easily change the frequency you want based on the target condition.
In some cases, the wire or cable is carried by a utility tunnel or pipe. A sonde, which is a battery-powered transmitter, can be used to tackle this issue. It will be pushed into the pipe as the signal emitter and carrier agent. The wire locator is set with the same frequency as the sonde to pick up that signal. A dedicated sonde locator is also preferable as it is designed exclusively for sonde.
Underground Wire Locator for Cable Fault
Not only tracing and measuring the cable depth, but some models of underground locators can also pick up the location of the cable fault. For this case, you will need the signal locator, signal transmitter, and A-frame. For example, if you buy a Tempo Communications PE2003-G, you will get these 3 units:
PE2003 2000R receiver
PE2003 2000H transmitter
A-shaped frame
How An Underground Wire Locator Works
As mentioned before, this tool basically makes use of the electromagnetic field generated from the wire. The electromagnetic field is generated from the current that is circulating. If there is no electricity, you need to inject a particular signal in order for the wire to generate an electromagnetic field.
Then, the receiver will be induced by the field and generates a voltage. In such a way, the voltage is changed into sound. Some models that are equipped with a screen makes the further process. The voltage is converted into a complicated digital signal. The built-in microprocessor will process that digital signal so that the screen understands. The screen then processes that digital signal into letters, numbers, and graphics.
People use an underground wire locator for many applications such as locating pet fence wiring, CATV cable, utility pipe, radio communication network line, sprinkler wire, power lines, and even gas pipe. Because of those different problems, an underground cable locator must be reliable and support all locating methods.
There are three methods of locating:
1. Active – You need to inject signal.
Deductive / Direct Connect.
Clamp.
Inductive.
2. Passive – No need to inject at all.
While the receiver gains sense, it will commonly output an audible tone. Choose from the options which one you are preferred with. It could be a peak or null or differential mode. Mode peak will emit a climax sound at the receiver is right above the wire or cable. The null is vice versa, the sound turns silent exactly at above the wire. Interestingly, the differential mode emits sound based on the relative position to the wire.
Major Specifications You Have to Consider
A wire locator which is designed for underground wires commonly costs you hundreds to thousands of dollars. You could still get the affordable one but you cannot expect more. Therefore, you need a comprehensive guide before buying it. Here we would like to educate you on some points you have to figure out before buying the underground cable locator.
1. Detection Mode
It's been mentioned before that there are the passive and the active locating method, the ways you locate whether energized and un-energized cable. If a single wire locator device is able to support all the locating mode, the chance is you could solve many of the cases with.
If it's possible to access the wire, use direct connect (deductive). Whenever you have the access to the wire but impossible to access the peeled wire, use the clamp. The induction is used in case you have no access to cable such as airport lighting.
To locate live cables such as power lines and radio network lines, the passive mode is designed for that situation. You are not needed to use the transmitter because the line is live with a frequency of 50 or 60Hz. There has been an existing electromagnetic field. You only need to direct your receiver over there.
Another method is by using a beacon called Sonde. If the wires or cables are shielded by the pipe, then this way is recommended. Sonde is the transmitter. It's carried by the cable to get into the pipe and crawl through the pipe. While the sonde emits signals, the receiver in your hand receives that and you get the position of the Sonde. The combination of sewer cameras and sonde can give you great navigation to crawl along the pipe. The camera finds the wire issue inside the pipe, while sonde tells you the location of that issue.
All in all, if your underground locator is able to perform those mentioned methods, then it should be the best one.
2. Frequency
The capability of the transmitter to locate the buried wire is determined by the frequency it generates. Generally, any frequency which is lower than 1 kHz is considered as low frequency. The 33kHz is a high frequency definitely.
This low frequency is great to apply for long-distance locating but it's weak to pass through a bad conductor. In contrast, the high frequency is able to break through the corroded conductor but travels less.
Moreover, the higher the frequency, the higher the chance to bleed off. The next-to conductor may be induced and result in misleading reading because there are two active conductors generating an electromagnetic field.
The more variation of frequencies the locator can give, the better it is. For example, a locator that is able to locate with a direct method and provides two frequencies is better than a locator that locates with the same method but only provides one frequency. Be aware that some models may come with one frequency while the others give you more selectable frequencies.
In other words, the more frequencies to select from, the better it is. It allows you to cover several types of underground wire issues.
3. Depth
The capability of the tool to measure the depth of the wire depends on the frequency it utilizes. Some products use sonde frequency to get reliable depth measurements.
4. Screen
Another feature for professional use is the screen. You could easily watch the moving graphic that shows where the cable is. Together with the sound, you could accurately determine where it is. Furthermore, you can run various orders throughout the screen. The screen is actually not an essential feature to make an underground wire locator works, however, to run a serious locating, this feature is critical.
5. Stick
The sticky receiver will be useful for a long locating. It prevents the back pain that might happen because you have to bend over along the path.
There are actually a lot of features you need to figure out, however, the five above are highly important. You could learn more to suit the tool to meet your expectations.
What is the Best Frequency to Use?
A successful locating can be determined by the frequency you use. It depends on the conductor you are trying to locate. The corrosion, broken line, and ground also takes into the play. Make sure that you always begin with locating from the lowest frequency if possible. Then you could increase it. The following is a nice video that will educate and help you in frequency selection.
What Underground Wire Cable Locator Can't Locate?
Underground septic tanks, underground oil storage, underground steel drum, unexploded ordnances, etc are surely not the subjects to locate with underground wire cable utility locators. In this case, you could use a magnetic locator or metal locator. But, the magnetic locator is more powerful (therefore more preferable) for deeper objects underground.
Wire Tracer Vs. Underground Wire Locator Vs. Wall Scanner
Your life gets easier with these 3 stuff. The wire tracer helps you trace the wire behind the wall and floor. In comparison, the underground wire locator trace and measure the wire's depth buried underground. On the other hand, wall scanner is way more advanced than wire tracer as it can map studs, wires, electrical lines, plumbing fixtures, and screws behind the wall.
There is GPR (Ground Penetrating Radar) as well. For underground locating purpose, this instrument is on another level. Even, it can map the metal and non-metallic utilities. Though the price is expensive, you can rent.
Conclusion: Best of The Best Underground Wire Locator
In short, it's not easy to decide which one is the only top-rated best underground wire locator. Selecting an underground wire locator must figure out the situation we are facing. It's a wrong pick to use a gigantic locator for pet fence wire tracing. However, for a serious job, the full feature is critical.
The list of the best underground wire locator above hopefully helps you to decide. They are gathered both the most entry-level one, the mid-model, and the most sophisticated one. Read carefully and match your needs. Buying such expensive tools needs time and comprehensive understanding.
In case you have nothing in mind up to this section, then follow what we rank on the list. It is a Ridgid 19238 NaviTrack Scout. It gives you a wide range of selectable locating methods and frequency variations. Moreover, it serves you with a lifetime warranty. If you handle a professional job, then this is a must.
If you are on a budget, Tempo 501 should be your great choice. Although it can't locate a power line, it provides several methods for you: direct, clamp, and induction (antenna). The third model to compare for you is Kolsol F02 or Noyafa NF-816-C. This choice is only able to do direct locating but it should cover some basic locating. If you are going to locate a wire fence, you don't need the fancy one, this one can handle it.