A USB tester is a simple measuring tool that is widely utilized for several measurements of the electrical properties of USB. It measures the USB current, voltage, power, charging speed, discharge capacity, and so on.
In addition to its functions, simultaneously, the current state of the art of the USB tester can also be applied to overvoltage or low voltage current protection. This advantage allows you to easily find out the charging problems with USB cables, car charging, wall chargers, etc.
These testers can also support QC 2.0 / 3.0, BC1.2, Apple iPhone 2.4A, and other fast charging protocol for high voltage testing to safeguard your precious electronic equipment.
Another great thing is the monitoring of the charging time can also be done with just a glance and real-time as well. A small screen provides the HD display of various values with continuous refreshing. It's also able to automatically cut the power when the device has been fully charged.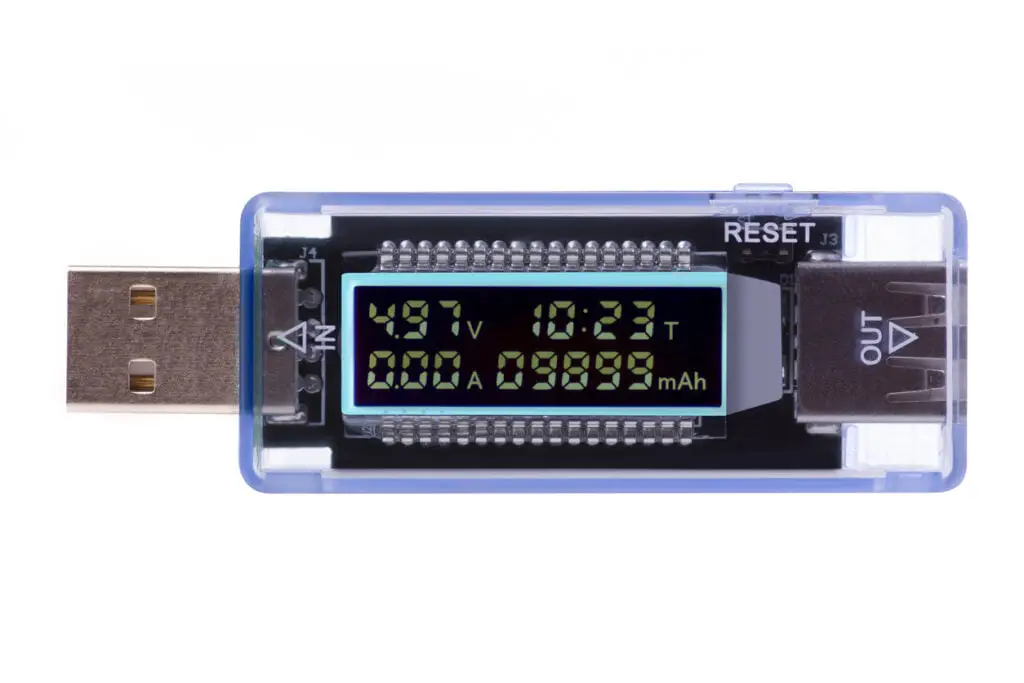 These testers can also come with small internal storage for storage and later comparison of the recorded data.
The USB tester can be applied to a variety of electronic circuits/devices like mobile phones, tablets, cameras, power banks, and various other portable devices. Beginners don't need to worry because they are very simple and easy to operate without any major complexities. You just need to plug and ready to monitor.
While there are a lot of choices of USB testers, in this article, we are going to suggest some recommendations for USB testers. These are 5 best USB testers that we gather from the market and hopefully, one of them suits your needs.
USB Testers Comparison Chart
Product
Pictures
Description
Price
1. KJ-KayJI
[Best Overall]

- 2 in 1 USB tester
- IPS screen
- comes with clip cable support
2. AVHzY CT-3
USB 3.1 Tester comes with PC software for data logging and is also programmable
3. Klein Tools ET920
USB-A and USB-C Digital Meter capable of storing and recalling up to 10 readings
4. Pemenol
Supporting 3 input: Regular USB, USB type C, and Micro USB
5. Walfront UT658
Dual USB tester with current, voltage, and power display. Can store up to 10 groups of data
6. Yogre
Supporting the USB interface with electronic devices ranging from 3V-30V and 0.00-5.10 A.
7. Eversame
USB Voltage and Current Monitor with Braided USB C to USB C and bright color display
8. Eversame
Detects the charging status and process of USB-enabled or type c-enabled devices
9. MakerHawk
It is compatible with QC 2.0/3.0 and PD protocol
10. MakerHawk
Supporting regular USB and Type-C port, DC 4.0- 24V 5.00A USB charger, HD IPS color screen display
Top 10 Best USB Tester Reviews in 2023
1. KJ-KayJI Regular & USB C Tester 
[Best Overall]
This is the overall best USB tester that we recommend first. It's a 2 in 1 USB tester, IPS digital multimeter, and comes with clip cable support. All of these provide a perfect combination for tech lovers.
The multimeter can monitor different parameters at a time which include current, voltage, capacity, power, D/D- voltage, electric quantity, temperature, load impedance, resistance, charging time, and other relevant data for USB or type C port gadgets.
In terms of the screen display, it contains the latest version of the IPS color screen which also provides eight colors for different data and makes it clearer. A 180-degree flipping feature is also available in this multifunctional device.
In addition to the data monitoring function, this measuring device comes up with build-in circuits for overload voltage protection, low voltage protection, and over current protection to avoid any type of MA functionality at user devices.
Overall, we love to recommend this. It supports QC3.0 (3.8-12V), Android BC1.2 (5V), QC2.0 (5V/9V/12V/20V), MTK-PE (5V/7V/9V/12V), Apple 5V/2.5A, and various other QUALCOMM fast chargers. It can ensure the safety of devices while meeting the output of two devices at the same time.
Pros:
High Resolution of recorded data
Can perform multifunction's at a time
18 months of warranty
Current adjustment according to the ambient temperature change
Cons:
Large size 2.5 × 2 × 0.4 inches
High self-current consumption
2. AVHzY CT-3 USB 3.1 Tester
If you have the budget and need a more advanced USB tester, AVHzY CT-3 is the best choice. It comes second for many more features it offers. And if not for its high price tag, it could have been first on the list.
AVHzY CT-3 USB tester is capable of 0-26V and 0-6A voltage and current measurements. It shows reading on its brightly colored TFT screen. This USB tester gives accurate voltage and current readings to 4.5 digits with a maximum gain error of 0.1%. AVHzY CT-3 is suitable for almost all applications. Thanks to its support of various communication protocols. It is also compatible with QC2.0, QC3.0, QC4.0, Huawei SCP, SSCP, FCP, Samsung AFC, VOOC, etc.
This USB tester has two unique features: data logging and programmability. It has powerful PC software that allows data logging of up to 1,000sps and lets you access all features, including a PD listener for device diagnosis. You can program the AVHzY CT-3 USB tester and set your scripts to run on boot. It features 12Mbytes internal memory used for program code storage. The manufacturer also provides APIs and interpreters inside the device to make it convenient for users to customize features.
Pros:
Programmable
Supports data logging and PC software data analysis
Features PD listener for device diagnosis
Supports older USB protocols
Large brightly colored TFT screen for data display
Cons:
Very expensive
Relatively big in size for those looking for a more portable USB tester.
3. Klein Tools ET920 USB-A and USB-C Digital Meter
Klein Tools is one of the reputable brands for manufacturing high-quality testing and measuring instruments. The same is reflected in their ET920 USB Power Meter. The device is ruggedly built with ABS casing for durability.
Klein Tools ET920 is a dual USB tester supporting USB type A and C. You can use it to test 3-20V and 0.05-3A for USB-A and 3-20V and 0.05-5A for USB-C with an accuracy of 1%. The device can continuously monitor up to 1000 hours of voltage, current, energy, capacity or charge delivered, and resistance. It also features a high-resolution LCD screen that allows usage in areas with low ambient lighting.
The Klein Tools ET920 is built for safety. It features overvoltage and overcurrent protection.
Pros:
Tests USB type A and C
Can continuously monitor ports for up to 1,000 hours
Overcurrent and overvoltage protection
Lightweight and durable
Very accurate
Cons:
Relatively expensive
Relatively bulky
4. Pemenol Multifunctional USB Tester + Supply Module
Multifunctional voltage, ammeter, and temperature display integrated with the buck-boost power supply module make this gadget more reliable for not only testing the electronic equipment but also serve as a variable power supply.
Its automatic calibration, safety, auto-protection, real-time display, and portability can perfectly suitable for technical engineers to develop, debug electronic instruments. It supports three voltage inputs ways: Regular USB, USB type C, and Micro USB. This USB tester is also very easy to carry and comes with an outer shell for protection against step-up module damaged.
This gadget can protect your hardware from being damaged from overpowering, over current, and under-voltage. The buck-boost converter can automatically calibrate the voltage and current to meet your requirements accurately.
It can convert DC 3.0V-12V to DC 1.0V-24 V and power approximately 2W-3W. You could use it on various small devices, like laptops, chargers, etc. as a multifunctional voltage ammeter. Further, it can also use for providing require DC power to certain low power projects.
Pros:
Dual Operating System
Three voltage inputs ways
Automatic calibration of voltage and current
High power measuring range 0-110W
Mini size
Cons:
This device does not support protection against reverse connection
Low power supply range
Each time you have to adjust the working mode before use.
5. Walfront UT658 USB Tester
Walfront also pulled a surprise with their UT658 Dual USB tester. The device looks great and is suitable for various applications, such as engineering, verification, and DIY projects. Walfront UT658 USB tester efficiently monitors charging efficiency and protects the charging equipment.
This dual USB tester supports USB types A and C. it measures voltage within the range of 4-24V DC for both USB types with a resolution of 0.01V. For measuring current, Walfront UT658 has a range of 0.05-3.00A for type A and 0.05-5.00A for type C with 0.01A resolution.
Walfront UT658 is one of the USB testers with the highest power capacity. It is rated 0-99999mAh and 0-1,000Wh. It can also store up to 10 groups of data and is compatible with USB 2.0 and 3.0.
Pros:
Protect charging equipment
Monitors charging efficiency
Easy to carry
Stores up to 10 groups of data
Large screen displays voltage, current, power, capacity, and voltage reading
Cons:
Relatively big as a USB tester
6. Yogre USB Tester
Yogre USB 3.0 tester is a premium quality low-cost solution to examine the USB charging voltage and current instantly. It's lightweight, small size, durable, and extremely portable. No extra cables or power sources are needed to operate. It supports the USB interface with electronic devices ranging from 3V-30V and 0.00-5.10 A.
This USB tester is extensively utilized in the scrutiny of 3C digital peripheral solutions. This device successfully ensures the protection of our digital devices. It has a voltage measurement resolution of 0.01 V along with a current measurement resolution of 0.01A. It can operate in a significant temperature range of from -10⁰C up to 60⁰C.
On this tester, you could simply set up your timer off or full charge power off. That means the tester has two functions, either you can set a timer to turn off the tester or turn the tester off automatically when the charging is full. It will automatically cut the power with a notification sound. Real-time monitoring of voltage and current values can be done through this, but when you set a specific value the tester will give a beep and power off automatically until the value falls or exceed above that.
Pros:
High quality with low cost
Small size with the dimensions of 3.78 × 1.89 × 0.98 inches
Good capacity measurement range of 0-99999mAh
Cons:
It cannot detect the fast-charging feature
Dull display
Low voltage measuring resolution
7. Eversame USB C Power Meter Tester
Eversame is a multifunctional tool capable of charging, data wire resistance value testing, cable impedance measurement, and data storage. It allows you to check the charge performance of a USB output port and test a power bank's capacity and electric energy.
This voltage tester should be one of the best to include on your list. It gives you the best value for money with many features and is compact and portable. The device is designed with a high-grade LCD monitor and an intuitive user interface, making it interactive.
Eversame USB C Power Meter has insane technical specifications, which include the following:
Capacity range: 0-99999mAh;
Energy range: 0-99999mWh;
Load impedance range: 1.5Ω-9999.9Ω;
Time range: 0-99 hours 59 minutes 59 seconds;
Temperature measurement error: ±3°C/±6°F;
Delay off screen time: 0-9 minutes;
Current curve range: 0-3A;
Temperature Range: -10°C to 100°C/0°F to 200°F;
Voltage curve range: 4.5V-24V;
Voltage resolution: 0.01V;
Current resolution: 0.001A;
Voltage measurement accuracy: ±0.2%;
Current measurement accuracy: ±0.8%;
Pros:
Intuitive user interface
Safe and reliable for monitoring voltages and current
Supports QC2.0/QC3.0
Wide voltage measurement range
Cons:
The design could have been more compact
8. Eversame 2-in-1 USB Tester
Eversame 2-in-1 USB Tester is a cost-effective option for you. It has many features and can do the job quite well. You can use this USB tester to measure the capacity of your mobile battery, charger bank, and charging speed.
This USB tester is capable of bidirectional current detection – measures both negative and positive currents. The readings can then be displayed on the TFT screen. You can use it for first charging and checking the charging speed and quality of a USB cable.
The technical specifications are as follows:
Capacity range: 0-99999mAh;
Energy range: 0-99999mWh;
Load impedance range: 1.5Ω-9999.9Ω;
Current curve range: 0-5.1A;
Temperature Range: 0°C to 80°C/32°F to 176°F;
Voltage curve range: 3.6V-32V;
Voltage resolution: 0.01V;
Current resolution: 0.001A;
Pros:
Supports screen rotation
Overcurrent and overvoltage protection and warning
Multipurpose – suits many applications
Wide voltage detection range
Affordable
Cons:
Relatively big for a USB tester
9. MakerHawk USB Tester
High quality, reasonable price, and small size make this USB tester more attractive for buyers. There is no need for any type of professional wiring. You just plug in this MakerHawk USB tester and you could directly see the charging status, capacity, and USB power supply in real-time.
This device also comes up with a good quality alarm system to protect the device from over-voltage, over-current, under-voltage, and under current conditions. The intelligent automatic power-off system makes it more appealing when considering the high-quality tester at a reasonable price.
This device has an operating range of 50-100MA. It can store mAH power-off for a maximum of 9 different groups of operating devices to keep the data and compare it to find out whether the capacitance of the charging gadget is true or false.
With the HD color display screen, the data on the tester's screen will be brighter and clearer. It is compatible with QC 2.0/3.0 and PD protocol and intelligently detects fast charging as well.
Pros:
Good quality with a reasonable price
Intelligent memory charging capacity
Temperature Measurement
Cons:
Provides rough details about the capacitance
Limited Features
Low refreshing rate
10. MakerHawk Multimeter USB Tester
High-resolution voltage, current resistance meter supported with regular USB and Type-C port, DC 4.0- 24V 5.00A USB charger, HD IPS color screen display, and much more comes up with this small high-tech gadget.
The USB input port can withstand a high current range up to 5A supported with high power input. It consists of an internal as well as external NTC temperature sensor which enables us to identify the temperature during measuring or providing the high power to the output. These sensors have a wide range of measurements: -20⁰C – +120⁰C.
It is recommended to use Type-C port when high power input or output is needed. This device comes up with a wide IPS HD color LCD screen for data monitoring from different ports at the same time. It has the capacity record of 0-99999Ah along with 0-99999Wh.
The IPS screen will help you see the reading clearly even though you are outdoor.
Built-in functional protect your devices in under-voltage and an over-current situation. Precision, accuracy, high resolution of 0.00001 for both current and voltage measurement makes this device more appealing for testing pricy equipment.
Pros:
Exception level of resolution
Internal / External Temperature sensors
Can perform High current and high-power operations
Automatic recovery of voltage
Cons:
Only Type-C can handle high power
Large size 2.64 × 1.5 × 0.47 inches
High Self-power consumption
Buying Guide of USB Tester
We have spent many hours researching, comparing, and deciding the best USB tester based on all specifications and needs on the market. But if you still want to look for other USB testers elsewhere, this buying guide should help you. Consider the following features:
1. Ease of Operation
The best product should be plug-and-play unless you want to do other complex tasks with a USB tester. Just hook it up to a USB port, and you get all the data on display without pressing anything.
However, more advanced USB testers have additional functions you can access by navigating its menu. Still, the user interface should be friendly to make it easy to get the readings.
2. Voltage and Current Measurement Range
This depends on the intended application, but always choose a USB tester with wide voltage and current measurement ranges. Also, consider the power output from the device you want to buy. This is crucial if you want to use it to charge your other devices.
3. Safety Features
A reliable USB tester should have safety features. Overcurrent and overvoltage protection ensures you don't ruin the device. Some will alert you if you are just about to exceed voltage or current limits. Also, consider a USB tester that protects any equipment connected to it. You don't want to ruin your phone if you connect it to a USB charger, do you?
4. Refresh Rate
This is the time a USB tester takes to update readings on its display. The shorter it takes, the better it will be, especially if you are testing for a USB port or cable quality.
5. Industry Standards
USB ports in different equipment and devices vary. They have varying voltage and current ratings. So, the USB tester you buy should conform to the standards of what you want to test. If the USB tester is specified as USB 3.1, check if it supports USB 3.0 or USB 2.0. Current, voltage, and data transfer rates in these are all different. You should also check if it is a USB type A, B, or C and buy what matches the device you want to test.
6. Durability and Size
Determine the size of the USB tester you want to buy. This is purely a personal preference. But when it comes to durability, you want to go for the best. Consider the material and general built quality if you want to buy a long-lasting USB tester. Ones with ABS casing are the best in this case, though they can look bulky sometimes.
Conclusion
The above-mentioned USB tester is the best solution to test your electronic devices/components. They vary in price according to the number of features and resolution of recorded data. These testers are widely used in testing single small devices and provide real-time monitoring of data which is helpful in the protection of pricy devices.